Documentary Follows Transformative School Production of The Color Purple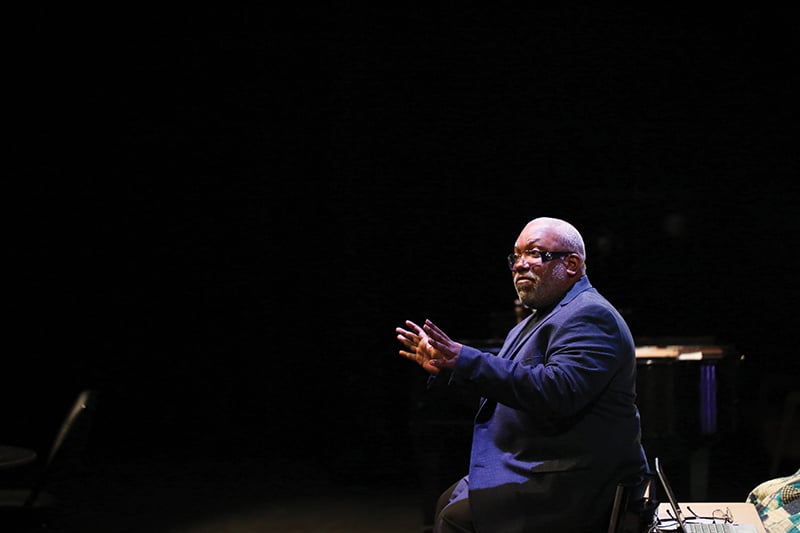 BRITANY BOWENS walked into the audition room at Northwest School of the Arts five years ago looking like a nervous 18-year-old. But when she recited a monologue from The Color Purple, something changed. Her tone hardened, and her eyes locked on an invisible enemy. "All my life, I had to fight," she said as the character Sofia. "I had to fight my daddy, I had to fight my brothers, my uncles, and my cousins, too. But I never, never, never, never thought I would have to fight in my own house."
This was the spring of 2012, and Bowens was a sophomore at Northwest, taking another shot at high school (her mother pulled her out of West Mecklenburg High School in 2009, and she attended East Mecklenburg in 2011). Her family lived in a hotel room, where she shared a bed with two siblings. Theater was her escape, and Northwest was her haven. "No matter what I looked like, what I wore, what I smelled like—it was a place where anybody can be themselves," she says now.
Yet her time was limited. North Carolina public schools are required only to educate students until they're 21, and Bowens wasn't sure how many more chances she'd have to perform at Northwest. She was determined to be cast in The Color Purple. "I need to do this now," Bowens thought that day, "or I'm never gonna do it."
***
NORTHWEST WAS the second high school in the country to perform the original Broadway production of Alice Walker's novel-turned-musical—and did it with an almost entirely black cast. Theater teacher Corey Mitchell hoped the students would take the production all the way to an international student theater festival in Nebraska. He even invited a local film crew to document the process.
Joanne Hock of GreyHawk Films thought she was gathering footage for a possible reality show, but months of following the cast members turned into four years. Purple Dreams became a full-length documentary that Hock hopes will be released on the festival circuit this winter. It provides an intimate portrait of the students as they grow up on-screen. "In a way, their lives mirror a little bit about what was going on in the show," Hock says.
The Color Purple tells the story of Celie, a young black woman in rural Georgia in the early 1900s who is violently abused by her stepfather and her husband. Over time, she evolves from a scared teenager into a woman of formidable strength. She leaves her husband, falls in love with a woman, and starts a clothing business. Her journey to independence helps heal the lives of those around her—including her abusive husband. When they reach old age, both are kinder, wiser, stronger people.
Mitchell, who has taught at Northwest for nearly 20 years, remembers reading the novel when he was in 10th grade, sitting in school with it hidden inside his anatomy textbook. "That was one (book) that had me absolutely riveted," he says now. "Doing that show became a mission."
Many of the students he cast in the musical felt the same way. Bowens' family is from Wadesboro, North Carolina, near where Steven Spielberg filmed his version of The Color Purple in the early 1980s. Bowens' mother and aunt auditioned to be extras in the movie, but were told their skin was not dark enough. At Northwest, Bowens was thrilled just to be in the chorus. As she says in the documentary: "I would be a floor piece in the show. I just want to be in it."
Mekhai Lee, who was in 11th grade at Northwest when he played Celie's husband, Mister, says it was a script he could "put my whole heart into." It was also the first time he had performed in a show that was not written for white actors.
"Sometimes, it is important to tell a story that is theirs," Mitchell says.
Northwest, a magnet school on Beatties Ford Road, has long been what Mitchell calls an "island of misfit toys" for creative students in Charlotte-Mecklenburg Schools. One of its most famous recent alumni, Eva Noblezada, will star in Miss Saigon on Broadway this March. But at the time Mitchell held his auditions, the school was in transition. Principal Barry Bowe died by suicide in January 2012, and his successor, Melody Sears, knew the kids needed emotional support. Last year, 47 percent of the students were identified as "economically disadvantaged."
"One of the reasons that I came to Northwest is because they told me, 'They need a mother,'" Sears says in the film.
The cast staged The Color Purple at breakneck speed, rehearsing for roughly two weeks in August 2012 before performing the show in early September. This wasn't easy. Lee walked a mile and half and took two buses to attend school every morning, then stayed late to rehearse when classes ended. The family of another cast member, Phillip Johnson-Richardson, was homeless at the time, and he was sleeping on his grandmother's floor.
Mitchell's mother was hospitalized for spinal surgery just as the students were about to perform the play. One morning, the theater teacher found himself crying in the principal's office at Northwest, worried that he would lose his mom. That afternoon at rehearsal, the students behaved terribly, Mitchell recalls. "My mom is dying and you guys are killing me inside," he told them.
Immediately, the antics stopped. The cast gathered in a circle to pray.
When the lights finally went up after the first Saturday evening performance of The Color Purple, audience members rose to their feet and grown men cried, Bowens recalls.
The next summer, members of the cast and crew were invited to perform at the highly competitive International Thespian Festival at the University of Nebraska. No school from North Carolina had performed on the festival's main stage in 30 years. They raised more than $170,000 to fund the cross-country trip. Lee and Johnson-Richardson auditioned for college recruiters at the festival. Bowens didn't have the grades to audition, Hock says, but at Mitchell's urging, she introduced herself to recruiters anyway. St. Mary's University of Minnesota offered her a scholarship on the spot. Suddenly, the teenager who had once dropped out of high school had a way to pay for college.
She studied musical theater at St. Mary's for a year and a half, but found she wasn't entirely happy. The performance schedule was exhausting, and sophomore year, she took a break from theater to rest, study, and volunteer. She discovered the options outside of her major were limited on the small campus. "As a black student on the predominantly white campus, I didn't feel like my potential could be maximized," she says.
Then, last spring, her favorite aunt was injured in a bad car accident. Bowens returned to Charlotte for three weeks to visit her aunt in the hospital and help her family. When she went back to Minnesota, she didn't feel she had the support she needed to stay in school.
"This was by far the worst thing I've ever gone through in my life," she says of the accident. "It gave me a reason to leave."
Now 23, she's working near Raleigh and has been accepted at Virginia State University. If her financial aid package comes through, she plans to transfer there and study mass communications. Bowens decided she'd rather pursue a career in radio or voice-over work than theater. "My goal now is to finish school," she says.
Her former cast-mates are still in the spotlight. Lee is a theater major at UNC School of the Arts, and Johnson-Richardson attends the University of Cincinnati College-Conservatory of Music. Mitchell still teaches at Northwest. In 2015, after his friends at GreyHawk films helped nominate him, he won the first Tony award ever given for theater education. And late in 2016, he learned he was a semifinalist for the Yarkey Foundation's Global Teacher Prize, which comes with a prize of $100,000 a year for 10 years—so long as the winner remains in the classroom at least five years. He'll learn whether he's one of the 10 finalists from around of world this month.
Bowens keeps in touch with her friends from Northwest, and holds onto the lessons she learned there. "As long as I give 100 percent," she says, "100 percent will come back to me."
Lisa Rab is a Politico Magazine correspondent and former articles editor for this magazine. Reach her lisayrab@gmail.com or on Twitter: @lisayrab.