Does Charlotte Love Kemba Walker Like It Should?
All-Star starter's teammates, mother, and fans on his relationship with Charlotte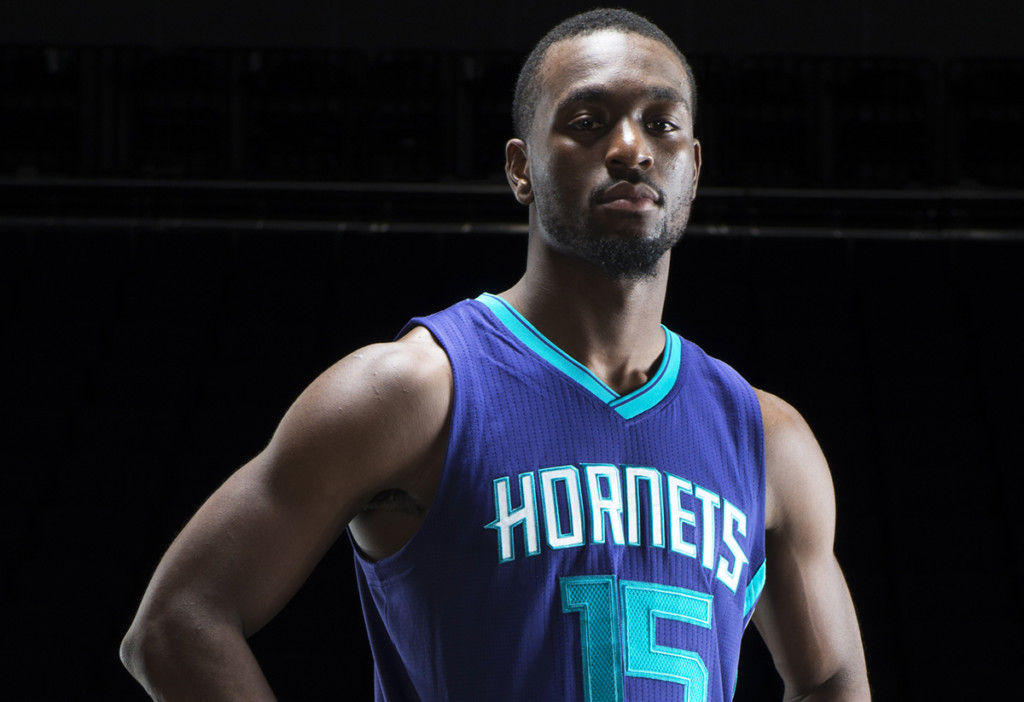 BACK IN Muggsy Bogues' heyday with the Hornets, Charlotte was less than half the size it is now, and the NBA had just brought a new professional team to the the city. It was easy for Bogues to feel loved. Everywhere the relatable, 5-foot-3 Bogues went in town, he was recognized and approached. Fans adored him. Near the end of his tenure in Charlotte, a massive mural of Bogues—along with teammates Larry Johnson and Alonzo Mourning—was plastered on the side of the First Union Bank building uptown.
"I was one of the most popular guys here in Charlotte," Bogues says. He's not boasting. He's just stating a fact. "The city has always been supportive of us, from the day we came in."
It's 30 years later, Charlotte is hosting the NBA All-Star game, and this should be a weekend when Charlotte celebrates the latest in a succession of Hornets point guards that started with Bogues: Kemba Walker, an All-Star for each of the last three seasons and a starter for the Eastern Conference this year, has proclaimed his love for Charlotte and his desire to re-sign with the team when his contract expires at the end of this season "because this is the team that kind of believed in me from the start."
But Charlotte has another hometown NBA hero, a kid who grew up here, flourished at Davidson College, and has won three (and counting) league titles with the Golden State Warriors. Steph Curry's jersey has been the NBA's top seller for each of the last three seasons, and he will, without question, be showered with affection throughout the weekend's festivities. Who will receive the most cheers when his name is announced at Spectrum Center before Sunday's All-Star game, the hometown hero or the star Hornet?
"That's going to be a battle right there," Bogues says. He won't offer any predictions.
Curry is recognized and cheered wherever he goes, aided by perhaps the deadliest jump shot in league history; he's surpassed even his father, Dell, a renowned shooter and former Hornet who was Bogues' teammate for nine seasons. Still, you have to wonder: Does Charlotte love its own three-time All-Star, Walker, as much as it should? Where is his mural?
Who remembers this mural? #charlotte pic.twitter.com/X1PIV20Tem

— Tyrone Muggsy Bogues (@MuggsyBogues) May 4, 2017
***
MIKE PEELER REMEMBERS the old '90s mural and how much Charlotte adored Bogues. He and his wife, Elizabeth, are longtime season ticket-holders who "hit the jackpot" when Walker personally dropped off their tickets for the 2011-12 season as part of a promotion for the then-Charlotte Bobcats, which had drafted Walker ninth overall. The Peelers felt an instant connection with the polite and affable Walker, a rookie who had just led UConn to a national championship, and asked if they could exchange numbers and meet again. Walker agreed.
The friendship has lasted. The Peelers still chat with Walker before each home game, and he tries to have dinner at their house at least once each season. "Whoever comes to talk to him, he shows respect to them like a human being instead of like, 'I'm a star, and you're nobody,'" Peeler says. "He treats everybody the same—doesn't matter whether you're a kid or adult, even the opposing players."
The Peelers and Walker, 28, talk about life, their family, friends, and world events. When Walker devoured brownies Mike Peeler made for him at dinner once, they asked if he'd like them to occasionally hand-deliver more chocolate treats. He told them: If you wouldn't mind, before every game would be great.
Is it any wonder that Walker has grown to love Charlotte so much?
"He feels at home here," says his mother, Andrea Walker, who sits behind the Hornets bench nearly every home game. "We're from New York in the projects. It's just a big difference from where he grew up to where he is now. He's a family guy. Very loyal to the family. I think that comes from that. And the people here have treated him very well."
***
WALKER'S STANDING with his Hornets teammates has never been in doubt. His scoring average has more than doubled since his rookie year to the 25.2 points per game he's averaging this season. His three-point accuracy has improved to the point where he's now a feared long-distance marksman. And his easy smile and low-key personality have always been a draw.
"I feel like everyone's always loved Kemba," says Hornets forward Marvin Williams. "He's just a lovable guy. That's the kind of person he is. Obviously, as his superstar has grown, I would say we notice it more outside of Charlotte—when you're visiting opposing arenas, you start to see a lot more Kemba Walker jerseys out there. When they announce his name before the game, you hear a lot more cheers, which is kind of fun. His superstar has definitely grown, but it's well-deserved."
But as Walker's performance and stature have risen, his team's wins and home attendance have plunged. The Hornets won just 36 of 82 games in each of the last two full seasons after winning 48 and making the playoffs in 2015-16. The team's record so far this season is a middling 27-29. An average of 17,485 people attended each game in 2015-16. Last year, average per-game attendance fell to 16,375 in the 19,077-seat Spectrum Center.
Tony Parker has seen a more fervent side of the NBA in his 18-year career. The veteran guard played his entire career until now in San Antonio, a city that envelops and celebrates its Spurs, NBA champions five times in the last 20 years. He saw David Robinson revered, then Tim Duncan, then himself. He knows what it's like for a city to embrace a star player, but he won't compare what he felt in San Antonio to Charlotte and Walker.
"It's just different," Parker says. "I still think they appreciate him. I still think they realize it's great to have a guy like that in the city and he wants to stay and he wants to be in Charlotte. That's great when your star wants to stay. In the NBA, a lot of guys want to go to big markets, but Kemba wants to stay in Charlotte. That's great for them and for us."
Maybe Walker is adored by all who meet him, valued by his teammates and loved by Hornets fans who come to Spectrum Center to watch his crossover dribble and sharp shooting.
Still, he might not get the loudest cheers this weekend. No one will make that prediction.
"Oooh, that's a good one," teammate Williams says. "I don't know. I would hope Kemba, obviously. But if it were to be Steph Curry, I'm sure nobody would have a problem with that, either. They're both phenomenal players. I'm sure it will be an exciting time for Steph to come back home, but I'm sure the city of Charlotte will be happy for Kemba, as well."
Happy enough to appreciate what it has in Kemba Walker?