Dress Up: Finding your wedding gown
Ball gown or trumpet? Lace or satin? J. Major's Kris Vail is decoding everything you need to know to find the perfect wedding dress.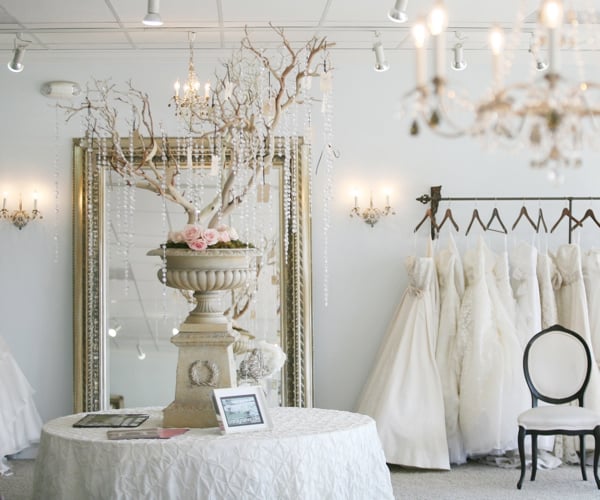 Easily the most exciting, intimidating, nerve-wracking and rewarding part of the wedding planning process is the search for the perfect dress.
Sure, we've all stayed up way too late on Friday nights watching TLC's Say Yes to the Dress marathon and dreamt about the day we'd float out of a boutique bridal salon after finding "the one." But the reality of dress shopping can be quite an overwhelming experience. If you're about to embark on the search for a gown, make sure to read our exclusive interview with J. Major's Kris Vail who offers up insider tips to help make the shopping process as exciting and beautiful as it's intended to be.
How long in advance should a bride start shopping for her wedding dress?
Production time for most designers is anywhere from 16 to 24 weeks. So, a bride definitely needs to keep that in mind. Of course, if she's short on time, there's always the option to purchase off the rack. That being said, a good rule of thumb if she has the time is to order at least nine months out. That will give her time for production and alterations (which are almost always needed, regardless of the designer, style or body type).
What should brides know before they begin dress shopping?
It's helpful to have an idea of the silhouette that she's looking for. However, that's not always what the bride ultimately chooses. A bride should also know that nothing is typical. All brides are different. Some brides find their dress on their first visit to a boutique and some visit many boutiques many times before finding "the one." Either is totally fine.
Who should come with the bride when she begins her search?
This is a great question. The answer, though, is a tough one. Obviously, purchasing a gown is a big step. This is what she'll wear on the first day of the rest of her life. A bride will definitely want someone there who will give her honest feedback. However, she also needs to make sure that they will support her decision, even if it isn't something that they would choose. The bride should be able to "put her foot down" and stand up for what she likes. After all, it's her decision!
How much of her budget should a bride allocate to her dress?
This is an easy one, because there's no right answer. The amount of the budget to allocate to the dress is solely dependent on her total budget, period. The bride should set her number at the beginning of the process and do her best to stick to it. She should have her highest number in mind when shopping and if there is any "wiggle room," she should know that amount as well. Of course, the gown amount should also include an estimated amount for alterations, veil, accessories and shoes.
How will a bride know if she's found "the one?"
My experience has been that when she knows, she knows. Some brides will get goosebumps, teary eyes, flutters in her stomach, etc. Not all brides do, though. I will say that every bride I have worked with does look at herself differently in "the one" than she has in any other dress. A telling sign is that she does not want to take it off!
What's your best word of advice for ladies going dress shopping for the first time?
It should be a fun and exciting process! Relax and enjoy yourself. Take pictures (if the shop allows). Know that no matter what, you will look gorgeous on your special day.
J. Majors
2400 Park Rd.
Charlotte, NC 28203
(704) 372-0082