Drinking in the Yadkin Valley, N.C.'s First Designated Wine Region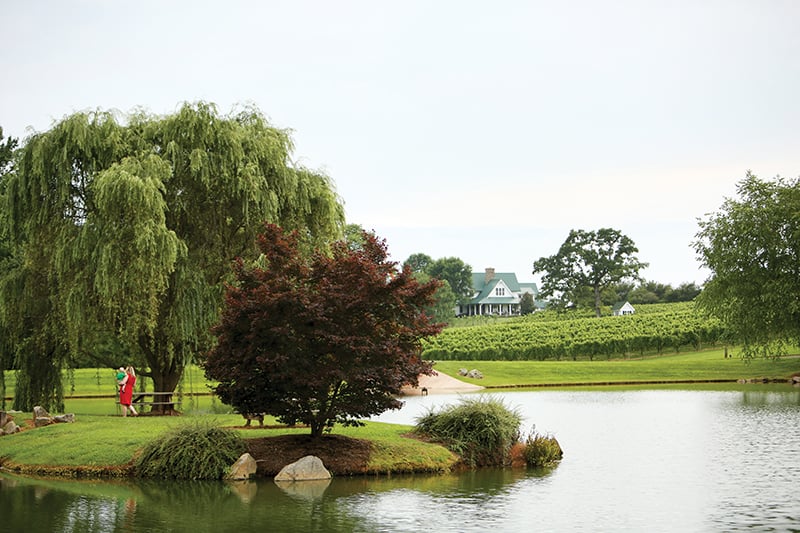 THE EARLY SUMMER CORN is about five feet tall in the Yadkin Valley as I look out from the tasting room patio at Jones von Drehle winery. The stalks are at the height where you can see them rustle from hundreds of yards away, but can't determine where in the distance grapes become corn. Occupied by conversation, coffee, and breakfast sandwiches from Amelie's, my friend Lauren and I made the drive to this beautiful view in just less than two hours on I-77.
We're greeted in the tasting room with a simple introduction to the wines: They're dry, French-style wines. It's a welcome statement for two red wine drinkers, an early indication that, although this isn't Napa, we may be drinking well. No muscadine here. We taste eight wines, including a selection of the estate's reserve wines ($16). They're a great starting point for the young vineyard, planted in 2009, and the varieties—from viognier to cabernet sauvignon—show the area's versatility.
The Yadkin Valley is an American Viticultural Area, which means it's a federally designated wine-growing region, thanks to Ed and Charlie Shelton, the owners of Shelton Vineyards, less than 30 minutes away. They began the process of applying for the Yadkin Valley AVA in 2000. The brothers, who amassed a fortune in commercial building construction, found a love for wine during travels abroad. They purchased a swath of land in their hometown of Dobson, an area known for tobacco and dairy farms, in 1994, and planted their first grapevines in 1999.
When Charlie noticed how similar the topsoil attributes were to those in Burgundy, France—sandy, without an ability to hold water, and minerals from leftover mountain sediment—he and Ed decided to try to create a wine industry to replace dairy farming, which, Charlie says, was becoming hamstrung by government regulations and falling profits.
The vines thrived, but without the AVA classification, the wines could be labeled only North Carolina or Surry County wine. So the Shelton brothers hired a team to conduct the necessary soil tests, climate studies, and other requirements to receive the designation. With time, they believe, North Carolina will be known for its European-style wines, and not thought of as a muscadine, sweet wine state.
"I'm old enough to remember when you wouldn't be caught with a California wine," Ed Shelton says of America's best-known wine-growing region, which is still young when compared to the centuries-old wine regions of Europe.
Nearly four years after applying for the AVA designation, Shelton Vineyards and other wineries with grapes growing between the mountains and the Yadkin River had the sole right to label their wines a Yadkin Valley product—one of only three AVAs on the East Coast at the time.
Back then, in the mid-2000s, there was only one other winery nearby; today, there are 35 Yadkin Valley wineries. Charlie had the idea to start a viticulture school at Surry County Community College, helping cultivate a workforce. Though the vines may be younger than those in California, they're planted on one of the few areas in North Carolina suited to growing drier wines.
"There's a whole lot more people on the East Coast, so we've got a much bigger margin to draw from," he says. "All we have to do is make sure we're making quality wine to attract people to this area."
In the Shelton Vineyards tasting room, you can taste that progress, both in terms of the grapes they're working with and the complexity of the wines. We sample several in the large tasting room before wandering the property to find the most beautiful view. It's an impossible task, but the view from the vineyard's Harvest Grill is certainly a contender—from our table, we can see raised beds where some of the food on our plates came from, vines standing at attention just behind. Food in our bellies and ready for the next tasting, we start the journey back south on 77 for a tasting at Raffaldini Vineyards ($12).
Here, we discover another stunning view, one that takes my stress and turns it into a passing thought. The tasting room opens to a massive patio that looks over the vineyards—all of which are maintained by hand. Sipping on Italian-style wines, we marvel at how far behind schedule we are, simply because the sunshine and fresh air seem to make time pass far too fast. Mountains linger in the background.
Lauren and I haven't seen each other in months, since she moved to Florida from Plaza Midwood. She texted me earlier in the week to ask whether I was free for lunch, and instead, I asked her to be my company on this trip. We caught up on careers, relationships, dogs, dreams, and family recipes. We talked Napa, and how the Yadkin Valley views can hold their own, only two hours from the city. We played games of guessing each wine's aroma, leaving our phones in our bags except for a selfie or two, just to make the folks back in the city jealous. We left the Instagramming to them, at least until we returned home around dinnertime. It's hard to care what anyone else is doing when the Yadkin Valley, old friends, and good wine are competing for your attention.
Shelton Vineyards
286 Cabernet Ln., Dobson
336-366-4724
Jones Von Drehle
964 Old Railroad Grade Rd., Thurmond
336-874-2800
Raffaldini Vineyards
450 Groce Rd., Ronda
336-835-9463
EAT
The Harvest Grille at Shelton Vineyards serves a varied menu that pairs well with the winery's offerings. The dining room is surrounded on three sides by floor-to-ceiling windows with views of the grapevines and green landscapes. Order a glass of wine at the bar on your way out, and explore the stunning pond to walk off lunch.
DRINK
Jones von Drehle samples two chardonnays, one aged in steel and one French oak barrels. Tasting them side-by-side is an interesting lesson in the complexity added by oak. At Shelton, the interesting Tannat is a bold, dry red that seems to thrive in our climate. Raffaldini's Pino Vino is a bottle to take home; each label has a rescue dog on it, and $1 from each bottle goes to animal charities.