Drinks with Susanne Dillingham
The Tiny Chef dishes on her dream catering job, local farms, and her sunny side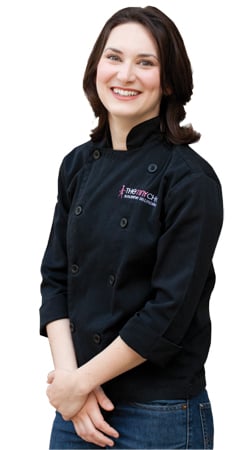 Over risotto and wine, Apicius International School of Hospitality and International Sommelier Guild graduate Susanne Dillingham of The Tiny Chef dishes on her dream catering job, local farms, and her sunny side.
If The Tiny Chef could cater for anyone, who would it be? Ellen DeGeneres; she's awesome and hilarious, and I think she's vegan, so that might be a fun challenge.
What do you typically make for yourself at home? Lots of pasta, with butter, cheese, garlic, and fresh ground pepper.
Local farms from which you source your food menus? Windy Hill Farm for pork, beef, and chicken; Grateful Growers Farm for pork; and Coldwater Creek Farms for produce.
Local breweries and wineries from which you source your drink menus? Dennis Vineyards (I'm sometimes able to pair a whole meal with their wines), Raffaldini Vineyards for great Italian varietals, and Olde Mecklenburg Brewery for beer.
Favorite meal? Vincigrassi [a lasagna made with chicken livers] with Verdicchio, a dry white wine.
How do you like your eggs? Sunny-side up—from Windy Hill Farm.