Eastover Townhome Merges Function, Elegance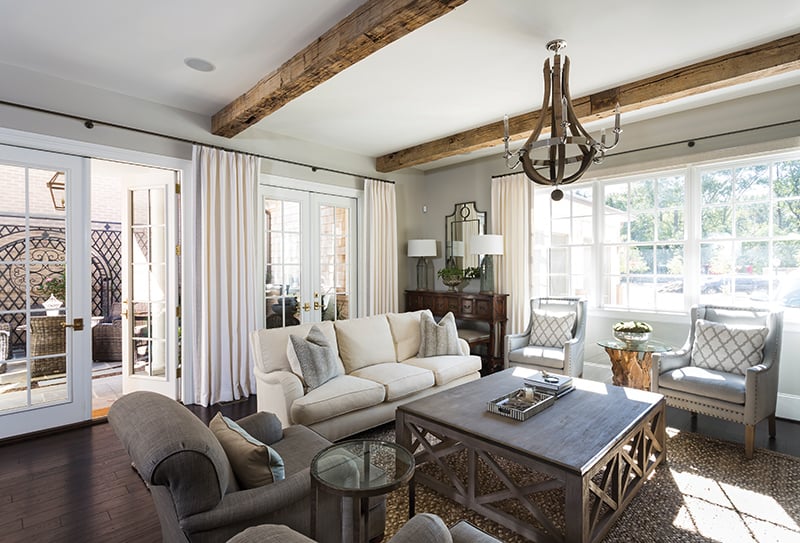 FIVE YEARS AGO, Kim O'Neill went to visit her daughter, Kendra, in Michigan for a few days. When she returned home, her husband had a surprise for her. "We're moving," Mike O'Neill said. "There's a place called The Cottages."
At first, Kim was a bit taken aback, as she and Mike had lived in their 5,400-square-foot Quail Hollow home for 27 years. But the more she thought about it, the more appealing downsizing became.
"We were just ready. My husband was tired of the yard and all of the space, so much maintenance," recalls Kim, a retired nurse. "We like to travel, so we wanted to get away from being tied to the house all the time."
Their home sold in a week.
As soon as they signed a contract on one of the 19 townhomes at The Cottages on Providence in Eastover, they contacted Bridget Loftus Gasque of Loftus Design. Though they liked the location and the general floor plan of their 3,200-square-foot unit, they knew they needed to make changes for the space to work for them. Gasque, an interior designer who has worked with the O'Neills for 12 years, studied the blueprints, as the townhome had yet to be built.
With 12 grandchildren and one more on the way, the O'Neills wanted an accessible home with an elegant and fresh look. Most of their grandchildren live close by, and frequently visit Grammy and Grandpa.
"We didn't want it to be where the kids had to worry about breaking something," Kim says. "If they break something, they break it."
Gasque took all of that into consideration when she suggested a neutral color palette combined with washable fabrics. The result is a low-maintenance yet functional design that facilitates the couple's roles as empty nesters and grandparents.
One of the biggest changes was moving the dining area behind the kitchen. Originally, the front door led to a large, open space that included the dining area sandwiched between the living room and kitchen. The O'Neills' baby grand piano was a piece they weren't willing to part with, so the reconfigured center space now accommodates the instrument, as well as a round entry table from Pottery Barn with a distressed pedestal and hammered zinc top.
A custom banquette with nailhead trim coupled with a table and chairs from Restoration Hardware in the new dining space can seat a passel of guests. (Fourteen is the current record.) Upholstered in a metal shade of Chromis fabric by Portfolio Textiles, the banquette can handle the grandkids. The home's interior is painted in Sherwin-Williams' Repose Gray, and initially the dining space was, as well. When little hands began touching the painted walls above the banquette, the O'Neills had gray vinyl wallpaper reminiscent of linen cloth installed. Now, they can wipe away tiny spaghetti sauce handprints easily.
More layout changes occurred in the kitchen area, as Gasque converted one of two master suite closets into a laundry room and added a wet bar accompanied with floor-to-ceiling storage in the pantry, where the washer and dryer were originally slated to be.
An avid cook, Kim opted for a mosaic marble backsplash by InStyle to give the kitchen a more artistic feel. White custom cabinets by Mint Hill Cabinet Shop conceal the refrigerator, and they contrast well with easy maintenance quartz countertops, also by InStyle.
In the living area, Gasque and Kim had a sofa from the O'Neills' former home reupholstered in a durable Crypton fabric that resists stains and moisture. Custom dark gray display cases with glass doors flank the marble surround fireplace crowned with a reclaimed wood mantel. "We did low display cases just so it's a little different than a regular bookcase," explains Gasque. "We tried to make this house lighter and airier."
On the ceiling, five hand-hewn beams of reclaimed wood from Davidson's Southend Reclaimed subtly delineate the living area, while adding warmth to the space. Three sets of French doors open to a small courtyard designed by Ric Solow of Solow Design Group. Another set of French doors leads to the garden from the master suite.
"I just wanted to have something I could dig into," Kim says. The family had a sizable yard at their Quail Hollow home. "We looked into having an English-type garden, and I thought that was kind of boring."
There's nothing boring about this evergreen space, where hot pink Knock Out roses scale an iron arbor designed by Ben Parrish of Charlotte's Steel Design Studios, and chocolate chip ajuga, Confederate jasmine, and mazus serve as plush ground covers. A gurgling fountain their children gave them for Christmas makes the garden even more of a space reminiscent of a fairy tale.
"We eat out here every night," says Kim. "Downsizing was the right decision for us. …I don't think either one of us regrets it a bit."