Eat (RED), Help Fight AIDS
Special dinners, menu items will support fighting the disease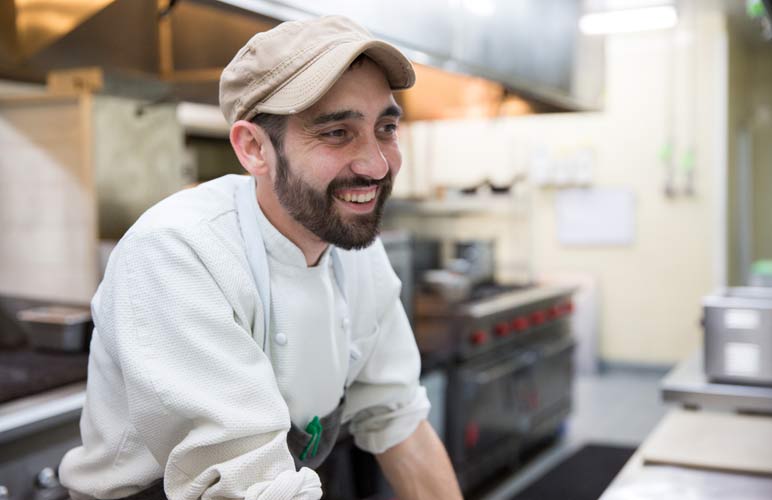 Several Charlotte restaurants will feature menu items benefiting the EAT (RED) DRINK (RED) SAVE LIVES campaign, a fundraising event that takes place during the entire month of June. You probably recognize (RED), started by U2's Bono, from somewhere, whether it be Gap t-shirts or star-studded concerts. Bono's hope is to eliminate the number of babies being born with HIV each day— according to (RED), the number is currently 650—due to a lack of access to medication. That medication costs 40 cents per dose. Participating restaurants nationwide will give you the option to add 40 cents to your bill or order an item off the (RED) menu to help provide that medication to someone in need. Bono has enlisted celebrity chef Mario Batali to be the face of the (RED) culinary arm. Batali borrows restaurant speak with its #86AIDS tagline: to "86" something in the kitchen means to cancel an order.
​Heirloom and its chef, Clark Barlowe, will have the biggest (RED) presence in Charlotte this month. Barlowe is one of 19 chefs nationwide acting as "Chef Ambassadors" for Batali and (RED). Heirloom will host two dinners—one tonight, the other on June 29—with all of the proceeds going back to (RED). The dinners will include eight courses inspired by West African nations, though, true to Heirloom, each dish will be created with North Carolina ingredients. The menu costs $115, but two diners can go and share one tasting menu, cutting the ticket price in half. The rest of the Chef Ambassador lineup includes names like Michael Mina and Stephanie Izard.
Other restaurants where you can eat and support the (RED) campaign in Charlotte are 300 East, Bistro La Bon, BLT Steak and Passion8.
Chain restaurants are also throwing their support toward (RED). Chipotle will donate five percent of every (RED) giftcard over $25 to the cause, while Starbucks is donating 10 cents of every Raspberry Swirl Pound Cake or Red Berry Cheese Danish. Learn more about EAT (RED), DRINK (RED) here.