Edible Jewels: Three Pomegranate Recipes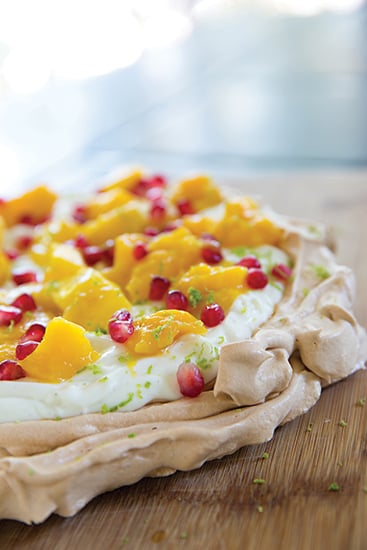 FOR JILL DAHAN, cooking is a way to heal. Whether she's preparing dinner for her family or demonstrating cooking techniques at a local market, she views each meal as an opportunity to make smart choices and improve the body's overall health. In August 2013, Dahan published the cookbook Starting Fresh!, which includes recipes full of fruits and vegetables and with fewer added sugars and processed ingredients. Using antioxidant-rich pomegranates is one of Dahan's favorite ways to add a wow factor to a dish. "It's like sprinkling edible jewels on your food," she says.
---

Pavlova with Lime Yogurt, Mango, and Pomegranate
Pavlova
White vinegar
6 room-temperature egg whites
1 cup organic powdered sugar
Filling
2 bars (100 grams) organic white chocolate with vanilla (such
as Green & Black's)
2 cups Greek yogurt
Juice and zest of 1 organic lime
1 1/2 -2 cups fresh or frozen-and-thawed mango, sliced
1/2 cup fresh pomegranate seeds
For the pavlova, wipe a bowl and beaters with vinegar. Beat egg whites on high until peaks form. Gradually sift in sugar, beating between additions. Beat until stiff peaks form and mixture is glossy. Place a piece of parchment paper on a baking sheet, and pile the mixture in the middle. Spread mixture into a circle about 2 inches deep and 10-12 inches across. Bake at 275 degrees for 1 hour. Turn off oven and allow to cool in the oven for at least 3 hours. For the filling, melt chocolate over very low heat. Gradually mix in the yogurt. Boil the lime juice until reduced by half, and add it to the yogurt mixture. To serve, remove meringue from the parchment paper and place on a serving plate. Pile the yogurt mixture onto the cooled meringue, and top with mango slices, pomegranate seeds, and lime zest. Cut into slices and serve at room temperature.
---
Spinach, Avocado, Feta, and Pomegranate Salad
Serves 4-6
For salad:
1 shallot or 1/3 of a red onion
2 large avocados
Juice of 1 lime
4 cups baby spinach leaves (1 5-ounce pack)
1/2 a pomegranate, seeds removed
For dressing:
1 large clove garlic
1/4 cup sherry vinegar
1/2 cup extra virgin olive oil
1/2 cup crumbled feta cheese
Cut onion into very thin slices and set aside. Peel avocados, remove pits, cut into thin slices, and toss in lime juice to prevent browning. For the dressing, peel and crush garlic. Add garlic, vinegar, olive oil, and feta to blender and blend on high. To serve, toss the spinach in enough dressing to coat and top with avocado, onion, and pomegranate seeds.
---
Pizzas with Pizzazz
Serves 4
1 small onion
1/2 pound ground lamb, turkey, or beef
1 large clove garlic, peeled and crushed
1 teaspoon cumin seeds
1/2 teaspoon ground cinnamon
4 pita or naan bread rounds
2 tablespoons extra virgin olive oil
1 cup hummus
1/2 cup pine nuts
1 cup feta crumbles
1/2 cup pomegranate seeds
1 cup fresh large-leaf Italian parsley
Lemon wedges to garnish
Chop onion and saute in a frying pan on medium heat with the meat. Cook until meat is browned. Add crushed garlic, cumin seeds, and cinnamon. Cook 3 minutes and set aside. Lightly toast pita or naan bread and brush with a little oil. Spread each with hummus and then sprinkle with the meat mixture, followed by pine nuts, and feta. When ready to serve, heat in oven at 350 degrees for about 5 minutes. Top with pomegranate seeds and parsley, and cut into wedges. Serve lemon wedges on the side.