Editor's Note (April 2018): Lost in Augmented Reality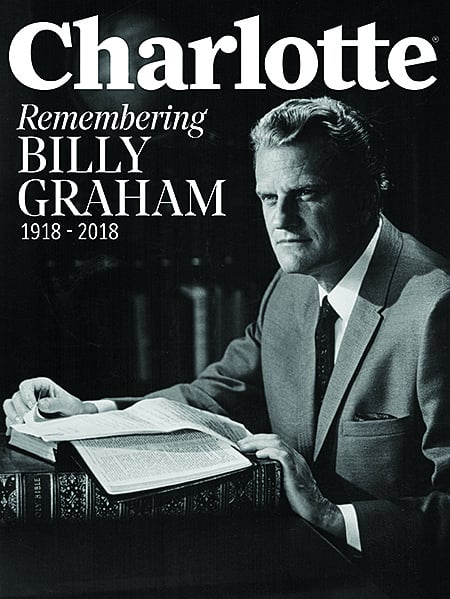 THE TIME IS SET, and we are there.
It's a Saturday, or a Sunday, or during a weekday lunch break, in uptown or NoDa or South End. Clusters of folks are tapping furiously at their phones, a new kind of social gathering, separated strategically so each team has the best chance of winning in this battle.
You have likely seen us, phones connected to the external battery packs in our pockets. We are playing Pokémon GO.
The game, an augmented reality app that you use to find and catch creatures called Pokémon, launched a year and a half ago, and when it did, I spent much of my free time looking for the local landmarks tagged in the game as "pokéstops," where Pokémon trainers (players) can get supplies for catching Pokémon. The churches on The Plaza, for example, or Whiskey Warehouse—all within walking distance of my house.
Later, the game introduced rare Pokémon raids, where eight or so trainers need to battle together to win. I joined message boards on the app Discord to follow who was battling and when, and my husband and I would head out and meet our new friends as a battle was about to begin. I know them mostly by their handles: Fake Mike Jones, for example, though I can infer his real name.
We'll walk, en masse, from Pokémon raid to Pokémon raid—adults who drove in from Gastonia, kids who play the game with their parents, the guy who has a million Pokémon but swears he hasn't spent a dime on the game. Black, white, Asian, Indian, girls, boys, gay, straight. I'm not sure I've ever been part of a more diverse group.
It's a kind group, too. We'll start over if someone shows up a few minutes late and has no one to start a second battle with, we high five each other when someone catches a Pokémon, even if we missed it. We'll battle for Pokémon we don't need because another person needs the help. All this from, beyond chat room banter, strangers.
Through the game, I explore more of the city beyond the neighborhoods I live and work in. We'll grab a drink in Dilworth, or read over the graves at Elmwood Cemetery. Some days, our battles take us to the west side, where we've explored the serenity of Johnson C. Smith University's campus on a Sunday morning, or enjoyed the view from the stadium, uptown skyline in the background. (Read a Q&A with the institution's president here). We've pondered murals on the sides of buildings, and visited historic neighborhoods, ones such as McCrorey Heights, the birthplace of Charlotte's civil rights icons, which Michael Graff shares as part of this month's west side package. Many of those neighborhoods are now checkerboards of old bungalows and the shiny new homes that overshadow them. Greg Lacour details west side efforts for a community land trust, which residents hope can keep their neighbors from suffering displacement as land values jump, here.
On the other side of town, in and around Plaza Midwood, pokéstops that were created when the game was launched have slowly disappeared, remaining only in Pokémon GO's world of augmented reality: Tommy's Pub, the church at Hawthorne and Central avenues, Double Door Inn. Many are knocked down or scheduled to be.
The west side has too much meaning, too much heart, to suffer this same fate. We can only understand its importance by understanding its history. I hope you enjoy reading about the west side in our feature package. We needed to share these stories now, you see, because this city moves too fast for us to chance waiting any longer.