Editor's Note (August 2019): Revision of a Place
What's our underlying brand?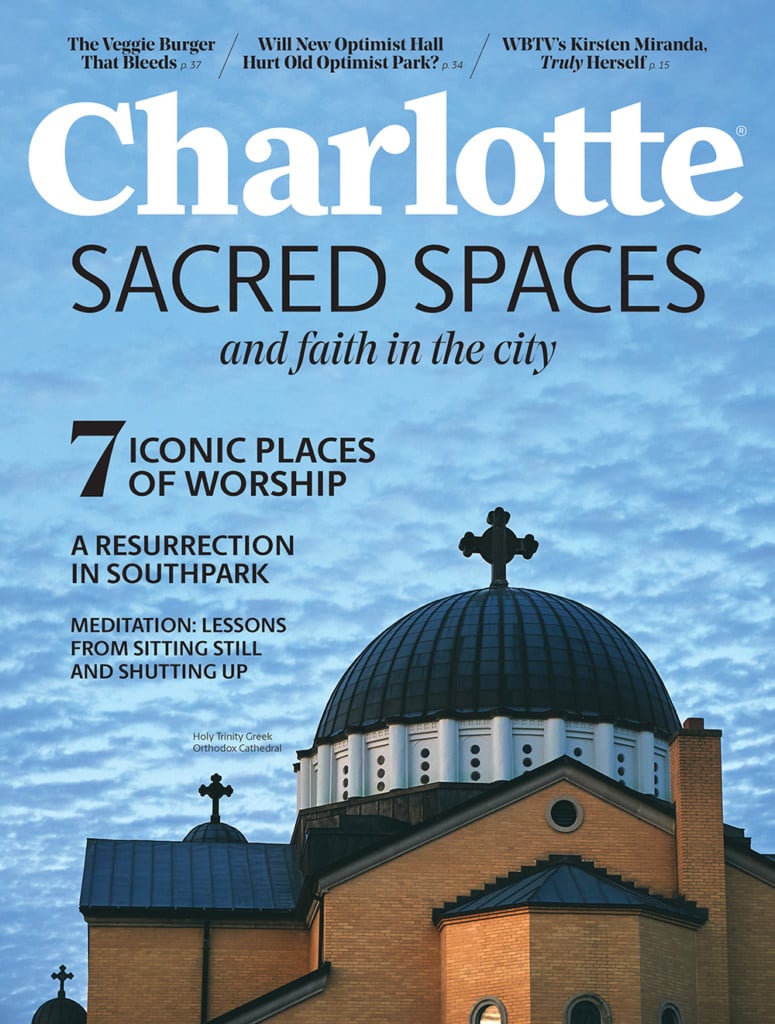 EVERY STORY YOU'LL SEE in this issue (and every issue) goes through at least five editors, one fact-checker, and as many as a dozen revisions. In each version, we smooth out the transitions, clarify any hazy points, throw the piece through a spellcheck or two, and on and on.
As I read the 10th version of a story, the words have usually lost some of their emotional impact. If I was moved to tears on a first or second read—which happens a lot—I'm unaffected on the 12th.
Some pieces break that mold, though. Jane Fields, our art director, and I read Jen Tota McGivney's essay together for the first time a few months ago. We were trying to conceptualize a cover that embraced the variety of pieces in this issue about faith and spirituality, but our productivity faded with each word of Jen's piece about her experience at a four-day silent retreat and the pain she worked through there. I still think about that Post-it note a kind stranger left Jen at her retreat. I still cry when I read that paragraph (you'll know what I'm talking about in a minute).
Adam Rhew's piece about the iconic "ski slope church" and its transition from Sharon United Methodist Church to SouthPark Church, a sanctuary within a block of mixed-use development that'll open in 2020, was one that surprised me on the first read and the last. Church leaders, including Adam's dad, were frank about their attention to branding as they developed the new church to be more open and relevant to the SouthPark neighborhood.
When editing this, Greg Lacour, our senior editor, and I stumbled repeatedly over one of pastor Kyle Thompson's quotes—it closes the piece, actually. His thoughts on branding in relation to the church felt a little jarring, like a crick in the neck or a speed bump on the highway.
Charlotte is changing rapidly—in Optimist Park, Park Road Shopping Center, in SouthPark. Earlier in Adam's piece, Thompson says that people often rely on a church to be his or her "sanctuary," life's one bit of stability in an evolving world. "I understand that," he says, "but I think there's some faulty logic there."
The beloved ski slope steeple may have been demolished, but, Thompson continues, "God is the same. Jesus is the same. … We don't change our message. But we do have to look at the delivery of that message."
An adjustment in the delivery of the church's message meant tearing down and rebuilding; the vessel for sanctuary may have changed, but the root mission, the church's faith, was the same.
I considered my own upbringing in Unitarian Universalism. Our brand, our message, is basically inclusivity, a brand of all brands. In the 15 years I attended fellowship service, we had different ministers and presidents (my mom being one of them). The size of our congregation swelled, then shrunk. But that mission of inclusion remained. In our religious education program, our class visited a mosque, a temple, a church, and a synagogue. At the end of the year, my mentor asked me, "What do you believe?"
That's a pretty giant question for a 15-year-old. I still can't fully answer it.
I think about our "brand" as a magazine a lot, too. In a city of change, where does Charlotte magazine fit in?
The magazine is here to rejoice when the 36th Street bridge finally reopened. We're here to smile with WBTV's Kristen Miranda—her giggle is infectious—and to devour whatever Bruce Moffett puts on a menu. I'm no branding expert, but to me, that's the magazine's brand.
Perhaps one day, the magazine's paper will change from glossy to matte, or we'll redesign our logo. Our mission as your city magazine will stay the same, though. Each piece will still go through five editors, one fact-checker, and as many as a dozen revisions before ending up in your mailbox. And we'll still want to hear from you about what matters most in our city.