Editor's Note: Before They Were Stars
From the executive editor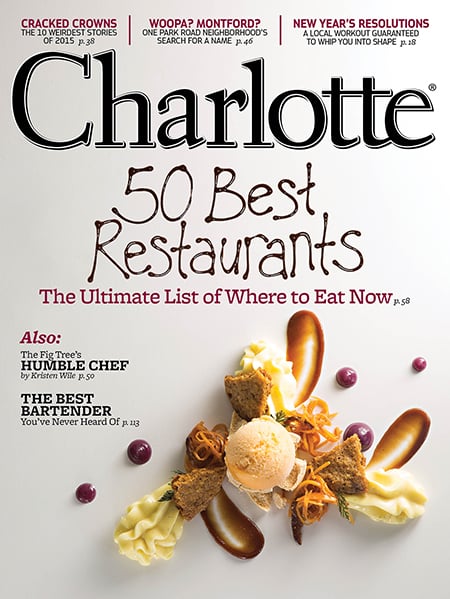 THIS WAS about 2005. Or maybe a few years before that. Or maybe a few years after that. Hell, nobody remembers. They were drinking, whenever it was. And a lot's happened since.
They gathered every Tuesday at Tutto Mondo Lounge, a place where cigars and cigarettes flared all night and the scent of smoke lingered for days. They were in their 20s, save for one or two who'd just tipped 30, all dripping with talent. On Tuesdays, they drank and dreamed.
The DJ was the valedictorian of his class at the Culinary Institute of America, but on these nights he spun house music on vinyl and itched for a life in which he could work for himself. The bartender was a local boy who rattled on and on about a future making creative cocktails the likes of which his hometown had never tasted. Two Serbian brothers who did grunt work as bar-backs at another restaurant kept saying, "When I have my own restaurant …" and their friends would ask them to say it again and again. They liked the Serbs' accents. An up-and-coming pastry chef from Iran was here, too, plotting his next step in a march toward owning his own place. They called it family night.
Tutto Mondo is gone now. It closed in 2010, and a few years later Tupelo Honey came in and made it a bright and airy bar for its restaurant. But the old place and those nights still exist as hazy memories. Looking back on them now is like looking into a snow globe to see the birth of the modern Charlotte food scene:
• There's Brian Stockholm, the DJ. He was also the head chef at Noble's then, and he did, in fact, go on to spin vinyl fulltime for a few years. He has about 6,000 records in storage now because in 2012, he and his fiancée, Shelley Odom, started one of the most popular food trucks in the city, Papi Queso.
• There's Bob Peters, the bartender. He's now the closest thing to a celebrity mixologist this city has to offer, serving his concoctions at The Punch Room on the 15th floor of the Ritz-Carlton.
• There's Stefan Huebner, who at the time was the bartender at Cosmos in uptown. He's since moved on to Heist, and this magazine gave him an award as the best mixologist in the city in 2014.
• There's Djordje and Branko Avramovic, who worked alongside Huebner as bar-backs at Cosmos. They caught the last flight out of Serbia when the 1998 Kosovo War started, and 10 years later they opened Intermezzo on Central Avenue. It's No. 30 on our list of Best Restaurants this month.
• There's Majid Amoorpour, who came to Charlotte from Iran via Oklahoma City in 1999. After several stops as a pastry chef, including one under Stockholm at Noble's, Amoorpour opened Bistro La Bon, No. 16 on our list.
• And there's Jay Pound, who back then was chef at Latorre's and Aquavina, and now serves up small plates such as pork belly tacos and Dirty South Nachos at one of the hottest restaurants in the city, Soul Gastrolounge, No. 20 on our list.
This issue is one of our favorites each time we do it, not because it's fun to rank one restaurant against another, but because it provides a time capsule of what it's like to eat here, right now.
It's funny to look at the list from 2005. It had 15 places on it, listed in alphabetical order. Some are no longer here. Others, such as Barrington's and Carpe Diem, still make our list. This year, with senior editor Kristen Wile leading the way, we decided to expand to 50. And for the first time, we ranked each one. We didn't do this because Kristen enjoys extra work or criticism; we did it because it reflects the growth of our restaurant scene. There are simply too many good restaurants in Charlotte to keep it at 25.
We can attribute today's robust scene to many things: a bigger city, a national food movement, an improving economy. But no restaurant would exist without someone having a dream and a vision, even if it was formed on fuzzy nights in a smoky lounge.
Nobody remembers those evenings more clearly than Peters, the man behind the bar.
"I'll never forget," he told me recently, "looking around the room one night and thinking, 'Wow, we're kind of a bunch of bad-asses.' "