Editor's Note (December 2017): Hot Dogs and Honors
Recognizing those who do their best to blend in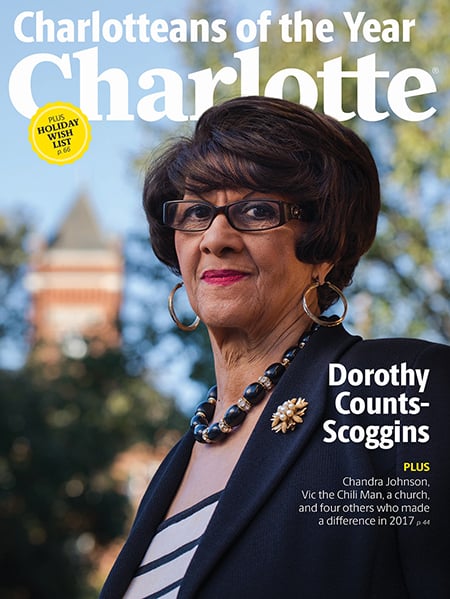 "NAMED THE BEST HOTDOG in the United States and #1 restaurant in Charlotte by Yelp.com," a nomination for a Charlottean of the Year read. A fan of Vic the Chili Man submitted the uptown hot dog vendor for this magazine's biggest honor.
This year, for the fourth time, we've asked readers to tell us about the people who made a difference in our city. And this year, like every year, it was difficult to narrow down our list of worthy names to our final eight.
Among those who advocate for the homeless, the poor, and the mistreated, a man who serves hot dogs doesn't quite make the cut, even if his hot dogs are the best in the country. I wondered how Vic the Chili Man, one of the city's most outlandish personalities, would react to the nomination. He'd surely have a zinger ready, right now, that is somehow both a pat on his back and a good-natured slap in his face at the same time. I chuckled at the thought of the Chili Man's jokes, and moved on to the next nominations.
Some of our winners were so obvious they didn't need nominations, such as Dale Earnhardt Jr. Others received multiple nominations, including Dorothy Counts-Scoggins. And there were those that were unexpected, such as the nomination for a man named Victor Werany:
"He has selflessly held SHRED for Gabe and Luke every year for the past 4 years. It raises money for our kids that have Spina Bifida. He gains nothing from it but works his butt off for 6 months every year to collect and put all of the pieces together to make this huge event come together. He doesn't get nearly the recognition he deserves. He has helped us all buy special needs equipment that was out of our budgets. We used to be his neighbor and he is just a good guy that always does the right thing and is trying to teach the next generation to do the same."
Something about the submission was familiar. As I began to research the nonprofit, I saw a name I recognized: Vic the Chili Man, known less commonly as Victor Werany. Well, hot dog. Turns out, Vic the Chili Man is more than the man behind one of Charlotte's most popular dishes.
It's easy to overlook many of our Charlotteans of the Year, just as it was to brush off Vic the Chili Man as someone who only sells hot dogs. He sells hot dogs, yes, but also laughs. He saw a neighbor's suffering and it inspired him to single-handedly begin a charity event for kids with spinal cord disorders. You could remember Dorothy Counts-Scoggins as the girl who decades ago looked hate in the eye to help end segregation in schools, not realizing she has been fighting for equality among students since. Those who don't immerse themselves in the world of fine art might think Chandra Johnson is simply a NASCAR wife and former model, not the cultural force she's become in this city with her Myers Park gallery.
In August 2018, we'll ask you again to nominate the people who deserve to be named a Charlottean of the Year. We hope you'll learn, as we did, that those who do great things sometimes seem just like the rest of us.
It's up to all of us to find them and celebrate them.