Editor's Note (February 2018): Honest Conversations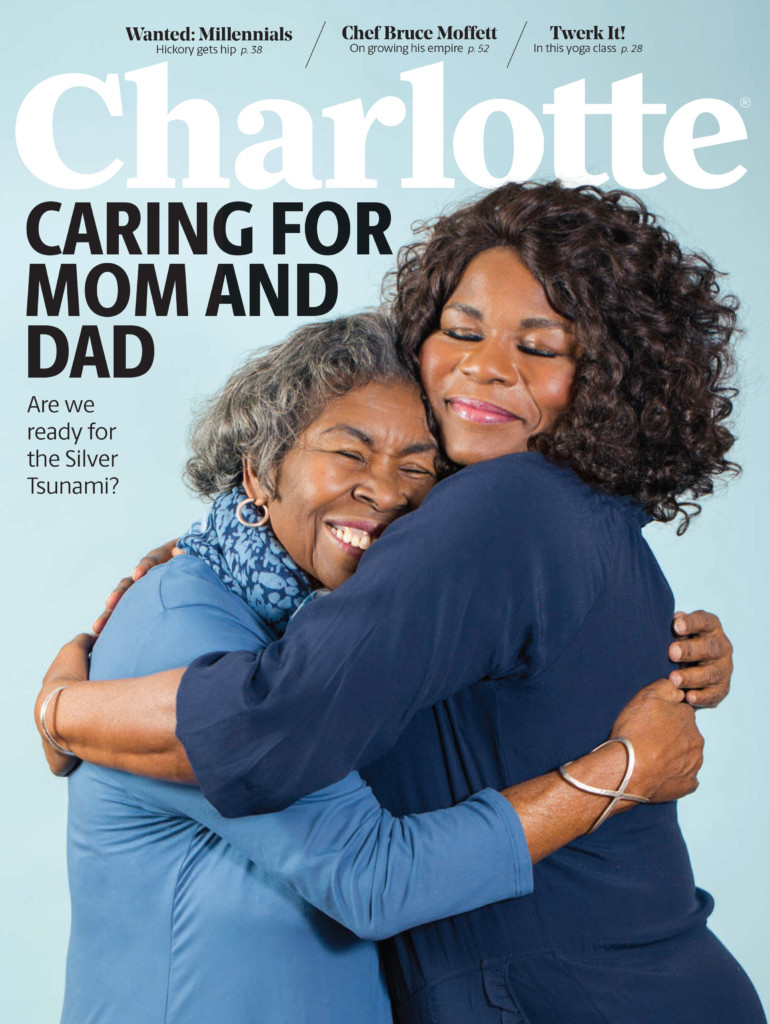 WE WERE SITTING in our Plaza Midwood kitchen with a cheese plate. There were some bourbon bottles for sampling on the table, and a freshly uncorked pinot noir. My parents were in town visiting from New York (the state, not the city), and as my husband, Jon, and I sat around the table with them, my mom scrolled through her iPad on a real estate site looking at homes in Charlotte for their retirement.
We were discussing neighborhoods—they want to be somewhere they can walk to things, but not in uptown—and home styles—definitely a front porch and back porch, but maybe a condo would be nice—when my dad interrupted the conversation.
"I don't want them to be stuck taking care of us," he said.
At the time, the comment seemed somewhat unprovoked, but given what their days are like in Albany, I guess it wasn't. My dad's mom is in her mid-90s, and though her mind is still sharp, she can hardly see, and spends most of her day sleeping. Visiting her this past Christmas, I sat with her during some of her rare awake moments while she ate a doughnut. I'll never forget the look on her face when she was ready for bed, a grimace that looked as if simply existing was painful. My godmother wheeled her back to bed.
My other grandmother still moves around OK, but her mind is nearly as bad as my other grandmother's body. Conversations with her play on repeat, with just enough time for someone to hit the play button again in between questions.
So, given that reality, my dad's statement wasn't surprising. My own parents, and aunts and uncles, have struggled with how to best care for theirs. Who should be the one to make the decisions, spend the time, the money? And what about when they disagree?
When my maternal grandmother's mind began showing signs that she was becoming dangerous to herself, it was clear that she needed to live in a facility where she would be watched closely. But that clarity doesn't really lead to much. What kind of facilities are there? How much will they cost? Can we afford it?
It's a lot to take in when you're in an unfamiliar situation. We hope to start a conversation about aging and care in our feature package. Greg Lacour discusses whether the city and county have prepared for what's being called the "Silver Tsunami," the aging of the baby boomers. Michael Graff honors one of the selfless souls who spend their days and nights caring for those in need. Jen McGivney finds a mother-daughter team who seem to have this all figured out. And we offer you a guide to the decisions you'll have to make and where to find resources to help.
My parents are like many others who have children in Charlotte. They're planning to move here, especially as my brothers are considering it, too. My in-laws plan to buy a home here soon. One of my best friend's parents from Pennsylvania just bought a townhome in Huntersville.
We'll be thrilled to have them here. And now, knowing what we know, we'll do our best to plan ahead, as a family. Even though someday our parents may not, my brothers and I will know what Mom and Dad wanted for their final years.
Living with worries about someday is no way to live—especially when you can live with a plan, instead.