Editor's Note (January 2019): The Sunset After the Storm
Our city's finest comeback stories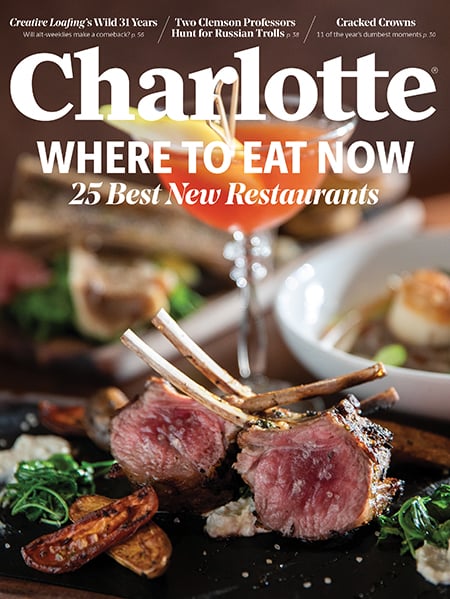 DAVE CRANDALL can tell you anything about the cocktails from The Summit Room. Want something fruity but not too sweet? Try the Kilimanjaro, one of its seven cocktails named after the tallest peaks on each continent. "I've been in the business forever," says Dave, a server at the Dilworth restaurant. He glides across the dining room floor with a Cheshire Cat smile, explaining the must-order drinks—and dishes—to every customer. The thing is, though, he's never had a sip of any of them.
For our Best New Restaurants list, I wanted to talk to a server who has seen the changes in Charlotte's food scene—someone with a different perspective from chefs and food writers. When I sat down with Dave at Mama Ricotta's in November, I figured I could still write that story. But I didn't want to. There was more to Dave than the food industry.
Dave was born in 1962 and grew up in Hobart, Indiana, a town of 30,000 about 30 miles east of Chicago. His grandmother raised seven daughters, and his mom was one of six. So he grew up around many cousins, along with his brother and sister. "There was always food," he says, sipping unsweetened tea. "As soon as I could reach the knobs on the stove, I grew up cooking."
At gatherings, cousins would shuck corn, snap peas, and help grandma make pies in her kitchen. Working around food felt natural for Dave, so he became a server.
After a loss in the family, Dave and his would-be wife decided to move away from those memories in Pennsylvania and start over in North Carolina in 1990. His work here started with the O'Charley's chain. Since then, he's worked at dozens of restaurants, including Mama Ricotta's, so he's especially kind to the servers working our booth.
Dave tells me he always loved to party, but when he and his wife split, his drinking escalated. "I had to drink every morning to get rid of the shakes and sweats," he recalls. "I'd come to work buzzed for, like, seven to eight years."
Two years ago, he was unemployed, late on rent, and alone after relationships turned sour because of his drinking. He decided to enroll in a four-month rehab program at Charlotte Rescue Mission, asking his sister, Barbra, for a few hundred dollars to cover expenses. But, as is the norm with any addiction, Dave took the money to the liquor store instead. Barbra didn't give up, though, and Dave credits her for saving his life. He checked back into rehab. When he graduated in 2017, The Summit Room hired him, giving him a second chance to do the work he loves. As of this writing, Dave has been clean for nearly 18 months.
When I was a server at Selwyn Pub years ago, I wasn't nearly as graceful as Dave is when he bounces from table to table at The Summit Room. I'd trip over the legs of barstools or collide with other servers, spilling the house-made ranch I had just finished stirring with an industrial-sized whisk. Bruises would cover my legs, making them look like overripe bananas. They'd change colors into a blue-ish purple, and I'd admire the spots, taking photos on my iPhone. They were oddly beautiful to me—reminders that healing from even a pinch of pain can create beauty.
Have you ever noticed that after it rains for days, or after a hurricane, the first clear day's sunset is an extra-vivid red? I'm no meteorologist, but a Google search tells me I'm not crazy. Rain washes particles out of the air and clears space for the glowing red and orange to refract through a thin layer of clouds left after a storm. Sunsets are a bit like bruises. The sky is healing from the downpour and strikes of lightning, and the sunset reminds the specks of life below that we can all recover.
There are a lot of comeback stories in this issue, and that's appropriate, given that January is the month for starting over. To finally go to rehab after years of alcoholism. To seek help after an abusive relationship and give back to survivors of domestic violence. To take a risk like the former employees of Creative Loafing, Charlotte's alt-weekly paper—which stopped printing in November and laid off its entire staff—and start a new venture. To start seeing the beauty in healing.
Dave taught me a lot about the food scene here, but he also showed me there's more to the story. Trying new restaurants is great. But for servers like Dave, to memorize the drink list without taking a single sip? That's what's important.