Editor's Note (Nov. 2017): Airport Applause
Two hands can make a difference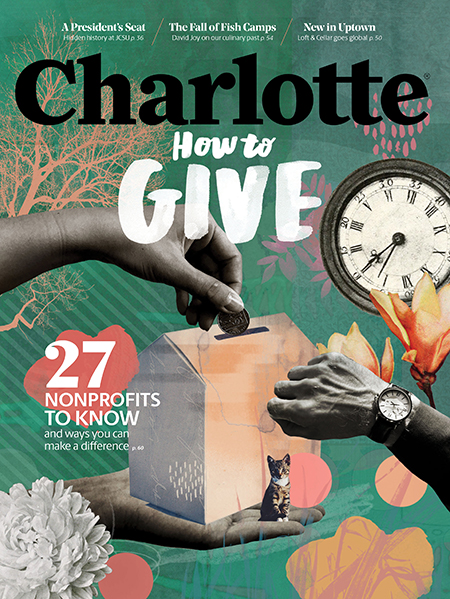 SPORADIC BURSTS of applause broke through the usual chaotic sounds of the airport terminal. After a weekend in Washington visiting girlfriends from college, I was sitting at gate C5 at BWI trying to decide whether purchasing the bargain fare on my American Airlines flight was a mistake. Three or four more rounds of applause later, I turned to the woman behind me.
"Do you know what they're clapping for?" I asked her.
"A flight of World War II veterans just arrived," she explained.
It was an Honor Flight Network trip, hosted by a nonprofit organization that flies veterans to D.C., where they visit the memorials in their honor. White-haired and no-haired men in bright orange shirts made their way through the concourse, slowed down by the lasting weight of combat. They wore hats marking the battles they'd fought in, but you didn't need to see the hats to know which men in the airport that day were our war heroes.
I made my way over to the crowd to join in the applause, and as the soldiers passed by, they tipped their caps and waved. How often do these men walk through places such as this with no recognition at all? I wondered. Before I knew it, I was ugly crying and couldn't keep it in. Their appreciation for a gesture as simple as clapping touched me.
It's hard to think you can make a difference without a wallet the size of some of the city's most well-known philanthropists: Hugh McColl, the Levines, the Blumenthals. Yet writers for this magazine spoke with nearly 30 nonprofits, and most would tell you volunteering your time is as valuable as money. The stories in our "How to Give" feature are about more than money. You'll meet the real-life heroes playing make-believe ones to cheer up kids at Levine Children's Hospital and a teenager who saw shivering homeless men and women and decided to make a difference. We also look at organizations doing great work to help the arts, animals and the environment, and veterans. In this time of division, it's especially important to give, to try and heal.
During a Panthers game the week we finished this issue, fans in Bank of America stadium and folks around the country wondered what would happen as the national anthem played. Would the players kneel in protest of the nation's inequalities, or would they stand at attention? The debate about whether kneeling during the Star-Spangled Banner is an expression of free speech or disrespect for veterans captures the division in America right now, fracturing brothers and sisters of this country. The Panthers players stood, with defensive end Julius Peppers deciding to remain in the locker room. Several of the New Orleans Saints remained on bent knees. Reactions in the stands were, of course, mixed.
Later, with the Panthers trailing and the crowd losing enthusiasm, a TV timeout brought a pause to the game. The cameras panned to a row of veterans who had been invited to watch the game.
Fans jumped out of their seats to clap and cheer as the veterans, in full uniform, waved and beamed on the Jumbotron. Along the sidelines, Panthers and Saints players clapped with their helmets in one hand, looking up at the screen, standing and cheering along with us—everyone giving these veterans the recognition they've earned, with just two hands.