Enchanté, Aix En Provence
French cuisine gets more flavor at new Myers Park restaurant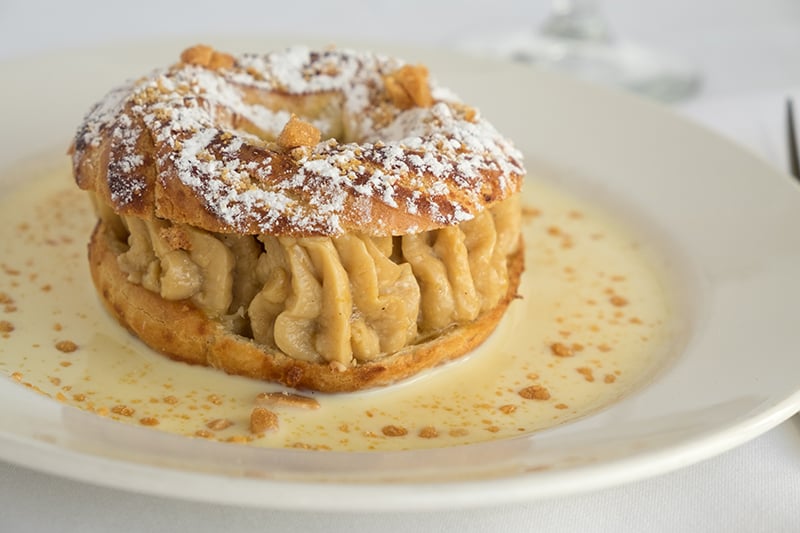 PATRICK GARRIVIER remembers biking home from swim club with his sister as an eight-year-old in Vichy, France. The two would stop at a bakery and each buy a Paris-Brest, a light and airy pastry with a hazelnut- and coffee-tinged filling. They would eat them right there on the side of the road.
Top: Garrivier and co-owner Bryan St. Clair did all the renovations to the restaurant's interior.
Bottom: The duck cassoulet, with duck confit, lardon, and garlic sausage, is tender and flavorful.
That was more than 40 years ago. Garrivier opened Aix en Provence, a restaurant in the space formerly occupied by Terra on Providence Road, with Bryan St. Clair this winter. Since then, Executive Chef Nick Tarnate has recreated Garrivier's beloved Paris-Brest, and after much testing and tasting, Garrivier is happy with the result.
"Some dishes like that, when you try them, you just remember them perfectly," Garrivier says. "When my mom used to make some cassoulet or duck or stuff like that, and you just remember exactly how it tasted, and you try to replicate it. I think we achieve pretty much as close as we can to the real thing."
Garrivier's memories from his childhood in France are the basis for each dish at Aix en Provence, from the cassoulet to the frog legs. The menu focuses on French countryside classics, but with the addition of flavors ranging from Moroccan to Greek, the dishes are unlike anything else in the city.
"It's all based off French technique; the classics and the fundamentals are key," Tarnate says. "We just take influences from other areas and bring them together."
Garrivier, St. Clair, and Tarnate worked together at Lumiere, and when they were getting to know each other, they discussed the type of restaurant they could add to the city's growing restaurant scene. Garrivier says there's no bad blood between the restaurants, pointing out the differences in the two concepts: Lumiere is more high-end, while Aix en Provence aims to serve French countryside-style food. The conversations at Lumiere led St. Clair to talk to Thierry Garconnet, owner of Terra, where he had worked in the past. The restaurant had been on the market for several years, and they agreed to lease terms. St. Clair and Garrivier closed Terra and spent three weeks renovating—painting, wiring lights, and brightening the space—before reopening as Aix en Provence this past December.
Now the room's palette is cheery, with yellow and green walls, and mirrors that make it appear more spacious than it actually is. Behind the bar, you'll find French apertifs, liquors intended for drinking before a meal. Many of the bottles are unfamiliar to the Charlotte area, and the cocktail list helps introduce you to them.
When the space reopened as Aix en Provence (the "aix" is pronounced "ex," as it is in the French town), the ideas that sprouted around the corner at Lumiere had been nurtured into reality.
In the restaurant's first month, impeccable service and nearly flawless dishes made a statement to diners in the small Providence Road space. St. Clair and Garrivier may not have owned their own restaurant before this, but they knew how to run one well. St. Clair brought nearly 20 years of experience as a server, including in formal dining rooms such as Capital Grille and Lumiere, and Garrivier worked for famous chefs such as Daniel Boulud in New York City's Daniel. Aix en Provence attracted regulars quickly. One woman came in to order the steak au poivre four times in the first month.
Tarnate brings his own expertise in the kitchen, having working with chefs such as Marc Jacksina, then at Halcyon and now at Earl's Grocery, and Tom Condron, the chef/owner at Lumiere. Those chefs helped shape his management style, and he shares the same enthusiasm for Aix en Provence as its owners.
"When I started working at Lumiere, these guys already had a nice bond," St. Clair says of Tarnate and Garrivier. "And I knew if we had the opportunity to get our own place, it would be good. … It was just a matter of getting our chance."
Sitting in the dining room at Aix en Provence, it's clear how much customers appreciate that chance. As diners sample dishes such as the duck cassoulet or tagliatelle with lamb ragout, their reactions make it clear they're trying something new—and something they'll come back for. It's a moment Garrivier and St. Clair try to catch, standing between the chaos of the kitchen and their customers, who are quietly enjoying these transportive dishes.
"We love when we have guests that are like, 'Wow, we've never had anything like that before,'" Garrivier says. "And this is what we're looking for, that reaction in people's faces."
Aix en Provence
545-B Providence Rd.
704-332-1886
Entrées: $18-$32
Kristen Wile is senior editor of this magazine. Reach her at kristen.wile@charlottemagazine.com or on Twitter:
@kristenwile.