Engaged: Amy & Ryan
Congratulations on your engagement!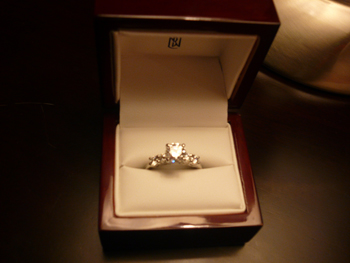 Wedding Date: October 23, 2010 in Augusta, Georgia
How They Met:
I attended the University of South Carolina from 2004 to 2008. One of my very best friends throughout those four years was Jenna Boward, Ryan's younger sister. I had always heard of "Jenna's older brother" and finally met him my senior year, in October 2007. There was an instant, unspoken connection. We maintained small communication for the next few months: Facebook messages, texts, and a few visits to his parents' home in Rock Hill. We finally had a chance to really spend time together at the Quail Hollow Tournament in May 2008. We had an intense, but comfortable connection. We started out in what seemed like an impossible situation — a long-distance relationship. I moved to Atlanta after graduation and he relocated from Raleigh to Rock Hill. We traveled to see each other every other weekend. Despite the distance, we grew close and soon fell in love. After fifteen months of living in different cities, I found a job in Charlotte and moved right away. We spend every day together and it still does not seem like enough!
The Proposal:
We had planned a trip to the Biltmore Estate in Asheville, NC for a few weeks. We were both excited to see the decorations and spend time in the mountains. On Saturday, December 5, we started the early morning drive. Snow pelted our windshield as we climbed up the mountain and the temperature fell! Ryan had already planned our tour time through the house, a wine and chocolate seminar, and dinner at The Stable Café. The day was beautiful, but very chilly! After a candlelight tour at 10 p.m. we made our way back to the car. But first, he requested a picture in front of the enormous red and gold Christmas trees on the front lawn of the Biltmore. I hesitated due to the freezing temperatures, but finally gave in. While analyzing our less than stellar self-portrait, Ryan put his arm around me and asked if I knew how much he loved me. I was somewhat surprised by his serious tone, but replied that I knew and loved him very much, too. In the blink of an eye, he was on one knee with a ring in hand, asking if I would make him the happiest man in the world and marry him! I was frozen with emotion and blurted out "Are you serious?" I had dreamed of this moment since that October day. Quickly coming back to reality, I said "Yes! Yes!" and he placed the ring on my finger. A bit big, but how beautiful. He has wonderful taste and did this all on his own! We spent the next day in Asheville, talking about our future.