Engaged: Annie & Steve
Congratulations on your engagement!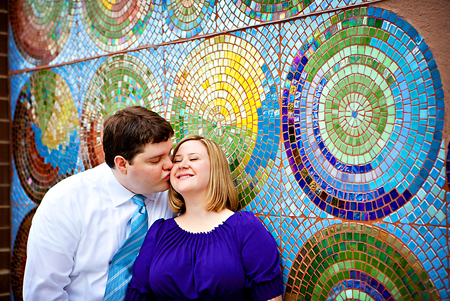 Wedding Date: May 1, 2010 in Pensacola, Florida
How They Met
We met on a blind date at Angry Alea's in Charlotte on October 6, 2007 to watch the Florida/LSU football game. We soon found out we shared a love of studio Phish albums, Steve Smith, and Mexican food. We talked well into the wee hours of the night and somehow managed to miss the end of what turned out to be one of the best college football games of the season. After that date we were pretty much hooked on each other and the rest is history!
The Proposal
In April 2009 Steve proposed at the foot of the Italian Alps on the shores of Lake Garda in Sirmione, Italy. Steve is a tax accountant, so from February through April 15, his life is consumed with work. He surprised me with a European vacation towards the end of tax season in 2009. After stops in Munich, Germany and the medieval Alpine town of Bolzano, Italy, we arrived in Sirmione, Italy. On April 30, we decided to take a day trip to a vineyard in the area. After a bus ride and confusing directions, we found the a "vineyard," which turned out to be at a home in a neighborhood similar to a residential area in the US! The owners graciously allowed us to come in and sample the wines they made, but it definitely wasn't the vineyard experience we were hoping for! After a day of walking we were both exhausted and decided to enjoy a glass of our newly purchased wine on the balcony of our hotel room. After a few glasses of wine, I was pretty relaxed and hoped to take a nap.
However, Steve insisted that we trek through the jungle-like grounds of the hotel to the shores of Lake Garda. After some cajoling, I relented to the excursion. We started off through the woods of the Victorian hotel property and eventually found ourselves at a gate that opened to the shores of the lake. Unfortunately, Steve's assumption that we would be able to get to the lake through a gate was wrong. As I started messing with the lock trying to get it open, I turned around to see if Steve could help me, and he was down on one knee with a ring! I said yes and we embraced as church bells rang in the distance (for real!). Steve may claim the bells were his doing, but the truth is that it was it was a divine coincidence.