Engaged: Carlin & Hart
Congratulations on your engagement!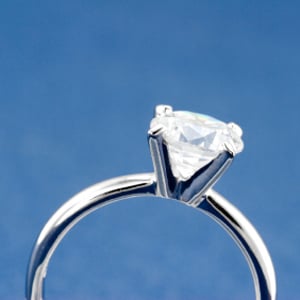 Wedding Date: July 17, 2010 at First Baptist Church of Charlotte
How They Met:
Carlin's mother has three sisters who all reside in Spartanburg with their families. My father had been the pediatric dentist for all seven of Carlin's cousins. Many of our cousins were on the same swim team growing up as me and my brother and sister. There has been a connection between the families for a number of years, but even though Carlin and I went to the same college (and even have many mutual friends) we had never met.
I had been away at college and playing football for the past several years and had not been back to Spartanburg very much. One Sunday I was having lunch at the Carolina Country Club with my family and so was Sylvia's (Carlin's mother) twin sister, Celia. Celia stopped to say hello to my family and found out that I had recently accepted a job back in Spartanburg and moved back. Celia has a natural ability for matchmaking, so immediately the wheels started turning. She insisted that I should meet her niece and even had a picture of Carlin with her. After telling me that Carlin and I would be very compatible and that she was a Gamecock fan, Celia put Carlin's number in my phone. She called Carlin that night and told her that she had run into a family friend and that a really handsome young man may be calling her soon.
Well, three weeks went by and I still hadn't called her. Carlin had pretty much forgotten about it until Celia asked her on Thanksgiving if she had heard from me. When she found out I had not called her, she and my mother, Janet, as well as my sister Jacqueline, decided to put a little pressure on me. I FINALLY gave in and called Carlin the next week … our first phone conversation lasted five hours. We made plans to go on a blind date that weekend and have been together ever since. The rest is history!
The Proposal:
Well to start, Carlin had no idea I was about to propose to her. I came into to Charlotte on Wednesday, the 7th of October to ask her father for permission to have her hand in marriage. Her mother and father met me at the jewelry store, saw the engagement ring, and gave me permission to ask Carlin to marry me. Afterwards we went to Del Frisco's Steakhouse to celebrate our future engagement. All the while Carlin was sitting at her apartment with her roommate Jennifer, less than 2 miles away, without a clue I was in town.
I came back into town on Friday night to spend the weekend with Carlin and her friends and family. Saturday we spent the day at a chili cook-off that her roommate's boyfriend, and now fiancé, was competing in. All the while I was in touch with her mother who had ordered four dozen white and pink roses and set up candles around her house for the next morning. I also called Carlin's best friend Monica and she drove up from Charleston to be there for the proposal.
The next morning Carlin woke up and I had her mother call her and convince her to come home to eat a big Sunday dinner. Carlin threw on some jeans, a sweatshirt, and a ball cap to drive to her parent's house. (She swears that she hasn't gone out of the house looking like that since college!) When we arrived she ran into her parents' house with me tight on her heels without a clue what was about to happen. When she broke through the kitchen door and saw the flowers and all the candles lit, she was confused thinking that her mom had gone way overboard with the Sunday dinner. I reassured her it was all for her and when she turned around I was on my knee and asked her if she would marry me. In shock she froze for a second and then said, "Yes" once I placed the ring on her outstretched hand.
My family and hers then broke the silence by rushing out from behind the living room wall cheering and hugging her with excitement. We then toasted with a bottle of Dom that her dad had reserved for the occasion and from that point on we have been happily engaged and excited for the wedding to come!