Engaged: Jennifer & Mark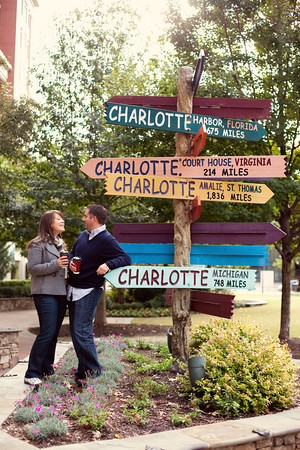 Wedding Date: February 26th, 2011 at Grace on Brevard and The Mint Museum Uptown
How They Met:
At Thomas Street Tavern. Mark asked me to play Ping- Pong on a warm spring day in April 2009.

The Proposal:
I signed Mark and I up for the 2010 Charlotte Diamond Dash that took place on April 24, 2010 sponsored by Brownlee Jewelers after one year of dating. Despite some grumbling (especially since we were missing the first ever Bobcats NBA playoff game), the minute the race began Mark wanted to win. We worked together, RAN as hard as we could and figured out the clues one by one which were all sent and responded to by text message. We thought we did well, but that we didn't have a chance to win since many of our over 500 competitors had bikes. During the awards ceremony at the Epicentre, Mark and I emerged the winners and were called up on stage in our sweaty red T-shirts to collect our prize from Brotha Fred.
I wore the ring on my right hand for the weekend and took it for show and tell but then we locked it away until it was "time"; On July 9th, Mark took me to the Epicenter and proposed in the middle of it all, where the Diamond Dash had started and also where we shared our first kiss after an afternoon of bowling at Strikecity.