Engaged: Miquel & Kaiser
Congratulations on your engagement!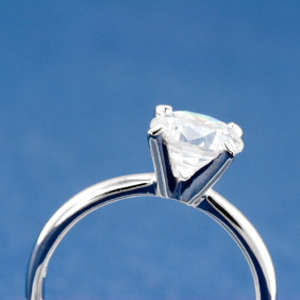 Wedding Date: October 16, 2010 in Charlotte, NC
How They Met:
Kaiser and I met in 2007 when I started working on the trading floor at Wachovia. We sat near each other and became friends. After a few weeks of the friendship developing, I realized I liked him as more than a friend, but didn't think he felt the same way so I kept it to myself … and to my friends! I remember telling my friend Laura, "I don't know, I just kind of want to marry him someday." She, of course, thought I was crazy, since we were not even dating! That year for his birthday, I threw him a big cookout party at my house. I guess he was impressed by the party, because later that day he told me he liked me! We've been together ever since!
The Proposal:
In June 2009 for our two-year anniversary, Kaiser surprised me with a trip to South Beach for the weekend of July 4th. Upon hearing about our trip, my friends kept telling me "I bet this is when you will get engaged!" Not wanting to be disappointed if it did not happen, I tried not to think about it. The night before we left, my mom called and asked me if I was excited about the trip. I told her yes, but that everyone kept putting it in my head that he'll propose and I didn't want to be disappointed. She knew his plan, but wanting to throw me off course, responded, "I don't think he's ever going to do it! I think you'll have to propose to him one of these days!" I agreed and put it out of my mind.
Upon arriving to Miami, when we were on our way to the hotel from the airport, he asked me what I would like to do that day. When I suggested we have lunch and go to the beach, he informed me I had a massage appointment at the Delano spa! I was so excited about my surprise that it did not occur to me this could be a cover for something else, which of course it was. He needed the time to wrap up his big plans for the proposal! While I was at the spa, he was coordinating with the concierge, finding the perfect location to pop the question, wrapping up details with the photographer he hired, and coordinating a secret "key drop" that would signal the concierge to take a bottle of Champagne to the room!
When he picked me up from the spa, he suggested we get up early the next morning to watch the sunrise on the beach, claiming his friend Jeff insisted it was worth getting up for. Completely relaxed, I did not argue, and at 6 a.m. the next day I dragged my not-a-morning-person self out of bed. When I tried to wear leggings and a pajama shirt, he panicked and suggested I wear something cuter. Too sleepy to argue, I changed my clothes and we left. He dropped the key at the front desk, explaining, "They will hold your key for you while you're at the pool or beach so you don't lose it." Being one who often misplaces things, I was highly impressed by this amenity. We made our way to the beach, and I started taking pictures of the sunrise. There were a few other people out taking pictures as well, so it did not seem strange when a guy with a camera asked to take our picture in front of the sunrise. When I asked him how we should pose, Kaiser said it might be cool if we walk away from him, towards the sunrise, along the water. After walking a few feet, he said, "You know what else will be cool?" I said "What?" He replied, "When we have pictures of our engagement." I turned and he was down on one knee with a ring! I started hysterically crying, happy tears, of course! Meanwhile, our professional photographer was capturing the whole event! I was so proud of my future husband for planning and executing such an elaborate proposal without me suspecting a thing.