Engaged: Natalie & Kevin
Congratulations on your engagement!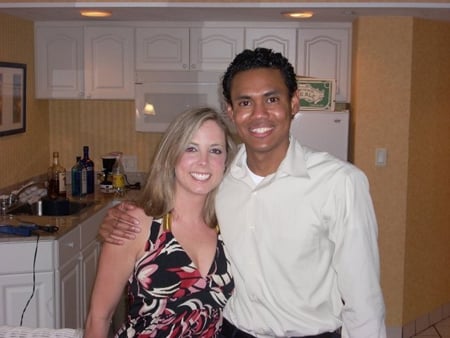 Wedding Date: August 21, 2010, Marriot, Uptown Charlotte
How They Met
We met at work at NewsChannel 36. Our jobs brought us to Charlotte within a month of each other. Kevin came from Nebraska and I came from Ohio. Despite completely opposite schedules (I work overnights and Kevin works 3 p.m. to midnight), we still found time to hang out.

The Proposal
Our engagement story is one of the best (I am biased though). I had asked Kevin to start a tradition with me. We each had to buy each other an ornament that made us think of the other one. We set a date to exchange them and Kevin came home with a box and asked me to open mine first. I opened the box expecting a Christmas ornament and instead I found a ring box open with a diamond sparkling at me. I was so shocked and surprised. I looked up at Kevin and he had his camera phone out. He snapped a picture of my surprised face because my real ornament was a picture frame and he wanted to put the picture of my face inside so we could always remember the exact moment we got engaged. It was hard taking that ornament down this year but it will be fun to put it back up next year.