Engaged: Nicole & Justin
Congratulations on your engagement!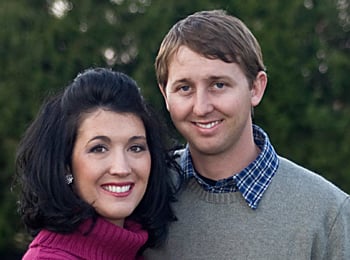 Wedding Date: May 15, 2010 at the Atrium Uptown, Charlotte
How They Met:
Justin and I met at the beach music festival in Raleigh on April 25, 2003 through mutual friends, Lane and Kyle Byrd. I was dancing on a cooler when Justin decided that his life would never be the same without me! From that day on Justin called and e-mailed me randomly, and we would occasionally see each other as friends over the years. I had always had a thing for Justin, but the timing was never right. Then on Jan 21, 2007 we went on our first official date, and we have been inseparable ever since.
I graduated from Peace College in 2004 with a BA in psychology and Justin graduated from East Carolina University in 2006 with a degree in construction management. When Justin ended up getting a job in Raleigh in 2007, we were both single at the same time and went on our first date and have been together ever since. I am from Albemarle, NC and Justin is from Elizabeth City, NC. My parents moved to the Charlotte area to be closer to their jobs at Carolina Medical Center, and we are having an uptown wedding weekend so that all of our out of town guests will be able to park on Friday night and not move their cars for the weekend.
The Proposal:
On Friday night April 24, Justin had just gotten into town and surprised me by showing up at my salon where my hair stylist was in midst of chopping off all of my hair. Justin was in a surprisingly GREAT mood. When we got home, all of our neighbors were having a usual Cameron Village get-together and Justin wanted nothing to do with it. He was acting very anti-social, which was very unusual for Justin. (Little did I know that his nerves were in a knot.)
After giving him grief for being a hermit all night, we went to bed as usual knowing that we had to be up early the next morning for the annual Beach Music Festival. At 6 a.m. the next morning Justin woke me up due to his restlessness and asked me if I knew what today was and I was like "Yes, of course, it's the beach music festival, and we have three more hours to sleep." He then asked if I remembered that we met on this day (April 25), six years ago, and I was like, "Yes, of course. Now seriously go back to sleep!" Then he asked if I knew what else today was. Frustrated at that point I said, "Noooo, what is it?" And he replied by saying, "A day that I would never forget." My stomach got knots, and I sat straight up and on my pillow was my engagement ring at 6 a.m. prior to us meeting six years ago to the day. Justin then proceeded to ask me to marry him, and of course I said yes! We were both so excited. We went to the beach music festival where Justin and I met for the first time and I danced happily on the cooler all day long and informed everyone that I was soon to be Mrs. Nicole Layden!