Engaged: Noelle & Michael
Congratulations on your engagement!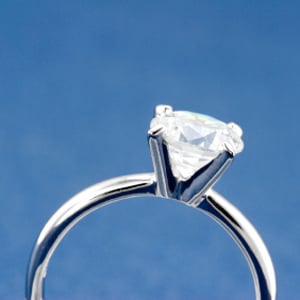 Wedding Date: July 3, 2010 at Firethorne Country Club
How They Met:
I met Michael during my freshman year at the University of North Carolina at Chapel Hill (UNC) in 2000. He was my suitemate's study partner and good looking. I just didn't want him to know. We occasionally bumped into each other, until we locked eyes at the cafeteria. He approached me, started a conversation, and we eventually realized that we stayed in the same dormitory, Ehringhaus (E-haus). He stopped by later, and we talked into the night and lined up for UNC basketball tickets at 5 am.
Michael was easy to talk to. We have been best friends ever since and started dating in 2001. We have similar passions to change the world through medicine and science. We both majored in biology and traveled to sub-Saharan Africa to teach HIV/AIDS education in rural primary schools.
I would have to say that the best moment of my undergraduate career has been my introduction to LOVE (Michael) and UNC basketball. We received tickets to three UNC home basketball games when we first met. I am excited about our upcoming wedding, but most importantly, I am delighted to know that I will stand with my best friend. I believe that our love for God, one another, and our desire to impact our community will keep us grounded and strong.
The Proposal:
It was Labor Day weekend. We had driven twelve hours to Providence, RI. Providence would become my new home as I was preparing for my first year of graduate study at Brown University. My parents, siblings (Aaron and Tiffany), and Michael not only came along for moral support, but also to unpack an overstuffed U-Haul trailer. After everything was set in its proper place in my new abode, Michael said, "I think you forgot something." "No, I think that's it," I replied. Little did I know he was on one knee with a small black velvet box in his hand. Previously, he had a heartfelt conversation with my parents, and received permission from my dad to ask for my hand in marriage. "Noelle, we have been through a lot together, and I don't want to lose my best friend. Will you marry me"? "Yes," I was shocked in disbelief, and ecstatic at the same time. Although Michael and I have been in a long distance relationship since our engagement in 2007 (Michael resides in NC), our love for one another keeps us strong. I am encouraged to know that when we come together, we will have our career paths in order, and a strong, yet exciting future lies ahead.