Enso Asian Bistro & Sushi Bar Gets the Party Going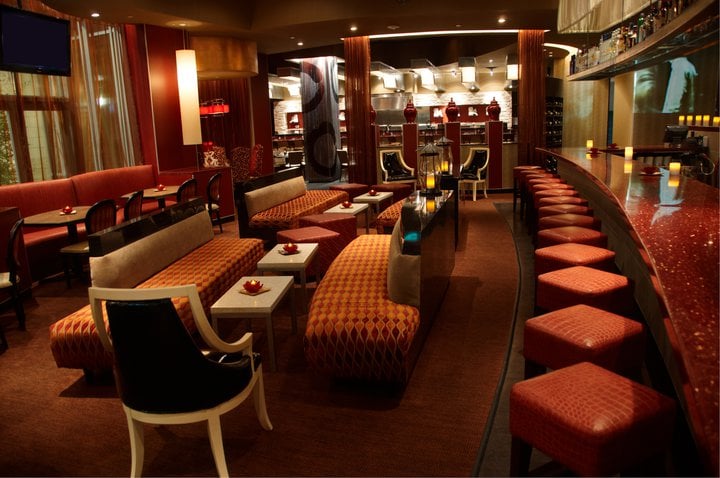 My sister drove up to Charlotte last night to celebrate her birthday this weekend. So, my brother and friends took her out to a late dinner at Enso Asian Bistro & Sushi Bar. I remember when Enso opened nearly two years ago—I attended the grand opening. I was impressed with the place and went a few times over the next few months, but I don't think I'd gone there at all during the past year. That's the unfortunate result of so many restaurants, bars, and nightclubs having opened in Charlotte over the last couple of years—sometimes you end up moving on to the next new thing. I'm glad my brother suggested Enso last night because I forgot what I'd been missing.
The lounge side of Enso was rocking. We arrived around 10 p.m. and the DJ was heavy into his mix of top-40 pop and hip-hop (Black Eyed Peas, Katy Perry, Chris Brown, Bruno Mars, and Pitbull are some of the artists I remember). The dining room side was starting to thin out, but the lounge side, referred to as the Sake Lounge, which is the size of some nightclubs, was cranking up. After waiting about ten minutes for a table for six to be cleared, we were seated.
There's plenty of seating in the lounge, from the booths and tables lining the wall, to the couches and ottomans in the middle of the room, to the two dozen or so cushioned stools surrounding the large bar. Because dinner is served late—until 2 a.m. on Fridays and Saturdays—and with the music playing and a large drink menu to choose from, you can eat, drink, and lounge here without having to make another stop. That's what a large group of about twelve apparently did last night, who appeared to also be celebrating a birthday. They were there when we arrived, and when we left they were still toasting and dancing.
We stayed at Enso for nearly two hours before heading to Loft 1523. But if it wasn't for wanting to show my sister and another out-of-town friend more of the city, we would've happily stayed longer (a Bruce Lee movie was projected onto a back wall and several TVs were tuned to SportsCenter…guy stuff).
Enso opened at the start of the Asian restaurant/bar/lounge explosion in Charlotte. From about the summer of 2009 through the end of 2010, there were about eight such concepts that opened around the city, including Room 112, Pisces Sushi Bar & Lounge, and Kalu Asian Restaurant Bar & Lounge, to name a few. I've gone to some of them and can tell you that they're not all created equal. Most of the new Asian spots have created amazing décors and ambiance, but for some the food is secondary. Well, everyone in my group last night raved about the dishes they ordered at Enso (our birthday girl particularly enjoyed the Almond Chicken entrée).
The DJ plays in the Sake Lounge at Enso on Friday and Saturday nights, as well as on Monday nights beginning at 8:30 p.m. for Industry Mondays. Enso Asian Bistro & Sushi Bar, 210 E. Trade St., inside the EpiCentre, 704-716-3676, ensocharlotte.com.