Entertaining? Make These Three Ginger Recipes
There's something about ginger that tastes better when the air is cold. Here are three recipes for appetizers that will warm up any holiday guest's palate with the root's zesty flavor.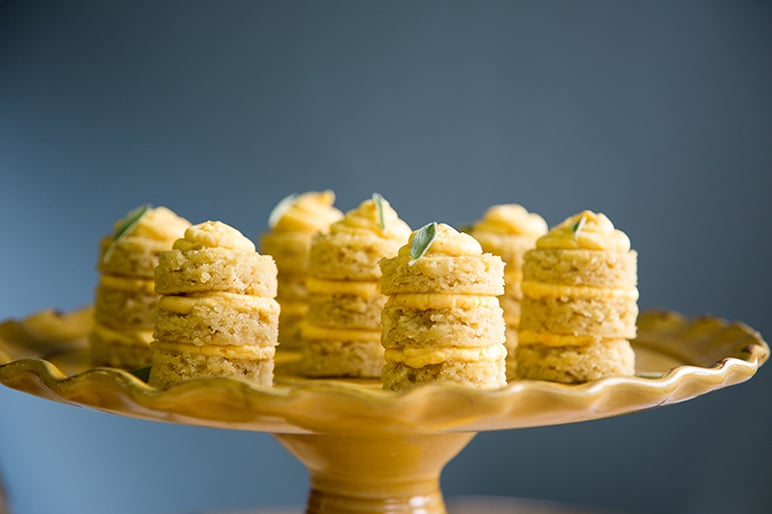 Ginger Sweet Potato Cake
Makes 8
Cake:
2 cups almond flour
1 /3 cup coconut flour
1 teaspoon aluminum-free baking powder
½ teaspoon aluminum-free baking soda
Pinch of salt
3 eggs
½ cup milk
½ cup olive oil
½ cup sugar
1 tablespoon finely grated ginger
Filling:
4 ounces mascarpone
¼ cup heavy cream
½ cup sweet potato puree (can substitute pumpkin)
¼ cup powdered sugar, sifted
½ teaspoon orange zest
1. Preheat oven to 350°F. Grease the bottom of a 9" x 8" rectangular pan and set aside.
2. In a medium bowl, combine the flours, baking powder, baking soda, and salt.
3. In a separate bowl, whisk the eggs, milk, oil, sugar, and ginger until smooth.
4. Incorporate the dry ingredients into the wet, adding a third of the dry mixture at a time, until well combined.
5. Pour the batter into the prepared pan, and smooth it out into an even layer. Place the pan in the center of the middle rack of the oven, and bake for 20 to 25 minutes or until a cake tester comes out clean and the top starts to become golden. Let the cake cool in the pan at least 20 minutes before cutting out the portions.
6. Meanwhile, using beaters or a stand mixer fitted with a whisk, blend the mascarpone with the cream. Add the sweet potato puree, sugar, and orange zest, and blend until smooth. Transfer the filling to a piping bag and set aside in the refrigerator.
7. Once the ginger cake is cool, use a 1½-inch ring cutter to make 16 to 24 small cake circles and set them on a parchment-lined baking sheet.
8. To assemble the cakes, trim the piping bag and squeeze a quarter-size amount of filling onto one circle. Top with another cake, and repeat for a three-tiered cake. Repeat with the remaining circles and filling. Serve garnished with herbs or a dash of cinnamon.
---
Pork Meatballs
Makes about 16
Meatballs:
1 pound ground pork
1 large shallot, minced
1 teaspoon ginger, minced
3 garlic cloves, minced
¾ teaspoon arrowroot (can substitute cornstarch)
1 egg
1 teaspoon sriracha
¼ cup cooking oil
Glaze:
1 teaspoon sriracha
1 tablespoon sesame oil
1 tablespoon hoisin sauce
1 teaspoon ginger, minced
1 teaspoon arrowroot (or cornstarch) mixed with 2 tablespoons water
Scallions, for garnish
1. Mix all ingredients for the meatballs together, except the cooking oil. Using wet hands, form the mixture into golf ball-sized meatballs.
2. In a separate bowl, whisk the sauce ingredients together and set aside.
3. Heat the cooking oil over medium-high heat. When it shimmers and begins to smoke, add the meatballs, about two at a time, leaving about 30 seconds between additions to maintain temperature. Turn the meatballs frequently to brown them on all sides and retain their circular shapes. Once browned, remove from pan and discard the cooking oil.
4. Wipe out the pan and place the meatballs back in. Add the glaze and heat on medium-low. Place a lid over the pan and allow the meatballs to cook through, about 10-15 minutes. Serve on a platter topped with additional glaze. Garnish with scallions.
---
Chai Spice Carrot Dip
Makes 1½ cups
8 whole carrots
8 thick slices fresh ginger
1/8 teaspoon anise seed
1/8 teaspoon cardamom
Pinch of cinnamon
¼ cup plus
2 teaspoons olive oil
1 shallot, diced
½ cup yellow lentils
¼ teaspoon dry or fresh thyme leaves
1 ½ + ¼ cups water
½ cup toasted walnuts
Salt to taste
1. Preheat oven to 375°F.
2. Peel and cut the carrots into 2-inch pieces. Place in a bowl and toss with 1 teaspoon olive oil, ginger, anise, cardamom, and cinnamon. Place on a sheet tray and roast in the oven until tender, about 25 minutes. Cool.
3. In a medium saucepan heated on medium-high, cook the shallots in 1 teaspoon olive oil until tender and translucent. Mix in the thyme and lentils, and toast for about a minute. Add a cup of water and allow them to cook at a gentle simmer. Add the remaining ½ cup of water as needed, until lentils are tender and have absorbed all the liquid. Season with salt, then spoon the lentils out onto a pan to cool.
4. Once the carrots and lentils are cool, place together in a food processor, being sure to add roasted spices and ginger from the carrots. Add the walnuts, additional olive oil, and ¼ cup of water and puree until smooth. Adjust seasoning to preference with salt and a pinch of additional spices, if necessary. Enjoy with toasted pita and crudités.