Entrepreneur's SouthPark Retreat Grounds and Relaxes Him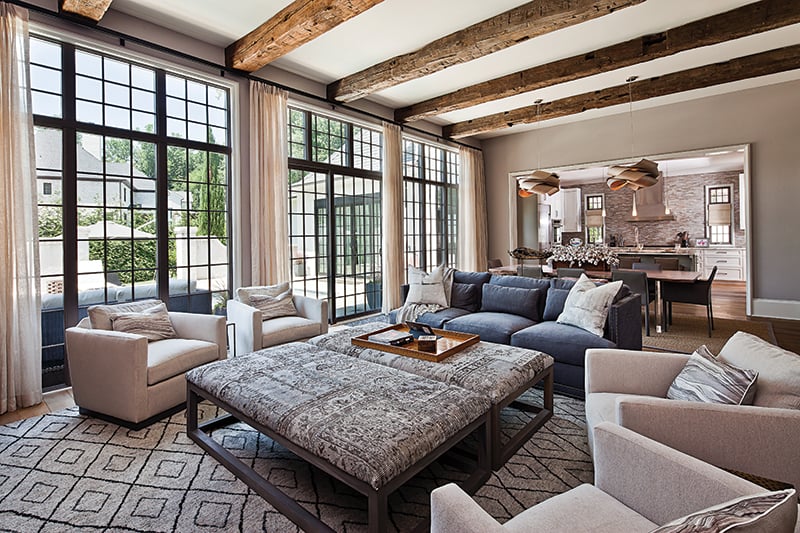 A SIGN reading "Dodgeville Rd." hangs in the master suite of Mike Flaum's SouthPark home. It's the name of the road he grew up on in New Lyme, a rural town an hour east of Cleveland, Ohio.
"My sister made the sign for me, so no matter where I go, I don't forget where I'm from," explains 40-year-old Flaum.
Below the road sign hangs a print of the Holstee Manifesto, an inspirational declaration encouraging its readers to "Do what you love, and do it often" and "Travel," among other positive commands.
"I hung those there, so I see them every day," he says. "It's easy to get caught up in work."
As a founding partner of BriteVerify, a fast-growing email verification company based in SouthPark's Piedmont Town Center, Flaum travels frequently and treasures any time he has to relax. That's why the self-made entrepreneur, with the help of interior designer Tom Holley of Crazy Jane's, made sure his SouthPark home offered a peaceful respite filled with personal touches.
Flaum purchased the home from Peter Leeke, founder and owner of Kingswood Custom Homes, last year. Leeke built several homes in the development where the house is located, and liked this one so much that he lived in it for two years prior to selling it to Flaum.
The 5,500-square-foot stucco house has an open floor plan with expansive floor-to-ceiling windows in the living room, as well as reclaimed beams, a feature that immediately resonated with Flaum, who spent years living in Colorado. The kitchen, complete with Carrera marble countertops and a Thermador oven the bachelor admits he never uses, looks into the dining room and living area.
"People can be chilling in here, but they're not necessarily disconnected with people in the kitchen," says Flaum, who worked with Holley on three properties prior to this project. "I would never work with anyone else. … He takes care of everything. He comes in, pulls out the old furniture, and puts in the new furniture."
Even though that's exactly what Holley did for this space, the original plan was to keep most of the former homeowner's furniture. It was even written into the contract for the home. "We ended up getting rid of 95 percent of it," Flaum says, adding that the dining room table, with its natural live edge, was an obvious keeper. Holley gave the dark table new life by stripping it and putting a gray wash on it. The table's original Lucite legs make it look as though it's floating on the seagrass rug the two selected together.
Flaum had the home painted in the custom gray mix he used in his former house in Wilmore for two reasons. One, he likes to bring something from his last property to his newest one, and two, he adores the color gray. "He was gray before gray was in," Holley says. "We used lots of textures to make [the gray] not so flat."
In addition to the seagrass rug, they selected Turkish over-dyed rugs for the foyer, the spacious landing, and several other places throughout the home. More texture was added to the living room with two ottomans; Holley took a Turkish over-dyed rug and used it as upholstery for the extra-large ottomans (together, they make a 60-by-72-inch piece). Grounded with wooden legs, the ottomans allow guests sitting in the room's four swivel chairs and couch to put their feet up and relax.
Texture comes into play again in the master bedroom, with a charcoal gray headboard Holley's custom furniture company made for the space. Like the swivel chairs in the living room, the headboard is upholstered in Crypton, a stain-resistant fabric. It is also adorned with interlocking circles of nailhead trim, while the length of the headboard accommodates the king bed and its two side chests.
The chests are covered in gray linen. "It's really chic and minimal," Holley says, "but it still makes a big statement." A Lucite bench upholstered in hair-on-hide further translates the organic, yet modern language of the home.
To make the bedroom even more inviting, Flaum had an electric fireplace installed in the wall and replaced the room's windows with French sliding doors that open to the pool. He also had a dog door installed for his rescue pointer/lab mix, Sara.
As jets of water shoot across the pool, they create a soothing waterfall effect. This hushing sound, combined with a wall of cedar trees lining his nearly half-acre lot, mask any hint that you're within the city limits. Flaum purchased the lot behind the house to ensure even more privacy.
"I grew up with a bunch of land. The nearest neighbor was like a mile away," Flaum recalls. "It's weird for me to be in the suburbs in a subdivision. I never thought I would ever be."
Near where Sara nestles into her dog pillow outside, two pink flamingo statues flank the end of the pool, paying homage to Flaum's nickname, Flamingo—an obvious nod to his last name. Embracing the moniker throughout his home, Flaum has a platter featuring the birds displayed on the kitchen counter, as well as a signed painting of a large flamingo by Matthew Brzostoski hanging in the hall by his home office.
In his office, bookshelves constructed of wood and metal reflect his love of industrial design, and allow space for personal mementos from different times in his life. There's a foam fan hand from his alma mater, Ohio University, and a watercolor of the farmhouse where he grew up. He points to a shed to the right of the house in the picture and tells me that's where he used to feed the turkeys. "I loved that house," he says.
Behind his desk hangs a world map peppered with red dots, designating places he's visited. There's London, where BriteVerify has an office, and then there's Newfoundland, South Africa, Ukraine, Antarctica, and so many more—all far from Dodgeville Road.