Erika Eckerson: From Bright Lights to Bold Strokes
A news anchor finds peace—and a second career—in painting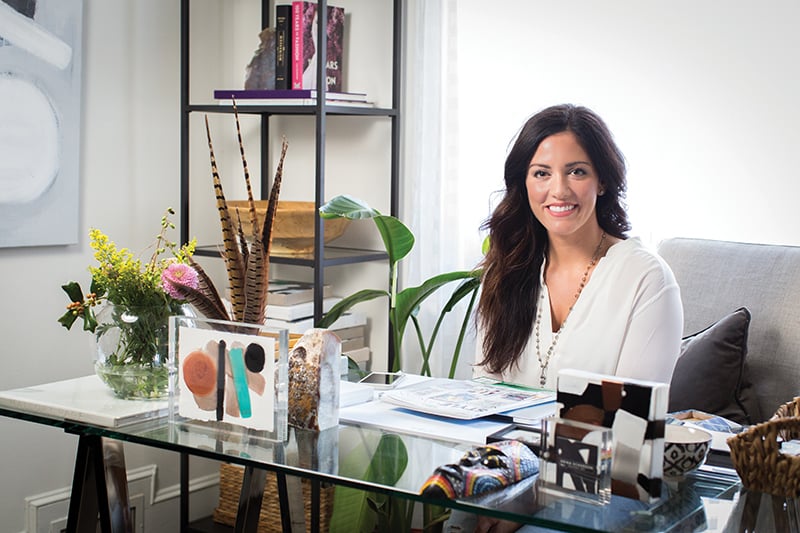 ERIKA ECKERSON was a broke TV news anchor with a bare living room wall in her Myrtle Beach apartment when she decided to buy a canvas, acrylic paint, and some brushes.
"I wanted a piece of art to hang over my sofa, and I couldn't afford anything," she recalls. This was 2010, when she was fresh out of the University of South Carolina and working at a CBS affiliate, first as reporter for the morning newscast, then as its co-anchor. "And then I (painted) it, and it was awful, and I became determined to teach myself."
As Eckerson—who used her maiden name, Hayes, on air—moved up at the Myrtle Beach station, she saw a less glamorous side to TV news.
"I felt really lonely," Eckerson says. "I was plugged in enough to do my job, but I didn't really want to put down roots, because I knew I would just have to leave. So I spent a lot of time by myself."
Eckerson would sit in her apartment and brush bold, abstract streaks of acrylic across canvas. Painting, she says, became a form of therapy. And it followed her to Charlotte in 2015.
We're sitting on a comfortable, cream sofa in Eckerson's family room on a warm October afternoon. Eckerson is wearing ripped jeans and a white oxford shirt, but her natural beauty gives me the sense she could be camera-ready with a Clark Kent-style zip in and out of a phone booth.
Her husband, Hutch, strolls through with a cup of coffee. "I'll be in here if y'all need me," he says with a laugh as he turns back toward the kitchen. He's used to seeing his wife in the spotlight.
Their home, off Providence Road between Cotswold and SouthPark, has a chic farmhouse feel; the family room, for example, has wood-paneled walls adorned with Eckerson's paintings and black-and-white photography. Glossy coffee table books are stacked on surfaces throughout the room.
Even as her broadcast career took off, Eckerson, who turned 29 in November, continued to paint. At first, she says, creating art was something fun to do on the side. But when she posted pictures of her paintings to Instagram, people started to ask if they could buy her work. She considered making art full-time.
"It started to become more satisfying and more fulfilling to me than my real job," she says. "I felt like I had two different personalities. I mean, I had two different names. I was Erika Hayes on camera, and then I was Erika Eckerson, this artist, at home."
So in July 2016, she left her job as a reporter and anchor at WCNC—the job that brought her and her now-husband to Charlotte—and her maiden name behind.
These days, Eckerson spends her days painting in a spare bedroom that she's converted into a studio. We walk down a hallway to peek inside.
A cork bulletin board hangs on one wall, overflowing with color swatches and clippings from magazines. In the opposite corner is a wooden easel with a half-finished canvas propped against it. "(Art) has a lot to do with my mood," Eckerson says. "When I'm really mad, I tend to go heavy on the black."
Indeed, splatters of black acrylic paint dot the hardwood floor around the easel and streak across the white walls nearby. Eckerson points back toward the kitchen, in Hutch's general direction. "He gets so mad at me about this," she says with a laugh.
The paint spills are part of the learning curve—Eckerson says she's still getting used to everything that comes along with painting for work instead of for fun. "I'm not great at the administrative side. I'm bad about keeping track of what I spend on supplies, or sending the emails. I just want to do the fun stuff."
And it's easy to see why.
Eckerson is at ease in this room, more natural here than she was reading scripts on a brightly lit set. Her energy bounces off the walls as she talks about her upcoming projects—experimenting with ink and charcoal, a collaboration with an athletic wear designer for prints on workout clothes.
I ask if she's painted the elusive piece to hang over her sofa.
"I don't know that I've ever gotten it," she says, breaking into a wide smile. "At least not yet."