Essay: Saying Goodbye to Peter the Pony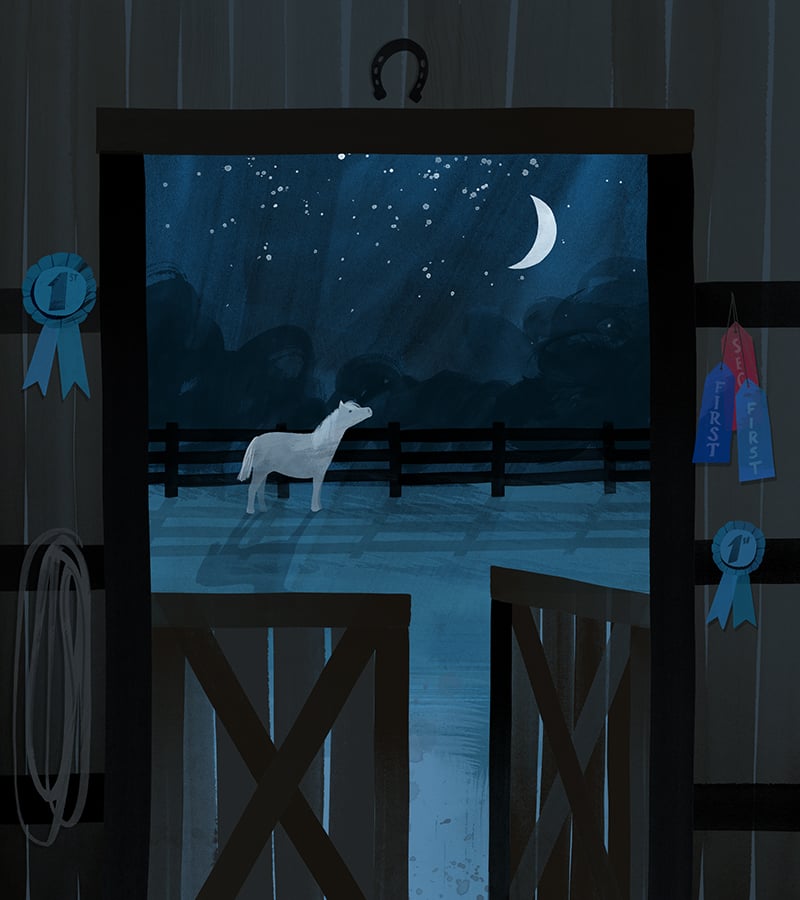 WHEN I WAS a young girl, a little white pony with a big belly, pointed ears, and a penchant for bucking showed up at the barn. I don't remember exactly why he was sent to us, but I think his old kid got tired of his naughty behavior. The first time I rode him was in the backyard of my best friend Maddie's house, in the neighborhood where I grew up in south Florida. I liked his pokey trot and the way his silver-white mane glistened in the hot sun.
I was lucky to grow up with horses—there was Redford, my first, who had a nasty habit of rearing, and then there was Valentine, a beautiful bay who liked to run away as I climbed into the saddle. But there was something about Peter, a somewhat scraggly pony, that made me feel at ease. By the time we took our first canter, I was in love. I had to have him for myself.
My sister, Brooke, set a small fence for us to trot over. She waited by the gate while I rounded the corner to clear all 18 inches of it. Before Peter had four feet on the ground, both of mine were dislodged from the stirrups and planted on the sand ring. That's when we discovered Peter's mischievous trick: the good old jump and buck.
There are worse trickeries than this in the long list of pony antics, so somehow Peter managed to claim his place at Southern Cross Stables—my sister's 16-stall lesson barn, where I spent most afternoons as a child. He behaved badly—nipping all of the barn girls, halting in the ring, refusing to walk forward, and, even worse, kicking other ponies within a five-foot radius. He earned the nickname "Houdini," due to his inexplicable habit of getting out of his stall. Once, his escape ended with several bites into my brand-new saddle that happened to be sitting in the barn's aisle. The one thing he didn't do? Run away. It required too much energy.
Much to my mom's contempt, Peter (short for his show name, "Peter Rabbit"), became a permanent resident at the farm. He managed to quit some of his bad tricks, mostly the jump and buck, and we even took home some blue ribbons at horse shows amongst the fanciest ponies. There's one horse show in particular I'll never forget.
My sister, Peter, and I stood at the in-gate in Wellington, Florida. As Peter dozed off to the sound of his own snores, my sister prepped me with the pep talk we had at every horse show. The goal was to enter the ring, jump eight jumps—spaced with a set number of strides between—and make it all look polished and pretty. The only problem? Peter didn't always like to go at the pace I'd ask him to, in order to make the round flow seamlessly. Even worse, he often enjoyed planting his hooves, refusing to go forward at any pace—walk, trot, or canter.
"You can't go too fast," my sister said. "Just cluck and squeeze as hard as you can and hopefully you'll find the strides."
"Here goes nothing," I thought.
We got in the ring and cantered a courtesy circle at Peter's typical leisurely, Western-pleasure pace. Jump one and two, done. No bucking. No planting of the hooves. We were actually cruising. "Good," I thought. Somehow, as if Peter had overheard my sister, he decided to forego his favorite pace and go off to the races. As we were cantering at a pace we'd never encountered before, I thought, "Maybe I should whoa." Nah, I decided. Brooke said we would never go too fast.
I liked the sound of Peter's little hooves pounding the sand and the way the wind felt rushing against my face. Before I knew it, we jumped over our last fence, and applause broke from around the ring. We managed to make the strides down the lines effortlessly. Apparently I missed the memo when Brooke waved her hands in the air, signaling for me to slow down. I was, for once, going fast enough. Peter walked proudly out of that ring with a smug attitude, proving to my sister that he could, in fact, go fast. I was beaming, a smile bursting across my face, patting Peter's neck and giving him praises. I always knew he had it in him.
Though his behavior improved, Peter maintained many of his quirks. One of his finest was opening stall doors with his nubby, little teeth and climbing over stall guards to escape to the pasture in the night. But there was something about him that was special. It was his soft, expressive eyes, his heart, and his undeniably maddening, yet charming, behavior.
Peter and I made many memories together. He was my partner in crime. We dressed up together on Halloween (one year as princess and unicorn). We took long trail rides in the humid swales behind my childhood home. When I was in high school, he made the big move from Florida to Southern Pines, North Carolina, when we moved to flee constant hurricanes and 90-degree winters. He met my new friends, taking them on pony rides around the ring. He was perfect for beginners, so long as you had him on a lead line, in case he decided to graze and rip hands from the reins. When it was time for me to go to college, he stayed behind with my parents on the farm. I continued to ride, this time for the UNC Charlotte equestrian team. At collegiate horse shows, each rider picks a horse's name from random out of a hat. I rode plenty of horses, all with unique personalities, during my four years on the team. Without Peter, I'm not sure I would've had the skill or the calf muscles required to hop on a random mount and compete on the fly.
Peter spent his last few years hauling me around bareback through the woods, my legs practically dragging on the ground. He took my nieces on their first rides. That was the extent of his work. He had the life in Southern Pines. He woke up to my mom feeding him at the same hour, every day. He got cold baths in the hot summers. Woolly blankets in the chilly winters. Daily handfuls of carrots and apples. He liked to doze off to the sound of my dad's jazz cassettes playing through the screen door of the house. He loved to pal around with his pasture buddy, Ayre. He hardly worked—just grazed, and ate, and took naps. Just what Peter liked to do.
I got the call during a hot afternoon in July. As soon as I heard my mom's voice, I knew something wasn't right. She found Peter lying down in the pasture in distress and called the vet. This wasn't the first time she had to make an emergency call. He was an older pony with some health problems, and there were several other scares from which Peter miraculously managed to recover. But this time wasn't like the rest. The colic was too severe. Together with the vet, my parents made the tough decision to put Peter's suffering to an end. It felt like my last attempt to hold onto the carefree nature of childhood was severed.
In my eyes, just as it is with every other girl with a pony, my pony was the best in the world. Peter taught me how to ride, a sport I'll never be able to shake. He helped me to overcome my fears. One time, during my first few months living in North Carolina, I stumbled upon a steep hill on a trail ride. I was used to riding in a flat sand ring, emphasis on flat. In Florida, the highest elevation was the garbage dump. The hill looked impossible to traverse. I sat, paralyzed, at the top of the hill, as I watched my trainer trot down it, unfazed. Between Peter— who was as sure-footed as they come—and my trainer, who took the reins over Peter's head, told me to shut my eyes, and pulled me down to flat ground, we made it to the other side. The experiences and obstacles we shared are unforgettable. And then there's that old saddle of mine with the teeth marks that shouldn't be there, courtesy of Peter. Though the years will go by and the leather will fade, those imperfections will always be there to remind me of Peter, his mischief, and the magical way he captured my heart.