Everyday Bliss
For Charlotte designer Nancy Maloney, the best place in the world is home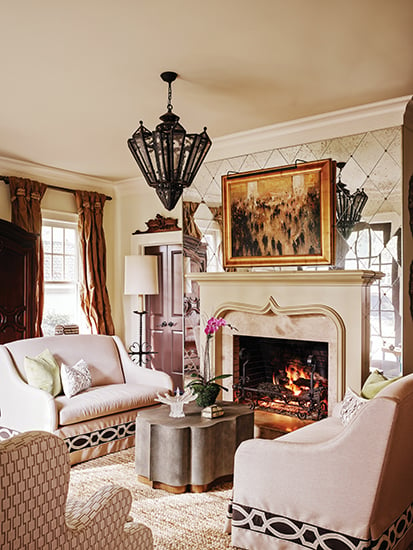 Nancy Maloney learned the importance of a well-designed space at a young age. She grew up in Myers Park. Her father, Bob Rash, was a commercial architect and her mother, Joan, owned Queen Charlotte Antiques on East Boulevard. They taught their daughter to see possibilities. "We were never afraid to knock a wall down," Maloney says.
She leaned on those childhood lessons when she and her husband, John, who works at Wells Fargo, saw a yellow clapboard house for sale on a quiet street in Myers Park. Although the challenges were daunting—she told John "no thanks" after they toured the house—within hours her imagination took hold and she began sketching out solutions on a napkin. By 2004 they'd transformed a farmhouse with a wraparound porch into a charming English Tudor home. It fit in with similar styles built in the 1920s, during Myers Park's development. Since then, they've tweaked and embellished the house to suit changing needs. Their son was in elementary school when they bought it; he's now a freshman at The Citadel.
At 52, Maloney's admiration for her parents has been her inspiration as she's grown her interior-design business, Good Manors, which she launched in 1998. Sitting in the light-filled studio designed by her father, she's dressed simply in a periwinkle cashmere wrap, white blouse, and gray slacks.
Soft, dark curls frame her face, and she wears a striking green pendant, a gift from John. On the glass-topped conference table beside her, fabric swatches and tiles are laid out for a client's beachfront house at Kiawah Island, South Carolina. The huge room, which is above the garage, is jammed with design boards, files, books, and accessories waiting to be delivered. As Maloney talks, Lauren DeLellis, her assistant for the past eight years, steps around two napping dogs to answer the phone. John rescued the dogs last year when he spotted the abandoned puppies near a dumpster. Now full grown, filled out, and friendly, they're taking it easy on a sheepskin rug.
Before settling back in Myers Park, Maloney spent a decade in New York working in fashion. With her warm personality, she listens carefully, laughs at herself, and lavishes praise on others. She's also quick to point out the follies of her industry.
"I think people can come across as very snooty and hoity-toity in this industry, and we work hard here with our clients to not make them feel intimidated," she says. She focuses on creating welcoming spaces, not following hard-and-fast design formulas. The designers she admires—like Mary McDonald and Jeffrey Bilhuber—create beauty in approachable ways.
"I'm inspired by people who find everyday bliss," she explains. The home, she says, needs to be a refuge. "In
our world today, you've got to have a place to recharge."
Neighbors and close friends Arrington and Burch Mixon hired Maloney to design both their Charlotte home and a second home in the mountains.
"Nancy does a fabulous job of figuring out what is important to her clients," says Burch, a garden designer. "She isn't doing her project in your home; she is doing your project in your home. … Some designers, you can walk in the houses and you can tell this was done by so-and-so because that's their look. … Each and every one of Nancy's projects has a different look."
Her own Myers Park home feels luxurious yet warm. There are rich textures, sparkling mirrors, furniture in comely shapes, deep moldings, a silvered ceiling, antiques, and modern chandeliers. Architectural additions in the past decade blend seamlessly with the 1925 footprint. It portrays her skill in combining past and present, of putting family heirlooms in a modern setting. Pops of color, like bright green pillows on living room sofas, add energy.
One enters from the half-timbered porch with a stone archway. Inside, the front rooms retain the original architectural scheme: a living room to the left and a dining room to the right. Renovations included knocking out dropped ceilings and unearthing the doorway between the living room and study, which was hidden behind a built-in bookcase. Design tricks appear to expand the space. A mirrored chimney wall reflects light into the living room, and a glass-and-acrylic table seems weightless in the dining room. The room is an intriguing mix of old and new. Maloney kept her grandmother's Henredon chairs from the 1940s. The handsome antique buffet was a gift from her parents. Two custom-designed cabinets showcase family silver and crystal, and a funky, white light fixture casts ribbons of light on the silvered ceiling.
In the sunroom, her father's original architectural models sit on a table. One is of the original farmhouse, and the other depicts the current house. He gave them to Maloney as a Christmas present, and she treasures the keepsakes.
"It's my second-favorite thing in the house," she says.
John plays an important role in the house's ever-evolving design as well. One example of his influence is the recently installed pecky cypress ceiling in the library. Laid in herringbone panels separated by beams, it has no stain, varnish, or wax. The wood is commonly used in Florida—John is from Boca Raton—but usually whitewashed with lime. Here it's natural, adding another layer of texture and color to a room rich in comfort. Diminutive velvet chairs are skirted in leather, the sofa is covered in a herringbone fabric, and the big ottoman is upholstered in cut velvet. Mementos from the couple's extensive travels are displayed, including three beaded warrior masks from Morocco.
The next room—a large sitting room with a fireplace—marks the start of the addition. It adjoins a beautiful kitchen; the Maloneys incorporated found architectural elements in both. More of the addition is upstairs, including a spacious master bedroom and bath. On a dresser in the bedroom, Maloney displays her favorite item, her grandmother's large jewelry box. Encrusted with pearls and brooches, it's a tour de force of 1940s costume jewelry. "I literally pulled the room around it," she says. She loved peeking into the sparkly box when she was a child. It's one more treasure from the past that she's incorporated to bring her daily delight.
---
---
---
---
---