Everyone Wants Joe's Doughs
Joe Pepe's creations are getting Charlotteans out of bed and in line in NoDa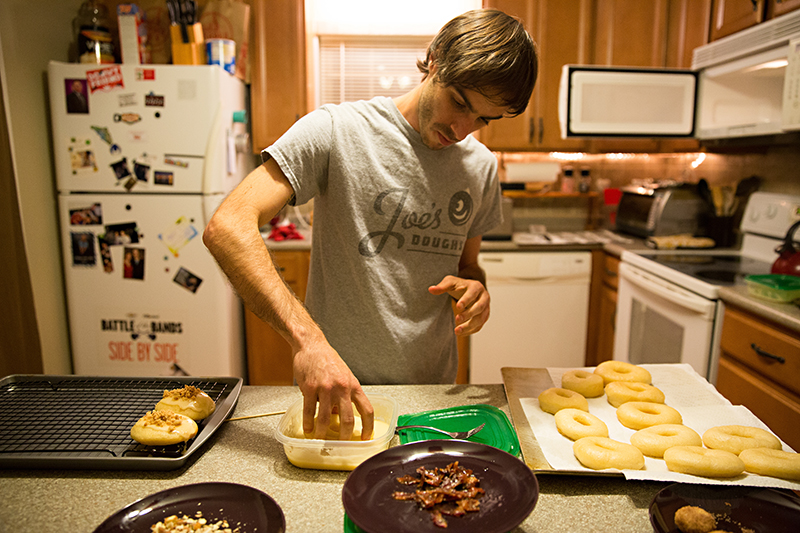 EARLY MORNINGS at The Daily Press in NoDa are usually peaceful—an ideal place to work, if you're into that sort of thing. This Saturday morning, people are scattered about the coffee shop inside the Evening Muse awaiting the arrival of Joe's Doughs, the pop-up doughnut shop that's become a craze since starting a year ago.
Joe Pepe, 29, walks in wearing cut-off black denim shorts and black Macbeth shoes. The thin, broad-shouldered baker with a mop of dark hair and sharp features hustles in and out of the shop carrying boxes of doughnuts, a folding table, and serving utensils. His fiancée, Jen Hall, 27, helps him set up. As the doughnuts enter the shop, the mood shifts. Hungry eyes watch Pepe's every move, and those who have done this before form a casual line. Minutes later, the line has snaked its way to the front door. People talk, snap pictures with their phones, and sip coffee, but everyone keeps an eye on Pepe and his doughnut table.
Other cities have the cronut and the ramen burger. Until recently, this cultural phenomenon—people waiting in line for the fleeting pleasure of a pastry or the instant glory of being the first to broadcast a food score on social media— has eluded the Charlotte scene. Sure, Price's Chicken Coop and Brooks Sandwich House work up a noticeable rush. But it took a skinny musician making doughnuts to cause a rush this intense.
"We tell people, 'Get here 45 minutes early and be prepared to wait,' " says Lindsey Pitman, owner of The Daily Press. The coffee shop reports record sales when Joe Pepe and his doughnuts are in the building.
"It's insanity," Pitman says.
Once Pepe "opens" for business, the doughnuts never last more than 30 minutes.
As quickly as he sets up, Pepe sells out. Many are here for the taste of just one doughnut, but there are others, the ones who add to the roulette-style uncertainty of the event, purchasing dozens of doughnuts.
This isn't Pepe's main gig, though he started looking for a brick-and-mortar shop after getting a call from an investor in August. He's primarily a musician, along with his twin brother, Mike Pepe. They've played music since middle school, and spend a substantial amount of time on the road touring, playing, and producing. Their travels have taken them all over the United States to cities such as New York, Las Vegas, Miami, and Los Angeles.
"On the road, I developed an affinity for doughnuts," Pepe says. The revelatory doughnut came from an L.A. doughnut shop called Donut Friend: the Sriachosin, filled with peanut butter, jelly, and bacon with a topping of sriracha. Pepe was wowed by the creative combinations of flavors and the airy softness of a yeast doughnut. On tour, doughnut sampling became his thing. He developed a palate for doughnuts.
In his Plaza Midwood home, Pepe started playing around with doughnut recipes, making them for Hall and his brother. Pepe's specialty is doughnuts leavened with yeast. Deceptively light with an airy squish, yeast doughnuts can be eaten by the dozens before you realize you've had too much. Hall took to developing cake doughnuts, heftier, crumblier doughnuts leavened with baking soda or powder.
Pepe is a self-proclaimed research junkie and searched the Internet for a base recipe for yeast dough. Once he had that starting point, he asked a professional baker friend to help him tweak the recipe.
laying keyboard and bass," Pepe says. "I learned on the fly."
As his recipes improved, Pepe began testing his doughnuts on a group of friends. Impressed, they encouraged him to try selling to the public.
Some of his most popular doughnut creations are the s'mores—a yeast doughnut filled with toasted marshmallow buttercream and topped with a chocolate glaze, graham cracker crumbs, and a peanut butter drizzle—and the banana French toast, a maple-glazed doughnut filled with banana pudding and topped with cinnamon sugar. Hall bakes a wildly popular sweet potato pie cake doughnut and a peach cake doughnut with champagne glaze, among others.
Despite the wild success of his flavors, Pepe is forever testing and experimenting. He keeps a running list of new flavor combinations on his phone as the ideas materialize.
"You're only as good as your last bad doughnut," Pepe says. "My glazes and ideas are based off things I like to eat, what's popular in food culture in different cities, and what flavor profiles go together."
Unique creations such as the chickenand-waffle doughnut and white chocolatewasabi glazed doughnut with candied ginger have appeared on his pop-up menu, which spreads solely through word-ofmouth and social media. Pepe uses almost as many hashtags as he does bags of flour.
Before heading over to The Daily Press, Pepe and Hall bake everything fresh to order. At 3:30 a.m. on pop-up days, Pepe and Hall are awake and working in their home kitchen. The two are resourceful, using only what they have. They've even constructed a makeshift proofing box, in which the doughnuts can rise, out of their oven. You won't find a large fryer, the kind you'd expect in a kitchen that boxes up more than 150 doughnuts to sell at The Daily Press. Instead, Pepe uses a home fryer, dropping in doughnuts two at a time. (He's a Crisco guy, by the way. He says it keeps the doughnuts from getting too heavy.) The whole process takes three to four hours, but the smell of doughnuts lingers in the house for days.
And after all of that work, in half an hour, they're all gone. After the doughnut maelstrom subsides inside The Daily Press, the normal coffee shop calm returns. Contentment rests on the faces of happy customers who've had their doughnut fix and a few crumbs on empty napkins are the only things that remain.
Keia Mastrianni is a freelance writer in Charlotte. Reach her at keiaishungry@gmail.com or on Twitter: @keiaishungry.