Exploring Ridesharing: Uber, Lyft, and Yellow Cab of Charlotte
Bankers. Bar-hoppers. Drug runners? As the holiday party season approaches, one writer sets out to explore the new world of ridesharing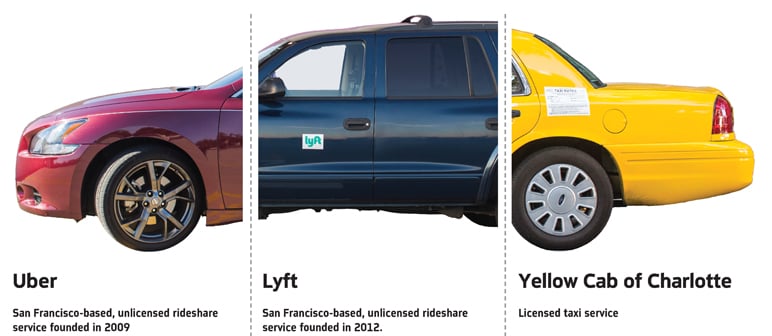 ​San Francisco-based, unlicensed rideshare service founded in 2009
It's 10:08 p.m. on a Friday, and the Uber app wants access to my phone's contact list, camera, and media files. I grudgingly download the app and request a ride while standing outside NoDa Brewing Co. It's dangerously easy to pay—I just enter my credit card information and all trips will be billed to me.
In less than two minutes, a black Ford Escape pulls up to the curb. The driver, Robert, and I set out at 10:11 p.m. with mellow prog rock by Big Big
Train playing in the background. Unfortunately, Waze, the traffic app Robert is using, gives roughly one-half-second of warning before turns, so we miss a left onto Parkwood and then a right onto Hawthorne. Robert pulls a couple of graceful U-turns. We're headed to Mint Museum Randolph, which is closed, but I have my reasons for visiting (see next entry). When we arrive, I ask permission to take a photo, and to set the scene, Robert turns on his car's purple LED interior lighting. "People love the purple lights," he says.
---
​San Francisco-based, unlicensed rideshare service founded in 2012.
I chose the Mint Museum because I wanted to know how long it would take a Lyft driver to arrive at a random, deserted destination on a Friday night.
The answer is three minutes. He asks if I care what route we take to get back to NoDa Brewing Co. (I don't), punches directions into his phone, and at 10:33 p.m. we set out. Green LEDs provide interior lighting, and Kiss FM provides Iggy Azalea. As we turn onto Pecan Avenue, the driver, who asks not be named, says he suspects some of his "seedier, shadier, sketchier" customers are ferrying drugs. Just in case a customer has been partying too hard, he keeps cleaning wipes in the trunk.
As we turn left onto The Plaza at 10:40 p.m., he says that aside from the partiers and possible drug runners, bankers make up a large share of his late-night clientele. "I would drive them home at 4 or 5 a.m.," he says, "and they would tell me they had to be back [into] work by 8."
---
Licensed taxi service
After giving everything short of my social security number to Uber and Lyft, it's refreshing to give nothing but my first name to Yellow Cab of Charlotte. It takes roughly seven minutes for the cab to reach NoDa Brewing Co. I tell my driver to head back to the Mint, and we set off, heads bobbing to Power 98 FM. As we turn left onto East 11th Street, he explains that, brutal dictators aside, he feels homesick for his home country of Eritrea. He also shares his philosophy on drunk and belligerent customers: "They sometimes cuss at us, but they're drunk, so we forgive them."
By the time we turn onto Randolph Road, he's revealing his long-term dreams: getting a green card, bringing his family over from Eritrea. Part of his Yellow Cab salary goes to support them.
Without resorting to GPS, he gets me back to the Mint in nine minutes.
This is my favorite ride of the night. It costs a bit more than the rideshares, but the extra $1.75 pays for privacy (no app needed), a faster route, and a crash course in foreign affairs.