Fall Arts Preview 2015: Best Bets
Your guide to the season's hottest concerts, shows, festivals, and exhibits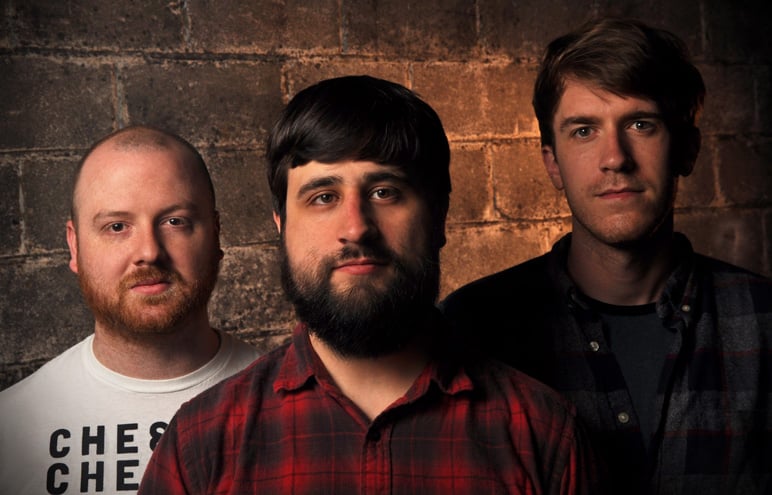 MUSIC >>
>> A Different Kind of Record Label
Several months ago, Croquet Records had everything in place—a punchy name, a logo, and it had secured 501(c)3 nonprofit status, which founder and executive director James Willamor says is a first for a North Carolina record label. The label's goal is to help acts form, record, and release their first LPs. With a five-person, volunteer board of directors, including journalists, musicians, and media members, all Croquet needed was to sign its first band.
Melt is a local indie rock outfit whose front man, Phil Pucci, impressed Willamor. "We wanted to deal with someone who had experience," Willamor says. "Phil has played in tons of Charlotte bands, and he really represents the community and what we're trying to do. And Melt is a little different than any other indie rock band in Charlotte."
On March 18, Croquet announced it had signed the band and would release its first record this fall. A successful Kickstarter campaign helped make the record, Repossession Blues, a reality. And Willamor says Croquet is just getting started.
"Our overall goal is to promote the music community in North Carolina," he says. "So let's put on showcases and shows. Let's help artists out there create."
Croquet Records will attend Hopscotch Music Festival in Raleigh, September 10-12. Willamor says he will bring Melt and Hectorina, another Charlotte band, for Raleigh Little Theatre's Indie Carolina Showcase.
>> The Charlotte Symphony Orchestra has returned with another stacked season. For fans of the Classics series, conductor Christopher Warren-Green is most looking forward to performing Mahler's Symphony No. 5. The masterwork is more than an hour long, and it arrives November 6-7. Classics will also bring back several other staples: Beethoven's Symphony No. 7 (September 25-26), Copland's Appalachian Spring (October 8-10), and Faure's Requiem (November 19-21). The Pops series kicks off with a live viewing of Singin' in the Rain at the Belk Theater (September 18-19), accompanied by the full orchestra. Two other notable Pops shows include tributes to Frank Sinatra and Neil Diamond.
>> While we're on the subject of soulful crooners, the fall brings two legends in the flesh: Tony Bennett and Frankie Valli. Bennett takes over Ovens Auditorium October 24, and Valli will continue to break hearts at 81 when he visits Belk Theater (November 22).
>> If you prefer the 1980s, you'll want to see Rick Springfield and Loverboy and The Romantics. The "Jessie's Girl" songwriter headlines a night of singalongs at NC Music Factory's Uptown Amphitheatre (September 5). A week later, you can jump with Van Halen at PNC Music Pavilion (September 11).
Moving on to 1990s stars, Janet Jackson (September 18) is coming to PNC Music Pavilion, and Over the Rhine jams at the The Visulite on September 23. 1065 The End Presents Weenie Roast '15 on September 12 at PNC Music Pavilion. This 20th anniversary show boasts Blues Traveler, Stone Temple Pilots, and Live. So break out some flannel, Charlotte. (Weenie Roast also throws in some contemporary acts, such as Passion Pit, Bleachers, Langhorne Slim, and Mutemath.)
>>Two modern-day country icons come to PNC Music Pavilion this fall. Jason Aldean brings the noise (and the denim) September 4. Luke Bryan arrives on September 24. Bryan fell off the stage last time he was here, so if you're lucky enough to get in the front row, you have the responsibility of catching him.
>> The Lone Bellow is one of the current darlings of alt-country. The trio—Zach Williams, Kanene Donehey Pipkin, and Brian Elmquist—brings an old-soul sound to Neighborhood Theatre. Singer-songwriter Joe Pug will join them as the opening act (September 19).
>> Finally, Flamencura with Paco Peña brings flamenco to the Knight Theater (November 8). It's a rare opportunity to see traditional Spanish dancing and the guitar legend Peña, with only one show scheduled in Charlotte.
>> LISTEN UP
Junior Astronomers Release New Music
Fans of the band have been asking for a follow-up to 2013's Dead Nostalgia, and the indie rockers are answering that call with the 7-inch Thank You. It's being released by Self-Aware Records, a Charlotte label that's released LPs from Late Bloomer, Pullman Strike, and Alright. The release was planned for early September. Don't fret if you've never caught the band live: They often play gigs at Neighborhood Theatre, Snug Harbor, and spots in neighboring cities.
---
THEATRE & COMEDY >>
>> This fall, a slew of stand-up comics will descend on Charlotte. Legendary deadpan comedian Stephen Wright hits McGlohon Theater on October 9. Aussie Jim Jeffries brings his "Freedumb Tour" to Knight Theater, November 5. Impressionist Frank Caliendo emulates John Madden at Ovens Auditorium on October 17; Monty Python alums John Cleese and Eric Idle infiltrate the same venue with jokes and skits October 23.
>> Get even more laughs with Menopause The Musical: The Survivor Tour, a parody that tells a story about growing older. Songs are set to familiar show tunes, from all eras of theater. The show hits McGlohon Theater October 1-3.
>> Local playwright Matt Cosper's newest work, #Cake, deals with racial inequality, using uptown Charlotte as its set. Latest renditions of the piece will be performed by the experimental theater ensemble XOXO throughout the month of November.
>> Reduced Shakespeare Company relates The Complete History of Comedy (abridged). This entry is also abridged. (November 5-7 at Booth Playhouse.)
>> The biggest theatrical set pieces this fall are hills that are very much alive in The Sound of Music. The show, directed by three-time Tony-winner Jack O'Brien, begins the new Broadway Lights season, occupying the Belk Theater November 24-29. This year marks 50 years since the original film.
>> PLAYWRIGHT'S PICKS
Charlotte playwright Matt Cosper sometimes creates smallscale theater with his XOXO ensemble. Here, he offers a list of his favorite arts performances happening in small rooms, music venues, and stages around town.
AMIGO
This band plays regularly at Petra's and Snug Harbor in Plaza Midwood. "They're stripped down, cowboy punk," Cosper says. "Their energy is high, and they try to put on the best show possible each time. It's super-infectious."
TAPROOT ENSEMBLE'S INCUBATORS
Taproot Ensemble stages performance art around the city. At its roving incubator events, visual and performing artists share their work and receive feedback from the crowd. Past incubators have occupied Packard Place, CUBE NoDa, and the McColl Center. After the performance or exhibit, the event becomes a party.
NEW FREQUENCIES AT THE MCCOLL CENTER
Jazz shows and film screenings are the stars of these limitedspace events at the McColl Center. Funded by the Knight Foundation, the New Frequencies series was created by author Jeff Jackson, jazz musician Brent Bagwell, and filmmaker Ross Wilbanks. After a successful first run that ended in June, organizers were planning a fall return.
TRIPTYCH COLLECTIVE
Cosper has been following Triptych, which combines live music and dance, as it's traveled to different venues across the city. "Sometimes, people think that whole experimental thing is a style," Cosper says. "Like, you just put on the weird. But these people are just going into a room and experimenting every day. They're trying to reverse-engineer performance to ask what is truly effective in art."
ONQ PRODUCTIONS
Quentin Talley's nonprofit theater company stages plays that explore African American culture, history, and experiences.
---
MUSEUMS & GALLERIES >>
>> SOCO Gallery Brings Photography to Myers Park
Chandra Johnson's former pop-up venture, SOCO Gallery, now has a home in Myers Park. It represents an impressive roster of photographers:
Xavier Guardans' black-and-white portraits in Windows show members of Kenyan tribes through the frame of Guardans' Toyota Land Cruiser. Jim Mangan's Blast series includes aerial views of a race car spinning across the Utah desert. Lyle Owerko is known for his iconic Time magazine cover photo depicting the bombing of the World Trade Center on September 11, 2001. Liz Nielsen, a Brooklyn artist, uses colored gels, filters, and light to create works that challenge traditional ideas of what makes a photograph. Ken Van Sickle's retrospective work helps viewers revisit New York and Paris in the 1950s.
>> America the Beautiful: Works on Paper from The Mint Museum leaves the uptown museum on October 4, but the exhibit that follows is just as large in scope. From New York to Nebo: The Artistic Journey of Eugene Thomason (opens November 21) follows the titular Thomason, a painter who chronicled Appalachia.
At the Bechtler Museum of Modern Art, new curator Jennifer Edwards prepares the newest exhibit: Sam Francis: Rapid, Fluid, Indivisible, Vision (September 18-March 7, 2016). The museum's Modernism + Film series continues, with a focus this season on architecture. The schedule: Shigeru Ban: An Architect for Emergencies (September 10), The Painter Sam Francis (October 8), and Making Space: 5 Women Changing the Face of Architecture (November 12). Scholars, urban planners, and other professionals often present the films.
Levine Museum of the New South's ¡NUEVOlution! Latinos and the New South starts its one-year run. An exhibit two years in the making, it uses art pieces, dialogue, factoids, and multimedia to convey the importance of the Latino population in the South. Lectures, films, and theatrical productions complement the exhibit, which will be displayed in English and Spanish. It all starts September 27.
>> Jerald Melberg Gallery brings two shows to the season. Susan Grossman's charcoal and pastel works are mostly black and white, with flashes of color. Her show runs September 12-October 31. Brian Rutenberg (November 7-January 2) is an abstract painter who creates flamboyant and vibrant images.
---
EVERYTHING ELSE >>
>> The Professional Bull Riders tour stampedes Time Warner Cable Arena September 18-19. The top 35 riders in the world compete for their share of the $140,000 total purse. North Carolina's own J.B. Mauney and Gage Gay are set to compete.
>> Latin American Festival Turns 25
Tens of thousands of people attend the annual Latin American Festival at Symphony Park. This year, the organizers celebrate 25 years of the event (October 10-11) with food, traditional dancing, a craft market, and music that spans the history of Latin American culture. Bands include the ska ensemble Panteon Rococo, salsero Ismael Miranda, and Aterciopelados, a Colombian band with several Latin Grammys under its belt.
---
This fall preview was updated from the print edition.
---
This article appears in the September 2015 issue of Charlotte Magazine
Did you like what you read here? Subscribe to Charlotte Magazine »
---