Fall floral dress trends
Looking to incorporate floral patterns into your bridesmaid dresses? We've got you covered.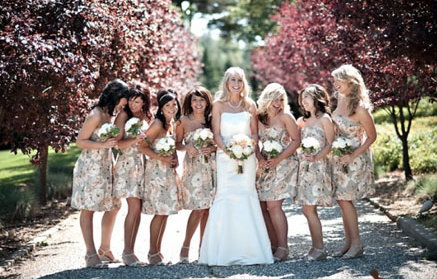 Floral prints, like a classic Chanel suit, never go out of style in the springtime. But as the days grow shorter and evenings become crisper it seems appropriate to switch out your floral minidress for something more transitional into the new season.
For the Fall 2014 season, we're seeing a trend in blooms continuing to flourish into the cooler months as designers are embracing floral patters in darker, earthier tones. If you're looking to incorporate prints or patterns into your bridesmaids dresses but are concerned it won't be appropriate for the season, think again. Designers have integrated somber tones and mellow patterns into styles that would be perfect for brides looking to add some texture and personality into their selection of dress.
To keep your bridal party from looking like a Pinterest explosion, glance over our tips and take a look at a few styles that caught our eye.
1. Keep your flowers simple. If your maids are wearing a dress with a print, pattern or unique texture don't have your floral selection compete for attention. Flowers in a monochromatic scheme that pulls from the main color in the dress works nicely.
Heather for Brighton
2. Choose the same style. We love the trend of mismatched styles for dresses but if you're opting for a floral print, having all dresses cut in the same style and fabric keeps the eyes from becoming overwhelmed, especially in pictures.
Stewart Leishman
3. Remember the season. If you're getting married in the fall, make sure your floral dress selection is appropriate for the season. Choose patterns with darker tones and earthy motifs to keep your girls from looking like they're getting ready for Easter Sunday.
Jeremy Lawson
4. Less is more. When it comes to accessories, makeup and hair, less is more when your bridesmaids are wearing loud or floral prints. Elaborate hairstyles or flamboyant earrings will compete with the already eye-popping dress.
Mason and Megan