Fall flowers perfect for your bouquet
It's the most wonderful time of the year – pumpkin spice season!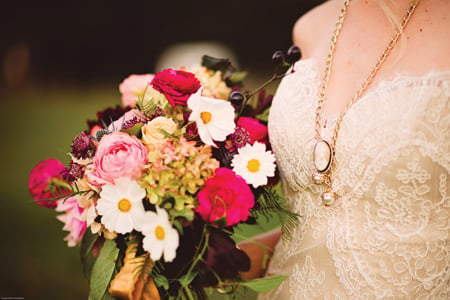 The trend in fall weddings has been on the rise for the past decade, as brides are saying goodbye to summer heat and trading it for crisp October evenings.
If you're saying "I do" in a few months, or are planning a wedding for fall 2017, make sure to capture the essence of the season in your bouquet.
When meeting with your florist, discuss which flowers will be in season during the month of your wedding to save on cost. To capture an all-too-pretty fall look, consider the following florals for your wedding day look:
Dinnerplate dahlias
White anemone
Eucalyptus
Viburnum berries
Dusty pink ranunculus
Chocolate cosmos
Burgundy agonis
Privet berries
Bronze amaranthus
We recommend adding berries, greenery and herbs to your bouquet for a lush, dynamic fall look.
Florals in photography by Springvine Design