Family first: Honoring loved ones on your wedding day
We've got a few suggestions to make sure you pay tribute to mom and dad on your big day.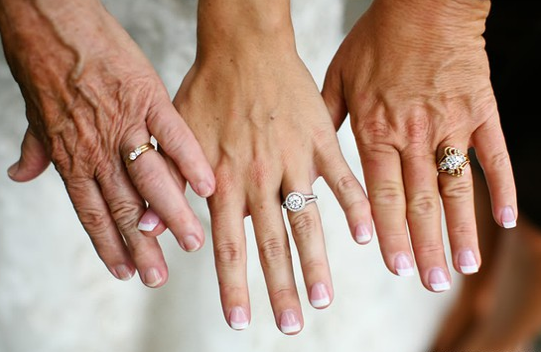 A few weeks after I got engaged, my fiancé and I were set on finding a church in the Charlotte area to get married in. It was the first major decision we had to make and I quickly became overwhelmed (who knew finding a venue could be that difficult?) I remember calling my mom while holding back tears and asking for her help.
She was a saint. I gave her a list of different venues in Charlotte and she called them, narrowed down specific dates, costs and details that I hadn't even thought of and helped me sort through all the pros and cons. Two days later, we had our venue secured.
As much as your wedding day is about you it's also about the merging of two families. Whether it's your mother, father, aunt, cousin or even just a friend who's molded you into the person you are today, your wedding day is a wonderful time to honor those people and the role they've played in your life.
Looking for a few ways to honor loved ones on your big day? Here are a few of our favorites.
Honor loved ones through family photos
One of the easiest ways to pay tribute to your family is by putting their pictures on display at your rehearsal dinner or reception. Set up a table dedicated to your parents, grandparents, siblings and any other loved ones who helped make your big day possible.
Riverland Studios
Incorporate your mother's gown into your own
This one's a classic. We love the idea of using a piece of your mother's (or grandmother's) wedding gown in your own wedding dress. Wrap swatches of her fabric around the handle of your bridal bouquet or consider wearing her veil.
Society Bride
Need something borrowed? Ask grandma
My grandmother has a beautiful emerald brooch that I've been obsessed with since I was a girl. Raid your grandmother's jewelry and you're likely to find some beautiful vintage treasures with old Hollywood glam. You'll take care of your 'something borrowed' while honoring your grandmother and we guarantee she'll be thrilled with your request.
Jessica Smith Photography
Play your parents wedding song at your reception
If you and your fiancé can't decide on a song to share your first dance as husband and wife, consider dancing to the song your parents selected. Make the moment extra special by keeping the song selection a secret – your photographer will love capturing a few shots of your mother's watery eyes.
KB Image
Don't forget to say thanks
A public thank-you in front of friends and family can go a long way. Take a few minutes to make a toast to your parents, grandparents and any other influential family members at the rehearsal dinner or reception.
Style Me Pretty