Family Starts Anew in Olde Foxcroft
The Farrs start from scratch to create a home that works for everyone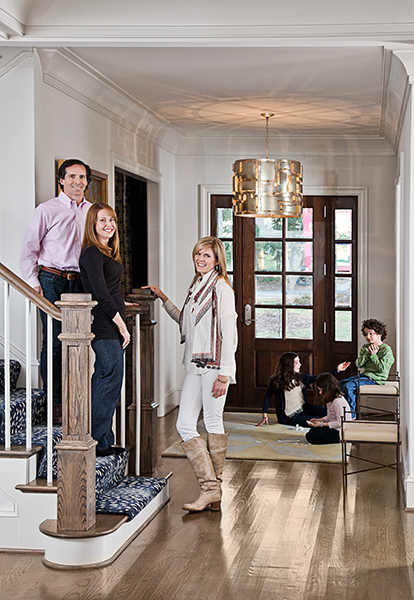 Will and Christi Farr planned to live in their Myers Park home forever. They loved their two-story traditional house so much that they endured an extensive renovation and loved it even more. However, shortly after the renovation, their son, Owen, then 3 years old, was diagnosed with muscular dystrophy. With the diagnosis, the couple realized he would eventually need a wheelchair.
"We considered a lot of things," Christi recalls. "We considered renovating our house again. We looked at dozens of houses to see if there was anything that we could renovate and make workable for him [Owen]. Then we looked for lots."
The Farrs needed a piece of property that would facilitate a large first-floor footprint. After searching for a couple of years, they found a half-acre lot tucked away on a heavily shaded street in Olde Foxcroft. The spot was perfect for their new forever home.
Enlisting the expertise of Miller Nicholson, a Charlotte architect well versed in accessibility issues due to his commercial design experience, Christi and Will knew they were on their way to creating a good set-up for Owen. But they also have two daughters (Laurel, 12, and Lydia, 8), so the floor plan needed to work for their girls as well.
"We just went to Miller with a fairly rough guideline outlining the sorts of rooms we needed," remembers Christi. "He was really good about considering the lot, and even though the lot is bigger, he had to be fairly constrained in the way that he designed the house."
The Farrs also sought the guidance of interior designer Elizabeth Mydosh, owner of EMC Design/STILO. Mydosh frequently works with Nicholson, plus Christi knew of her work through a friend. Mydosh began the design process as she does with all of her clients—she held a palette meeting at which she presented three design directions.
"I had met Christi, and I thought she's very even and low-key, so I had a palette that was safe for her," recalls Mydosh, a graduate of Savannah College of Art and Design. "I had another palette that was kind of in-between and more traditional. And then I had this really fun one. Christi walked in the door, and she liked the fun one right off the bat. … She was drawn toward those cleaner lines with color pops."
Christi and Mydosh clicked instantly and began translating a color palette of gray, turquoise, and coral into a functional yet elegantly casual backdrop for the family's home.
"Elizabeth was really good in terms of sequencing the design, starting with the selection of those things that you have the least amount of choice in," says Christi. "We started with things where you're a little bit more bound, like countertops or tile, and went from there."
This design technique is exemplified most in the kitchen, which opens into a family room via an expanded arched ceiling. Here custom cabinets painted light gray reach to the 10-foot ceiling. To add interest to the cabinet wall, some doors are punctuated with a circle design created by Mydosh. Vermont white quartzite countertops and an oversized island with a Caesarstone countertop in Misty Carrera add to the space's clean look.
The last decision made regarding the kitchen was the color of paint surrounding the window, which is the first element that grabs attention—that, along with the coral barstools Christi discovered through a friend who works in the furniture business in High Point. Mydosh, also a mother of three, suggested laminating the fabric on the stools to protect it from inevitable spills.
The project is marked by collaboration, such as the drum light fixture above the island. Christi found the large fixture online at Worlds Away. When lit, its angles cast a sun pattern on the arched ceiling, enhancing the design with unexpected sparkle. Christi enjoys selecting lighting and found most of the pieces throughout her home, including the celestial-inspired metal fixture, also from Worlds Away, that hangs in the entryway.
The spacious placement of furniture in the family room was designed with Owen, now 10, in mind. Two identical couches by Wesley Hall flank a custom coffee table from New York. The floating square table features Carrera marble, which is also in the master bath. Turquoise glass vases pepper built-in bookshelves, and various throw pillows echo the color throughout the room.
Hidden around the corner is Owen's bedroom, complete with a bathroom discreetly equipped with accessibility amenities such as a rail and lowered countertops. An elevator convenient to his room leads upstairs. "Owen is a whiz with it," says Christi, adding that the girls' rooms are also on the second floor, along with a guest room, craft room, and loft.
From the outside, you would never imagine how much room the second floor encompasses. "That was a bit of a trick not to make it look like some big, bulky house," explains Christi. "I didn't want a big, traditional two-story house."
Aside from the kitchen, the loft is where the family spends most of its time. Among a flat-screen TV, a built-in booth perfect for Monopoly matches, a cozy window seat, and an intricate dollhouse built by Christi's grandfather, there's plenty to keep everyone occupied.
"We went into this thinking that this was just going to be about Owen and making something work for him, but in hindsight, so much of the space is just a significant upgrade for everybody in the family," says Christi. "That's sort of the beauty, I guess, of being able to start from scratch. There's really no space that we don't use."