Family Time in the South
Joan and Frank Vafier had specific requirements for their Charlotte home. They found a fit at Bear Creek in the Palisades. Now they're settling in and preparing to open their wine bar, Corkbuzz, in the spring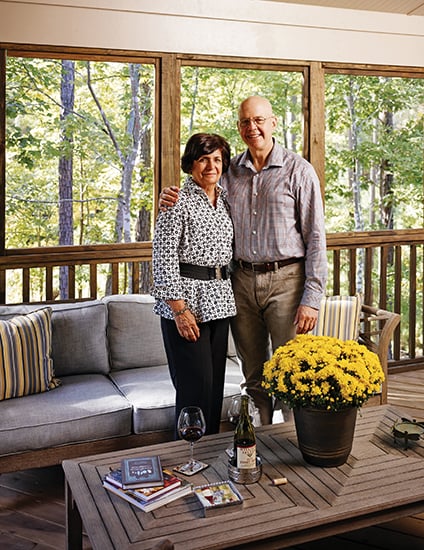 Joan and Frank Vafier appear to have an ideal real estate setup. They have an apartment in Manhattan and a house on Long Island three blocks from a golf club. But these properties lack one thing—proximity to their 2-year-old grandson, Jordan, and their 8-month-old grandson, Austin.
"We have a daughter and son-in-law living in Charlotte," Frank says. "When our first grandson was born, we came down to visit and decided that we wanted to see them more, so we said, 'Let's get a house in Charlotte.'" Soon after the couple found a home here, Frank and his business partner and niece, Laura Maniec, decided to open a Charlotte location of Corkbuzz, their New York City-based wine bar and restaurant.
With Corkbuzz slated to open in SouthPark's Sharon Square in early spring and the Vafiers' son, Steve, moving from San Francisco to Charlotte in January for his finance career, the Long Island natives are happy to put down roots here.
Five key things
The Vafiers' specific requirements for their Charlotte house made for a challenging search. First, they wanted to be in a golf community so they could easily meet people. Second, they wanted a convenient distance for trips to and from their daughter's family in southwest Charlotte. Third, they wanted an open layout for cooking and entertaining. Fourth, they wanted their personal needs (master suite and laundry room) on the first floor and extra bedrooms for family upstairs. And finally, they wanted a room large enough for a professional billiard table.
The silver-leaf band painted around the dining room's ceiling is subtle yet luxurious.

The couple's son-in-law, Doug Trimmer, found a two-story model home scheduled to be built by Shea Homes in the gated community of Bear Creek in the Palisades. Frank and Joan saw that it checked off their requirements and signed on the dotted line.
"This is the first new home we've ever been in," Frank says. "Our apartment and our house were resales."
The Vafiers enlisted the help of Shea Homes' Sarah McKinnon and Steve Plevka, in addition to the expertise of interior designer Heidi Maria Williams of Vatiché. The result is a casually elegant, welcoming environment that exudes Northern and Southern hospitality. And best of all, the house is a 15-minute drive from their grandsons.
Wine time
Although the Vafiers have a wine room in their Long Island home, they didn't put one on the list of requirements for their new home. The utility space in their Charlotte house includes a hobby area traditionally used as a mudroom. Instead of storing golf clubs, coats, and shoes in the 8-by-10 space with 10-foot ceilings, the couple turned it into a wine room that can hold up to 1,000 bottles. A floor-to-ceiling custom linen curtain conceals the washer and dryer, while an onyx countertop adds sophistication to the space.
"You would never know it's a laundry room," Frank says. "What's really fun is when we have people over, we just go into the room and decide what we feel like drinking." The Vafiers are both good cooks and enjoy entertaining.
"Frank takes more chances than I would," Joan says. "I'll look at a recipe and say, 'Oh, too much work.' He'll say, 'Oh, I'll try it.'" Joan, who enjoys preparing Italian dishes, considers Frank's coffee-Heath-Bar-crunch ice cream one of his specialties.
Regardless of who cooks, the couple enjoys entertaining in a variety of ways, such as grilling on the patio with their Big Green Egg, serving a buffet-style meal, and throwing a 10-course dinner with wine pairings.
The best moments
The Vafiers haven't thrown an elaborate dinner party in Charlotte yet, but their dining room is ready. Painted in Sherwin Williams' Moody Blue, the dining room ceiling pays tribute to Carolina blue skies. The mild weather is one of the things the Vafiers love most about the South.
Artist Mindy DiGiacomo-Hennessey painted a silver-leaf band around the lower edge of the dining room ceiling to add a luxurious component. A formal mahogany dining room table and side chairs by Jonathan Charles complement the room's regal look. Two contrasting Thomas chairs by Vanguard upholstered in Medley Cadet bring the blue back into play.
Williams and the Vafiers had phone conversations for about two months, so Williams would understand their tastes and color preferences. Williams then spent a day with them at High Cotton Home Co. and The Furniture Connector making selections. They initially focused their attention on the dining room and sitting room, located across from each other at the front entrance. The sitting room is Frank's favorite spot in the house because of its cozy feel.
"It's a great place to drink a glass of wine," he says. Four Winston chairs by Vanguard, upholstered in Gibson Seal velvet, center the room. Local artist Jessica Smith designed and hand-stenciled the walls of the built-in bookcase. "In addition to [the stencil pattern], we have a multi-layered, very translucent, and very metallic glaze backdrop behind it," Williams says. "That's what makes it feel very dimensional."
Other touches that bring the room together include a floor lamp by Shades of Light that echoes the stencil and pieces from Frank's mother's crystal collection, one of the few things from New York the couple incorporated into the home. Other pieces include a chest of drawers that belonged to Joan's father that now sits in the grandsons' room and a set of dining room chairs from Frank's mother that Williams had painted and reupholstered for the bedrooms upstairs. Another favorite spot is the upstairs billiard room adjacent to the grandchildren's playroom.
"It's fun because the boys can play over there while we play pool," Frank says, adding that 2-year-old Jordan already likes to roll the balls into the holes.
Joan enjoys the covered deck that overlooks the golf course.
"We just love sitting out there whether we're having a glass of wine or if I'm just sitting reading my book," she says. "Jordan likes to sit out there and watch all the golfers go by."
Moments like these with their grandchildren reaffirm the Vafiers' choice to have a home in Charlotte.
"We just hit the jackpot," Joan says.