Feed Thy Neighbor: Inside Urban Ministry's Efforts During COVID-19
Hundreds respond to the needs of Charlotteans with no homes to Stay at Home in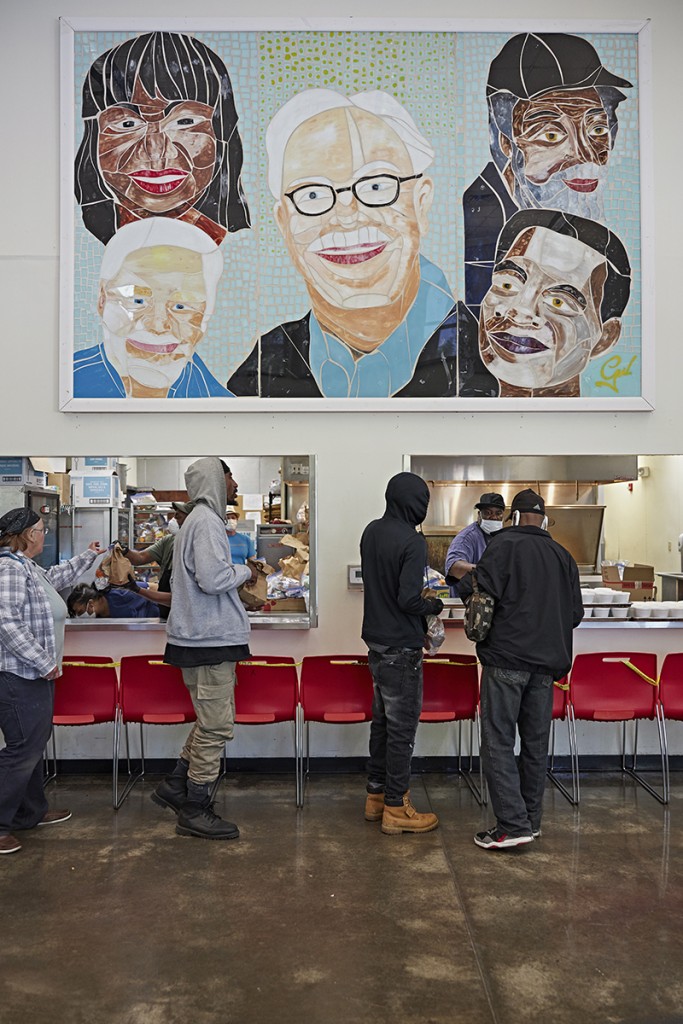 For any other Easter, Julie Campbell and her family would dress in their Sunday finest, ready to go to church and then to lunch.
This, of course, wasn't any other Easter. Church pews and restaurant patios remained empty because of COVID-19. Her family celebrated another way. Wearing jeans, T-shirts, and sweatshirts, Campbell, her fiancé, Bruce Ham, and their five children formed an assembly line in their kitchen to make lunches for Urban Ministry Center.
The center, off North Tryon Street a couple of blocks north of uptown, offers daytime outreach programs for the homeless: a place to connect to social services, to shower, to have a meal. That day, 100 of those meals would come from this kitchen. The kids insisted on baking chocolate-chip cookies—there's more love in a homemade cookie, they said—so Campbell's home became a sandwich-making, cookie-baking, bag-filling operation.
When the family delivered the lunches, they witnessed the extent of the need. More than 60 tents spread across the center's property, occupied by people who had shown up after the shelter beds filled; more tents dotted encampments nearby. Hundreds of people waited for food—mostly men, some women, many carrying their possessions in plastic bags—in a line that stretched around the building. The lunches Campbell and her family had made that morning would account for only a third of those the center distributed that day, and it serves lunch every day.
That afternoon, the kids made a request: Can we do that again soon?
"Everybody can feel kind of sad for ourselves if we start thinking about our own situations," Campbell says. "But thinking about not having food, which is not an issue for us, helped us stop thinking about ourselves for two seconds. It was very unifying for our family to have that project and to think about what it might be like to live without shelter."
***
Even before the county and state issued stay-at-home orders in late March, Urban Ministry Center and nearby Men's Shelter of Charlotte began to tackle seemingly impossible challenges: How can the homeless isolate themselves? How can staff and guests in a shelter practice social distancing? How do people who live on the street or in tents connect to health services or receive masks and hand sanitizer?
The organizations, which include two homeless shelters and the daytime services facility, merged last year. They run with the help of nearly 4,000 volunteers annually, but the stay-at-home order applied to volunteers, too.
"We were never really talking about, 'How do we close ourselves?'" says Randall Hitt, the combined agencies' chief engagement officer. "It was about, "How do we adjust ourselves? What are we going to have to do to still serve people?'"
As staff modified practices to meet social distancing and sanitization rules within the shelters, an army of helpers mobilized across the city. When the Men's Shelter had to change their meals from buffet-style to take-away to minimize exposure risks, volunteers delivered hundreds of bagged meals. When Urban Ministry had to close Room in the Inn, which houses the homeless at volunteer churches and colleges, donors sent more than 150 tents and sleeping bags within 24 hours and sent hundreds more in the following weeks. Volunteers sewed more than a thousand masks for staff and guests, and people bought so much from the organizations' Amazon wish list—items like sheets, cleaners, and bottled water—that stacks of boxes filled an entire room.
Congregations, clubs, and teams that couldn't meet discovered new missions, coordinated by email and phone. The Fight Club of the Olde Providence Racquet Club, a particularly competitive group of tennis players, channeled their on-court spirit into a fundraising challenge. They raised $7,400 for Urban Ministry and Men's Shelter within 48 hours and donated 400 masks, 570 bottles of hand sanitizer, and 80 tarps.
"As we got into this situation, I was hearing people talking about, 'Gosh, I wish I could be helpful. A lot of people are going to struggle and suffer, and how can I be helpful?'" says Trip Caldwell, who helped organize the fundraiser. "It just gave people an immediate sense of fulfillment that they could have (an) impact and change the trajectory of people's lives."
One man emailed Urban Ministry with an offer of a gently used tent. He and his wife were unemployed, he wrote, but they wanted to help with what they had. He promised to do more when he was in a better position.
"I love the big donations, of course, but they can overshadow so many of the giving hearts in our community who you'll never know, and who never want to be known," Hitt says. "Some people give in small ways, and it's very meaningful for them, and it's very meaningful for us."
The generosity extended throughout Charlotte. Campbell, the nonprofit partnership director at SHARE Charlotte, said traffic to their website of volunteer and donation opportunities went up 120 percent during the stay-at-home order.
"We're talking less about brunch and breweries and more about the needs and disparities and divides," Campbell says. "It's propelling our community to come together."
COVID-19 didn't create the homeless encampments and long lines. For years, the people who need space in homeless shelters have far outnumbered available beds and mats, and Urban Ministry served hundreds of lunches each day long before this. But skyrocketing unemployment rates will collide with the city's lack of affordable housing, and the lines and encampments will likely grow.
The stay-at-home orders underscored housing as a health care issue, Hitt believes. Using isolation to protect against COVID-19 was a privilege not available to all. Donations have helped, but Hitt wants systemic change to drive long-term solutions.
"What we want to be at the forefront of people's minds isn't, 'I need to make sandwiches every week,' but, 'Why am I making these sandwiches? What's wrong with this picture that I have to make these sandwiches?'" Hitt says. "We believe that it doesn't have to be this way."
***
It was a quiet spring, full of gestures that seemed both sweet and sad. Knights fans couldn't belt out "Sweet Caroline" during the seventh-inning stretch at BB&T Stadium, but a recording of it echoed from an empty Bank of America Stadium each Friday evening. Uptown skyscraper windows were lit in heart-shaped designs to offer comfort for people outside instead of illumination for workers within.
If we can find one upside to a dismal spring, Campbell believes, it may be this: The quiet allowed more people to hear voices that too often go unheard. New volunteers told her they had come to learn that the hungry and homeless live closer to them than they realized. "We have a greater awareness of how fortunate we are to have our basic needs met, and those needs should be human rights," Campbell says. "We should all have shelter. We should all have food."
Whether we, as a city, will hold onto this awareness when the noise returns still remains to be seen. But during a quiet spring, a busy shelter found relief and hope in thousands of gifts, given to those with the least who suffered the most.
"Charlotte's always been this city that thinks bigger is better. We're all about being a world-class city … But right now, there's no talk of that," Hitt says. "The world has halted, and we've had to function not as a world-class city but as a community. We've had to band together, and it shows that we can do that."
Jen Tota McGivney is a writer in Charlotte. Reach her at jennifer.mcgivney@gmail.com or via Twitter, @jen_mcgivney.