Felix's Empanadas Brings Authentic Argentinian Pastries to Charlotte
Felix Godward lived out of a van and moved cross-country before opening a food truck. Soon, he'll expand to an uptown location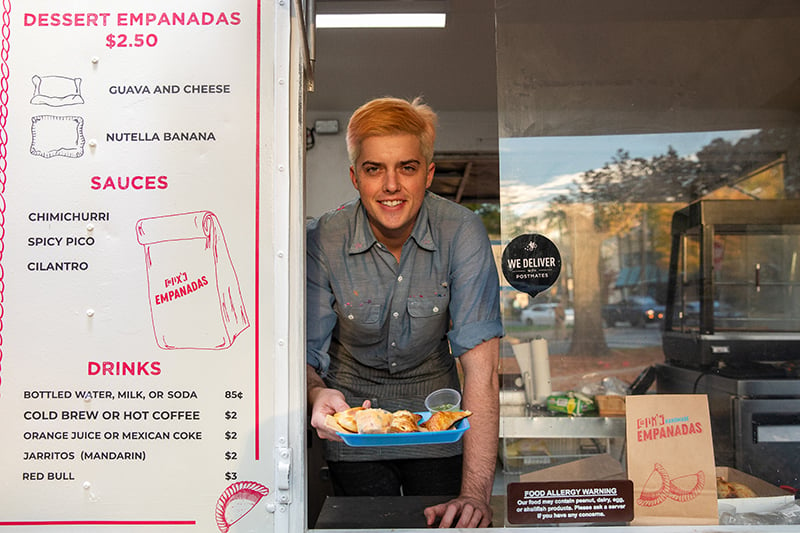 FELIX GODWARD RECALLS being suspended in midair—cheeks blushed from the breeze of cold mountain air, staring off into Argentina's wide white hills and tall trees. He's 10 years old, being carried along a cable over the Las Leñas ski slopes in Mendoza. His brothers, Ivan and Beltrán, and sister, Chloe, are there too—but they're seated on the ski lift in different chairs scattered throughout the sky.
Godward shares a chair with a stranger, a girl.
"De dónde eres," she asks. Where are you from?
He talks to the girl, telling her of his home in Miami and his visits to Argentina every summer. Their chatter fills the frigid air. They begin listing people they know from Miami until they stumble upon the name of a person they both know—Tommy Helou, Godward's best friend, who also happens to be the girl's cousin.
It was more than just coincidence that connected him to this girl; he found that his beloved Argentina carries with it an undeniable sense of a small town—the same kind of feeling that Godward would also find 14 years later in Charlotte from inside a food truck selling empanadas.
"People smell the empanadas and it draws them in," he says. Godward opened Felix's Empanadas last May, moving around the city from Free Range Brewing to Max & Lola Bodega and other spots. You'll know it's him if you hear Argentinian hip-hop music over the humming of his truck.
"(Customers) ask me all the time what an empanada is." He laughs. "It actually makes me happy that I get to show them their first empanada." He loves telling customers about his Argentinian heritage and the Sundays he spent making "'nadas" with his mother and about the distinct flavors and styles of empanadas.
There's the popular steak empanada with the traditional braided edge known as repulgue in Argentina. Each bite contains steamy steak and onions, wrapped in a flaky crust. On Godward's menu, there's also the bacon, date, and goat cheese empanada, made with the same golden crust, only this time it's triangular in shape. The guava and cheese nada is like a pastry of sorts—a little sweet and fruity, but still warm and gooey.
Each empanada is baked in the same mil hojas, or a thousand sheets, pastry dough that gets its light and flaky texture from rolling it multiple times over. "It's a pretty complex dough," he says. "It's expensive, but it's worth it."
As much as Godward loves seeing new faces line up at his truck, it's the familiar ones that give him that small-town feeling he experienced on the ski slope. "I love seeing people come (back, and) I recognize them," he says.
Prior to landing in Charlotte, Godward moved from his native Miami to the West Coast. He bused tables at The Sunset, a high-end restaurant with an oceanfront view, at Westward Beach in Malibu. He eventually realized, "I'm going to be stuck doing this the rest of my life if I don't do something extreme." So he packed up all of his belongings, spent $2,500 in savings on a 1984 Chevy G20, which he then moved into. A month passed, and he installed solar panels and, later, a refrigerator, a battery pack, and a fan. He spent his days dreaming up ways to build a business somehow, someday.
Godward comes from a family of nomads. His parents, Mark and Florencia, moved their family from Argentina to the U.S., eventually settling in Miami. Godward's great-grandfather, Cyril Thoroughgood, emigrated from England to Argentina to work on the South American railways in 1918.
Maybe it's an inherited trait or a similar adventurous spirit that inspired Godward to pack up everything he had in August 2017 and head east to Charlotte.
"It's a millennial city," Godward says. He wanted a city that offered promise for young people. That prospect, as well as being close to his sister, Chloe, who lives in Charlotte, led him here. Last February, Godward bought a trailer off eBay and transported it from Maryland to open his own food truck.
When it comes to the future of Felix's Empanadas, Godward wants his empanadas to reach beyond the parking lot where his truck is anchored on any particular day. He now offers delivery and catering for corporate events and private parties, and he's shooting for spring opening for a new, brick-and-mortar location inside Latta Arcade.
For now, Godward focuses on creating a place that might give off the same small-town feelings he had as a child in his mother's kitchen, hand-rolling dough into empanadas, or the feeling he had on the ski slopes in Argentina.