Feng Shui for a Healthy Home
The age-old Chinese "Art of Placement" is said to improve wellbeing.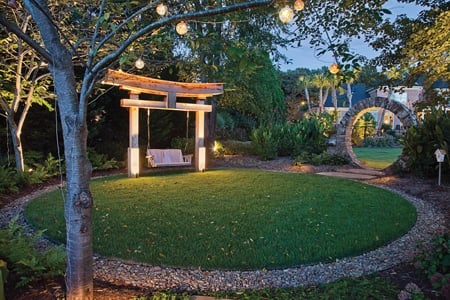 You've heard of Feng Shui and how it's supposed to improve your home, but how much do you actually know about it?
To get the facts on the ancient Chinese "Art of Placement," we went to a couple interior experts for the low-down on everything from the practice's history to the techniques that can be employed in your space.
Our first expert, Steve Kodad, is a Certified Feng Shui Professional (CFSP) part of the prestigious International Feng Shui Guild who teaches fellow real estate professionals how to use Feng Shui for business, along with many other related services at TheFengShuiCure.com. Kodad lived in Charlotte for 28 years and moved to southwest Florida within the past five, but his business still thrives here with local Feng Shui Staging Professionals.
Our second expert is Monika Nessbach, local interior designer, owner of designbar, and Feng Shui follower whose home reflects the technique. Although she is not certified in Feng Shui, she's had her home evaluated by a CFSP and the results were successful.
The basics
It's all about the chi (and balance).
Chi is a word used for energies. Nessbach says, "Feng Shui increases the flow of positive chi and subdues the negative. According to Feng Shui, harmonizing our personal chi with the chi in our environment puts us in harmony with the natural forces of nature and in turn, results in a healthy, happy and prosperous (balanced) life."
Kodad says that you should have a correct balance of Yang and Yin energy in separate parts of the house. Yin energy is categorized by calming, nurturing, and dim characteristics, and Yang energy is the opposite: bright, hot, and assertive.
He also says that it's important to correctly handle the five elements: wood, fire, earth, metal, and water.
Happy home, happy homeowner
"Our environments have a huge influence on how productive and happy a person will be," Kodad says. Feng Shui is often used as a "cure" to alleviate the problems in environments that are hurting an individual's health and success.
Kodad describes that there is no feeling quite like the aura you experience when walking into home with good Feng Shui. "It creates an environment that is encouraging, safe, comfortable, and recharges our batteries. Making Feng Shui corrections produces a home that is a sanctuary… a place to be creative, be successful, and be positive."
How-to for your home
Charlotte has many Feng Shui practitioners for hire if you are rearranging your home or building a new one. But if you would like to give the technique a try on your own, keep the below tenets in mind.
Remove clutter. It stagnates energy and weighs mentally on homeowners.

Ensure the entrance to your home is grand and welcoming. The welcome mat should be replaced periodically and kept clean, and hardwood floors should be sparkling. Make sure the front door does not squeak or is hard to open, and frame it with rounded pots of colorful flowers, but make sure it is in proportion.

Use plenty of live plants instead of fake ones. They raise energy.

In the bedroom, it is important that the bed has a clear view of the room entrance and that the headboard is up against a solid wall.

In the kitchen, keep things organized and clean so as to prepare meals frustration-free.