Festive first dance
Planning a Christmas-themed wedding? Check out our picks for first dance songs filled with holiday cheer.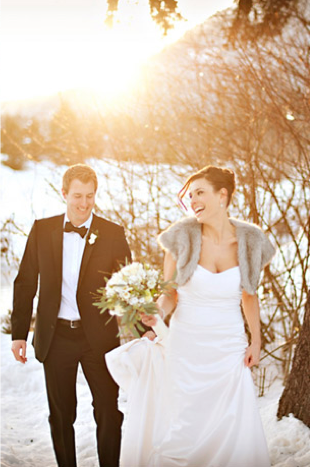 It's a little hard to believe that Christmas is less than 10 days away and we couldn't be more excited. From red and green lights to endless amounts of fudge, cider and sugary cookies, the holiday season really is the most wonderful time of the year.
If you're planning a wedding in the coming weeks, the season is infinitely more magical. As you finish wrapping presents, writing thank-you notes and proofing your day-of timeline one final time, don't forget to pick out a perfect first dance song for you and your hubby-to-be that captures the romance of the holiday season.
Stumped for inspiration? Check out our list below of up-tempo tunes and sultry serenades that will have your guests swooning with the sounds of the season.
Slow & Soulful
Song for a Winter's Night – Sarah McLachlan
Merry Christmas Darling – The Carpenters
Ave Maria – Michael Buble
A Christmas Love Song – Barbra Streisand
Festive & Fun
What are you doing New Year's Eve? – Harry Connick Jr.
I've Got My Love to Keep Me Warm – Dean Martin
Lyrics We Love
"All I need for Christmas is here / Finding every sweet surprise wrapped up in your eyes" – Barbra Streisand