Finding Her Voice: Painter Rosalia Torres-Weiner
Local artist uses painting to advocate for the children of immigrants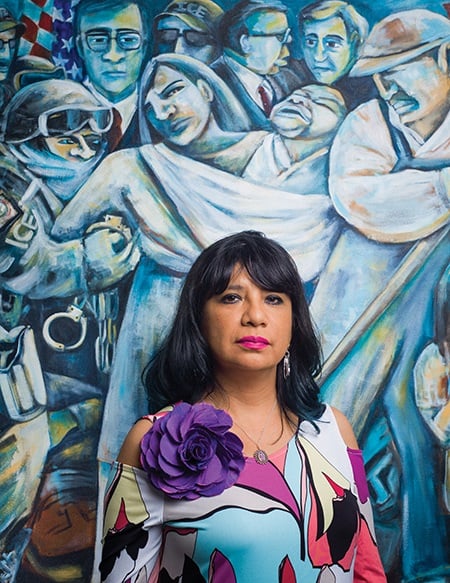 ROSALIA TORRES-WEINER sits in a blue wicker chair in her studio at LaCa Projects, an art gallery that showcases Latino art in FreeMoreWest. Fabric flowers decorate the arms of the chair, their colors mimicking the bright paintings around the room. Torres-Weiner wears a cowboy hat, black cowboy boots patterned with rainbow thread, and a colorful dress as she talks about her journey to this vibrant studio.
Originally from Mexico, she moved to California in 1985 and met her husband, Ben. The two moved to Charlotte in 1996, and Torres-Weiner eventually became a flight attendant for U.S. Airways. After 9/11, she needed a change. She quit her job with the airline and began building a business painting wine cellars and wall art for some of the city's wealthiest families.
In 2011, she was working on a mural in a south Charlotte home. The homeowner saw mention on Torres-Weiner's website of the Papalote Project, a series of workshops that encourages kids to paint kites to express their feelings about the deportation of undocumented immigrants.
The homeowner asked Torres-Weiner if she had to fly to Arizona to work with these kids—she had no idea that the children lived right here. Torres-Weiner was stunned that the homeowner didn't know that many Charlotte children have relatives who've been deported. Torres-Weiner decided to leave her business and focus solely on what she calls "artivism"— telling the stories of these children and raising awareness about their suffering.
Soon afterward, Torres-Weiner heard a story on National Public Radio about a girl in Texas whose father was being sent back to Mexico. "She didn't want to speak, because she thought they were going to deport her, too—she doesn't know that she's an American citizen, and that she cannot be deported," Torres-Weiner says. "So for a whole six months, I think, she stopped talking. And then they helped her, and they were able to make her talk again."
This girl's story inspired one of Torres-Weiner's most well-known paintings. In Silencio, the letters I.C.E. (Immigrations and Custom Enforcement) symbolize how children live in constant fear of deportation. "I give them voices—especially to the children whose parents were deported," she says.
"This is how I use my art—to educate people, to share it."
In an effort to work directly with a younger audience, Torres-Weiner recently asked a group of young girls to paint how they feel about themselves on a mask. Then a local choreographer, Sarah Council, interpreted the masks into dance.
Another series of Torres-Weiner's paintings was adapted into a play, The Magic Kite, which tells the story of a young boy whose father was deported to Mexico. He tries to visit his dad by traveling on a magic kite, but can't cross the border. Children's Theatre of Charlotte staged the play this spring.
And that brings Torres-Weiner back to the young girl who inspired Silencio. Last year, publishers of a book highlighting arts in Charlotte took special notice of the painting. They contacted the host of the radio show that first aired the story about the girl in Texas, hoping to put the artist in touch with her inspiration. Torres-Weiner spent an hour on the phone with her and her mother.
"I talked to Silencio," Torres-Weiner says, choking up. "Silencio is 15 years old now. And when I heard her voice—for me, it was just magic."
---
This article appears in the July 2016 issue of Charlotte Magazine
Did you like what you read here? Subscribe to Charlotte Magazine »
---