Fine Tuning: Piano Technician James Baker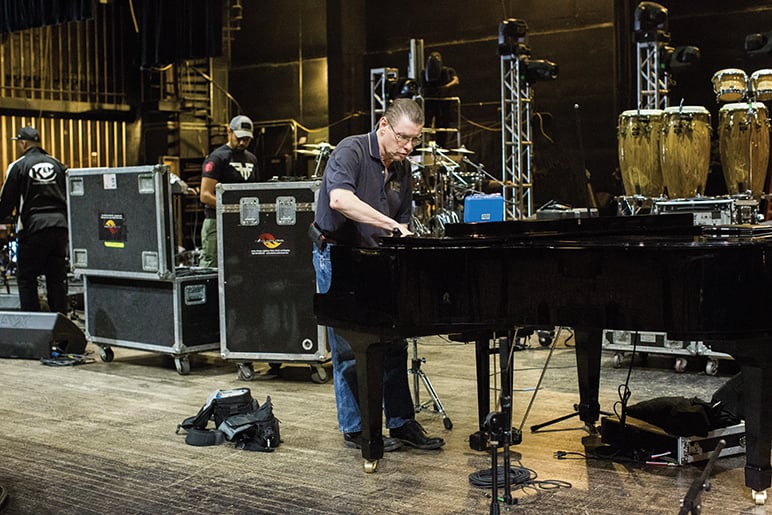 Baker, the certified piano technician for Blumenthal Performing Arts, has been perfecting his craft for 27 years. He's tuned pianos in Charlotte's private studios, churches, and recording studios, and for famous touring concert pianists. Here, he talks about growing up in Memphis, touring Germany as a drummer, and achieving perfect pitch.
I took piano from the age of 5. Both of my parents played. I never really got any good, so I quit in my teens. I grew up in Memphis. All four of my older sisters played well, and at Christmastime, we'd all stand around the piano and sing carols.
I was a drummer. Everyone called me "Sticks." I was hired to teach ear training, drums, and theory at Berklee College of Music in Boston. In my late 20s, I toured with Ain't Misbehavin'. Then a sax player I knew from Berklee tracked me down and asked me to tour Germany for a month. I kept thinking, I have to get to Europe, so I did. I returned to Germany in 1985. We had a jazz quintet, and through those gigs, I'd sign on with different groups.
My wife now was with me at the time. We met in 1972. She took drum lessons from me in Memphis. Following our year in Germany, we decided to come back to the States and put a band together. The sax player and his wife were from North Carolina, but when we got here, they split up. We decided to stay.
No one knew me as Sticks, and Jim Bakker was already here, so I decided to go by James. I thought I might get tired of the jokes. But my last name only had one K. I couldn't afford two K's.
In 1987, I studied piano tuning at Central Piedmont Community College. To get certified as a Piano Technicians Guild member, you have to pass three exams. One of my graders was Gina Carter. Gina was the licensed technician for the Blumenthal and the [Charlotte] Symphony. In 2003, Gina had a bad car wreck, so I subcontracted for her. During her recovery, they found cancer and told her she had six months to live. She was my mentor.
She passed on in 2004.
When you first start out, you get the clients who haven't had their piano tuned in 20 years. Since you're inexpensive and you're trying to get experience, you do it. I had a lady once with a brand-new upright in her studio, and it wouldn't work. Someone had poured a five-pound bag of dog food down there. Her kids told her that the neighbor's kids had done it. Anyway, I had to get in there and clean it out. Getting the food out was fine.
The harder part was getting the vacuum brush in there to get all the dust out.
I learned to tune by ear. I studied privately from one of Steinway's top technicians, Bill Garlick. I went to his house on Long Island for a week. He had five or six Steinways in his house.
I passed the Guild exams by ear, but since then, I've bought a tuning computer. The computer has a built-in crystal that vibrates thousands of times per second and then subdivides those vibrations until it hits 440. The strings of the A of middle C vibrate 440 times per second. That is international pitch. The rest of the piano is tuned to that A.
Pianos lose tension every year. Tuning is adjusting the tension on the strings until they make the right note. Everything else is voicing.
The Blumenthal pianos get shaped three or four times a year. Artists come in to perform with the symphony and may want the piano voiced differently—a little brighter or duller. You just voice to a pianist's preference.
If I didn't tune, I'm not sure what else I'd do. When I was a kid, I wanted to be a rocket scientist, but you needed math for that. I like tuning.