Finishing Touch: Interior Designer Lane Brown
Get to know the designer behind our featured home on Selwyn Avenue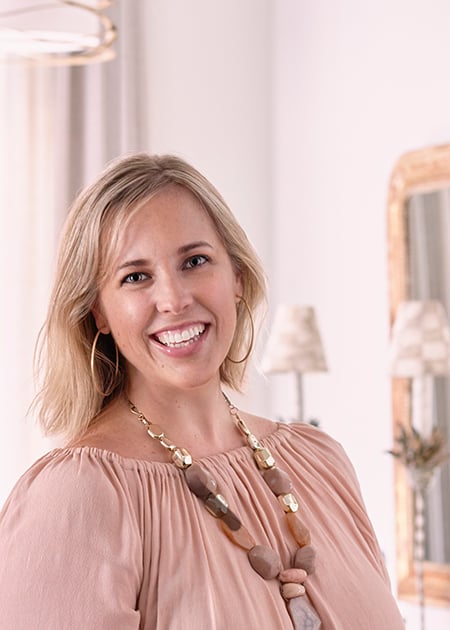 Charlotte Home + Garden: When did you know you wanted to be an interior designer?
Lane Brown: Basically my whole life I've had an affinity towards placement of things and just making things look pretty. I never thought I would do it professionally, but I feel like it's a calling, in a way. I've really been working on it and focusing on it since after college. I would say 12 years.
CHG: What is your favorite color to wear?
LB: Neutral—neutral to a fault. I hardly ever wear color. You'll maybe find me in a pale blush.
CHG: What is your favorite color to design with?
LB: The same. I'm very neutral with little splashes of color. I can work with color, but I'll steal a quote from Phoebe [Howard of Mrs. Howard and Max & Company] because I'm very similar as far as personality goes, and also she's obviously a huge influence on my taste and design and aesthetic. She has said before that she's married to neutral but has affairs with colors. It's the truth.
CHG: What's a favorite recent design trend?
LB: I like seeing how design evolves, and I like seeing fresher things enter into the market. Just as with clothing, I think design is very cyclical, and what goes around comes around. It's interesting to see what comes back into fashion and what comes back into design fashion, etc.
CHG: Who is a local designer you look up to?
LB: Phoebe [Howard]. She's definitely my design mentor. I've learned so very much from her, invaluable things. And you learn by doing. She has been a great mentor, not only a mentor but a friend to me, and has embraced me and allowed me to fly on my own, which is so powerful and moving in itself, because hiring someone and letting them take control of your baby and letting somebody else harness those reins is flattering.
CHG: Where do you find design inspiration?
LB: In magazines. I'm a huge magazine junkie and I love all of the tried-and-true magazines, interior design magazines. Definitely probably my favorite mail day is when a new House Beautiful or Veranda comes. You learn how other people live and how other decorators have decorated, and I think it's really inspiring to kind of delve into those projects that are published.
CHG: What advice do you have for someone who is deciding whether to use a designer?
LB: Take the time and spend the money the first go-round. So many people will try and do it on their own, and then after failing a couple of times, will finally bite the bullet and hire someone to help them. They'll usually always end up saying, 'I should have done this from the very beginning.' I think a lot of people don't realize how hard it is to put things together correctly and how to execute a room. It's pretty involved. You have to have a vision and scope from the get-go, and it's really hard to do it on your own.
CHG: What's the best career advice you've been given?
LB: To treat it like it's your own. My mother actually gave me that advice when I was hired here.
CHG: What are three words that describe a client's reaction to a room you designed for them?
LB: Gratitude. Love. Happiness.