Five easy ways to trim wedding cost
Planning on a budget? We've made it easy.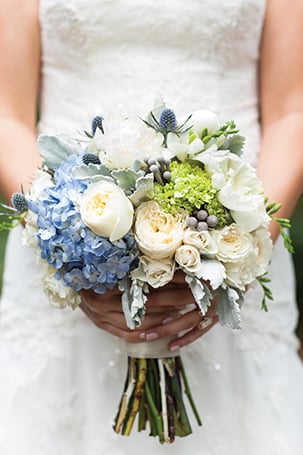 If you grew up dreaming of a five-tier wedding cake with cascading peonies and can't imagine your wedding day without it, you don't have to sacrifice your dream cake as long as you're willing to shave expenses in other places.
The easiest way to save money while planning a wedding is to properly plan and execute your budget before booking venues or vendors. Once your budget is set and confirmed, stick to it.
Planning a summer wedding but weighed down with budget woes? Check out our Top 5 budget-friendly tips to ensure your day is just what you always wanted.
Trim your guest list.
One of the easiest and most practical ways to keep wedding costs low is to trim the number of people you're inviting. It's not uncommon for couples to dish out upwards of $150 per guest; that means if you trim your count by 20 people, you can save an easy $3,000 and allocate that money elsewhere.
Stick to stations.
Opt for a buffet style dinner or food stations instead of a formal sit-down dinner, which can shave nearly 15 percent off your catering bill. Also save money by serving house liquors instead of top-shelf – trust us, your guests won't care as long as there's booze.
Let the DJ spin.
Booking a DJ instead of a band can cut your entertainment cost in half, and often more. Plus, DJ's won't be limited by song selection and can keep the tunes spinning all night long, whereas bands will often need breaks. Set on having live music? Book a string quartet or jazz trio during cocktail hour to give guests a "live music" feel before the party starts.
Keep flowers low.
Sure, we all love the look of large, towering centerpieces stuffed with peonies and Sahara roses but choosing low-lying vases surrounded by candles will save you hundreds and look just as lovely. Cut expenses even more by reusing your bridesmaids' bouquets as centerpieces. Your guests will never know.
Save on paper.
Invitations get really pricey, really quickly. Save on your wedding day paper by opting for standard invitations instead of square ones, which require extra postage. Love the look of engraved invitations but can't afford it? Use thermography, which offers a similar look for half the cost.