Five Guys opening soon in SouthPark; Midwood to follow
Midwood location to be a "one-off" style of Five Guys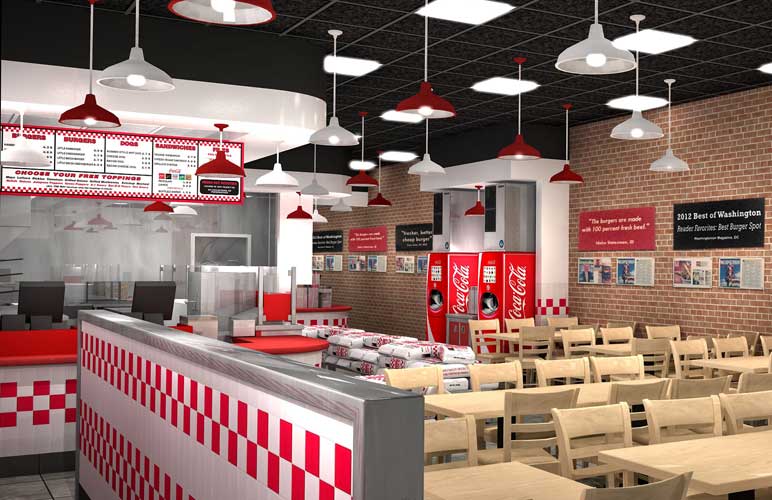 Five Guys Burgers and Fries is expecting to open in SouthPark Mall in mid-August, followed by an early October opening for an additional location in Plaza Midwood. The SouthPark Mall location replaces Subway in the food court, while the Plaza Midwood location will be in Central Square, which is also currently home to Healthy Home Market and Bisto La Bon.
Managing Partner Rick Fisher, who will own 11 Five Guys locations in the area once both of the new ones are open, says he'd been eyeing SouthPark for a long time, but a burger exclusivity with Showmars prevented him from opening in the mall. Plaza Midwood, on the other hand, was a less obvious move. Finding a space with good parking was a priority for the fast-casual chain, as it's often a destination for families. Fisher also needed storefront with an area for outdoor seating, which the Central Square place didn't have. Then, he learned that Healthy Home Market was already working on the same thing.
"[The landlord] agreed to wipe out all the parking directly in front of our space and the other tenants' to the left and right and turn it into this huge outdoor seating area," Fisher says. "We were like wow, if you do that, you'll put us over the edge."
The patio space is already finished, and at the end of last week, Fisher says they obtained the necessary permits to begin construction on the interior. That work is expected to begin this week. Because of its location, Plaza Midwood residents can expect the burger place to be slightly tailored to the neighborhood. This Five Guys won't have the signature tile; instead, it will keep the exposed brick already inside of the space. Some of the cafeteria seating will be left out in favor of booths.
"It will be a little bit edgy for Five Guys," Fisher says.
Fisher, who currently lives just outside of D.C. in Virginia, decided to bring the franchise to Charlotte to be closer to his family. He has four siblings in the area, as well as his father. He's also planning to expand the Popeye's fried chicken franchise to Columbia, South Carolina, opening as many as 10 restaurants in the area.