Follow Me, Please: #InstaBeerUpCLT
Reinventing networking for the Instagram generation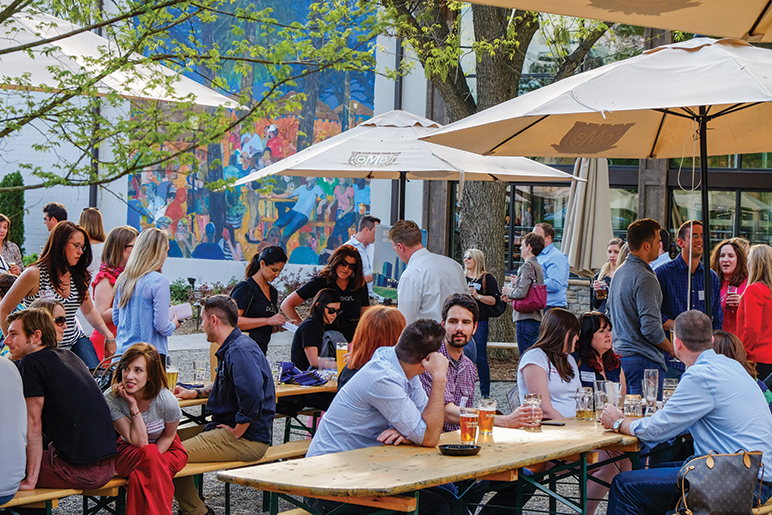 FOAM SPILLS OVER glass mugs of amber ale at Olde Mecklenburg Brewery on a humid Thursday evening. Those who have just arrived grab the last few #CLTbeer glasses, koozies, and pins at the table of free swag. Men and women in their late 20s and 30s are standing and chatting; others are sitting at picnic tables, swapping stories and Instagram accounts.
Instagram and Twitter are the reason they are here; if they didn't know about the #InstaBeerUpCLT hashtag, they never would have known about this event. But most of them are looking for something more than a 140-character exchange.
A little more than a year ago, Amy Herman and Corri Smith were sipping beers with friends and discussing how networking events should be more like what they were experiencing in that moment—something casual and fun. Herman is the owner of Vintage Charlotte, which organizes pop-up markets and other events, while Smith owns Black Wednesday Social Co., which specializes in social media, events, and public relations. Both women are transplants to Charlotte—Herman from Chicago and Smith from upstate New York. They were tired of the same, stale "throw your business card in someone's face hoping to be contacted" type of forced networking, Herman says. They wanted to make lasting friendships. So they created a new kind of meet-up: #InstaBeerUpCLT.
"It is a chance for people to interact with someone they know through social media but can now actually meet face to face," Herman says.
Paula Bartlett, a partner at the local marketing company #thesavageway, has become a regular at #InstaBeerUpCLT and was one of about 20 people who came to the first meet-up Smith and Herman hosted a year ago at VBGB.
More than 250 people now attend the gatherings, which usually take place the last Thursday of every month. And they keep growing. "There are always new faces, which keeps me coming back month after month," Bartlett says.
When picking venues, Herman and Smith stick to businesses that sell local, craft beer. Previous hosts have included Birdsong Brewing Co., Craft Growler Shop, and Sycamore Brewing.
At Olde Mecklenburg, a steady stream of people approaches Herman and Smith. They ask to take pictures with the duo, exchange Twitter information, and thank them for a memorable night.
For Herman, it's a welcome change from her experience in other cities, where she struggled to meet new people. #InstaBeerUpCLT has enabled her to feel more connected to Charlotte. "A lot of people I knew through social media, I know in person now, too," she says.
Cheers to that.