Food Truck Frenzy
Love the idea of having a food truck at your outdoor summer wedding? Check out these local favorites.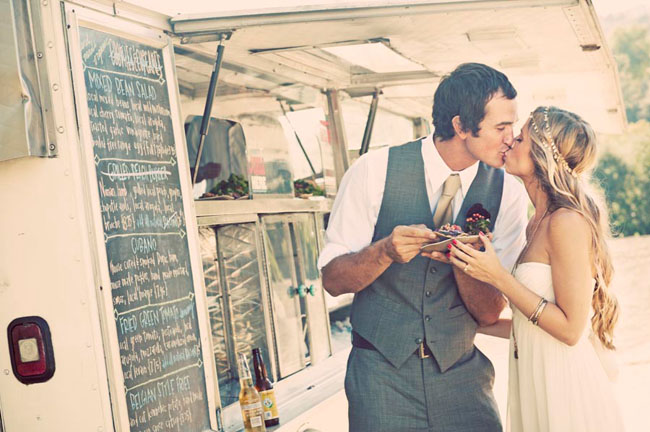 Food trucks are all the rage these days. I turned green with envy when I found out my sister attended a rehearsal dinner featuring an ice-cream truck. There's something about ordering from a truck window that brings us all back to our childhood days.
Especially fitting for outdoor, casual summer weddings, food trucks not only provide a delicious alternative to the traditional seated dinner or wedding cake, they also give guests a fun, interactive way to enjoy tasty treats throughout the reception.
Interested in booking a food truck for your event but don't know where to start? Check out these Queen City favorites.
Maki Taco
Asian-inspired street food, featuring favorites such as teriyaki chicken tacos and shrimp hibachi
www.makitaco.com
704-380-0381
SUGAR. Donuts
Sugar lovers, rejoice! SUGAR offers gourmet donuts such as Boston Crème Pie, Smore and Maple Bacon
www.sugardonuts.net
980-214-1566
The Tin Kitchen
As seen on "Diners, Drive Ins and Dives," this popular truck features handheld favorites including quesadillas, barbecue sliders and tacos
www.thetinkitchen.com
704-750-0477
Southern Cake Queen
Cupcakes galore! Enjoy everything from Salted Caramel to Death By Chocolate and Choco & Peanut Butter
www.southerncakequeen.com
704-287-8314
Roots
Looking for something fresh, southern and local? Look no future – Roots has southern classics such as tomato sandwiches and chicken salad
www.rootsfarmfood.com
704-975-1691
Sticks & Cones
We all scream for ice scream! Choose a "sticks truck" for popsicles and novelties or a "cones truck" for soft serve and floats.
www.sticksandconesicecream.com
704-545-7823
Do you have a favorite food truck not listed here? Let us know!