For the Love of the Shore: NC Red in Plaza Midwood
Revered chef Bruce Moffett blends tastes of two homes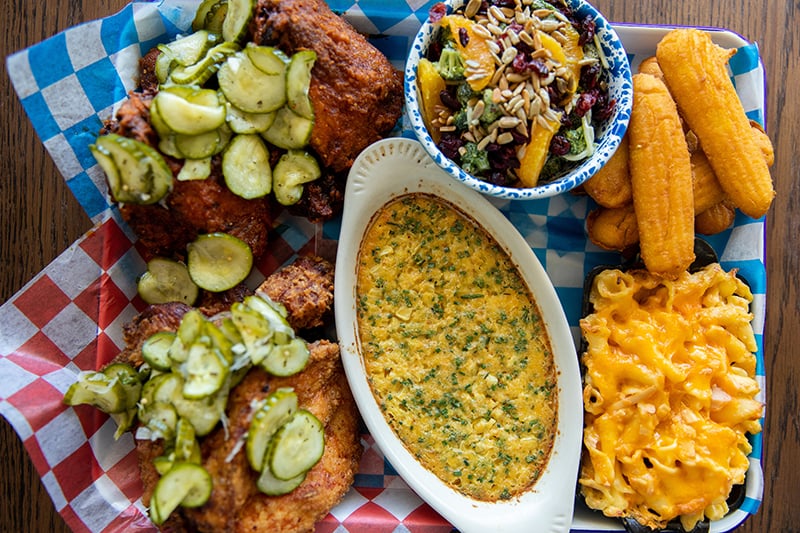 FRESH OFF THE DOCK and broiled with a squeeze of lemon juice is how Bruce Moffett grew up eating Rhode Island shore food. His new restaurant, NC Red, combines that childhood experience with his love of Southern cuisine. It's Moffett's culinary journey represented in one restaurant. And it's now open in a Plaza Midwood building formerly occupied by the Penguin Drive-In.
Bruce Moffett describes it as his "ultimate playground." The name reflects Moffett's path through his home state of Rhode Island—whose state bird is red—as well as his adopted home in North Carolina for the last 19 years. This is the fourth restaurant from the chef and owner of The Moffett Group, which includes Good Food on Montford, Barrington's, Stagioni, and an upcoming stall in Optimist Hall, Bao + Broth.
Inside the heavy barnwood door is an intimate but lively 60-seat space with blue booths and an eight-seat bar. Familiar smells of fried cornmeal and smoking hardwood hang in the air as groups gather around tables with trays of fried chicken and large bowls piled high with empty clam shells. Some tabletops are covered with 16-ounce cans of Narragansett lager; others are bookended by bottles of chilled white Burgundies.
Fish preparations are simple and reflect the dichotomy that is NC Red's concept: grilled (Rhode Island-style) or fried (Southern, of course). Chicken is also fried, served lightly dredged and presented on trays either half or whole, with housemade pickles and an option to toss with Nashville hot sauce for an extra $2. (Do it.)
Along with fried chicken, Rhode Island-sourced seafood—clams, oysters, Point Judith calamari—forms the cornerstone of the menu. Oysters and clams come four ways: grilled, Rockefeller, casino, or broiled. "Stuffies" are a clam dish from Moffett's childhood; the NC Red version is North Carolina clams stuffed with peppers, bread crumbs, and chorizo ($11). Other Northern-inspired dishes include a baked seafood casserole ($12), seafood cakes ($13), and a "Lobsta Roll" ($22)—available drenched in warm butter or chilled, with a lemon aioli. Bowls of mussels or clams steamed in broth are ideal for tableside sharing ($15–$16).
The "Fixin's" section of the menu consists of classic Southern supper sides like braised collard greens ($7), smoky mac and cheese ($12), corn pudding ($8), and fried pickled green tomatoes ($8). The dessert list includes a rotating selection of pies ($7), a seasonal soft serve cone ($6), and a Cheerwine float ($6). Chef Andrew Dodd has plans to incorporate more regional specialties in the future, like Autocrat coffee milk ice cream (ask a Rhode Islander).
Dodd, the former executive chef at Stagioni, runs the kitchen, but it took some convincing to get him on board. "I was born and raised in Nashville," he says. "So, when Bruce approached me, I was hesitant. But he saw something in me. He pushed me out of my comfort zone."
Dodd recalls a similar moment when Moffett opened Stagioni. "I may not have brought as much authenticity as another chef," he says. "I'm not Italian. I'm as Southern as they come, as far as my cooking style. But Stagioni made me fall in love with Italian food. And I saw a correlation between Southern and Italian food. Both were born out of necessity."
Dodd uses a similar approach for his seafood dishes. Take the Rhode Island seafood chowder: Traditionally prepared in immigrant communities in New England, this lesser-known cousin to Manhattan clam chowder more closely resembles a simplified cioppino, with fresh fish or clams, potatoes, carrots, and celery in a clear fish stock.
Dodd's version follows this iteration—with clam meat, potatoes, celery, and smoky bacon cooked in a fresh clam broth. The menu also has classic, creamy, decadent New England chowder. But it was the Rhode Island version which surprised Dodd during menu research and development.
"I could eat it every day," he says. "I think most cultures have a soup like it … chicken noodle, pho. It's comfort food."
Moffett says he wants diners to love Rhode Island shore food as much as he does, and for what it is. He recalls a recent visit to a well-known Charleston restaurant that served delicate razor clams that were overpowered by aggressive flavors in the dish. "We're going to try to be really cognizant of the flavors of the seafood and not overwhelm them," he says. "I think that's very Rhode Island. But I want to go one step further."